This matcha sticky buns recipe is sponsored by Lodge. They recently launched their new cast iron bakeware line and I'm here for it. I usually use my well-loved Lodge cast iron skillet to bake cinnamon rolls, but now I'm using the new Lodge cast iron Casserole Pan. This new bakeware line is everything you love about your cast iron skillet, but made for baking anything your heart desires.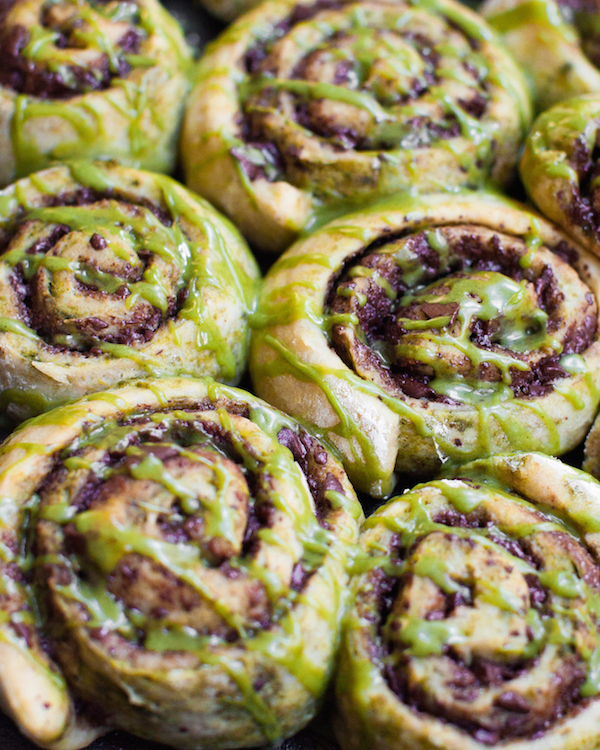 Even living in Los Angeles where the weather is almost always pleasant, my heart still yearns for just a little more summer. I think what I love most about summer in LA is that it's watermelon and peach season. All season we gorge ourselves on the sweetest fruits straight from the farmer's market, and I'm sad to see that go. 
Fall certainly has its appeals too! When I lived in NYC, the transition from summer to fall was easy and invited. I loved how the air took on a chill and the leaves turned bright red, yellow, and orange. A light jacket replaced my bare shoulders, and boots with cozy socks kept my toes warm. And on top of all that charm, it is the season of pumpkin everything, comforting stews, and cinnamon rolls. 
I know, you can totally eat cinnamon rolls any time of year. But there's nothing like indulging in one on a cool morning with a hot cup of coffee (or matcha) while you watch the leaves change colors and rustle in the wind. 
This week I was craving a different type of cinnamon roll, or sticky bun. Since visiting Japan in 2015, I've become quite the fan of matcha in everything. Some people want pumpkin spice, I want matcha. The earthy flavor adds depth and delight to baked goods, and the green color is eye candy before first bite. I had never made matcha sticky buns, so here we are now. Matcha sticky buns with chocolate filling, because matcha and chocolate are a match(a) made in heaven 😉 
Even if you live in LA, or the tropics, and don't experience that lovely fall transition, these matcha sticky buns are still just as wonderful! 
Some notes on this recipe:
I always use a cast iron skillet to make my cinnamon rolls. Well, I had been doing that until Lodge came out with this new line of cast iron bakeware. To make these matcha sticky buns I used the casserole pan. It is naturally non-stick, helps bake your sticky buns to perfection, and the dual handles make it easy to take in and out of the oven, and easy to transport––perfect for potlucks and celebrations. Cast iron is easy to care for. Here are my two tips: 1.) Avoid letting it sit in water, or liquid sit in it for a long time, and 2.) Season it by rubbing a layer of oil onto the surface after each wash. 
Matcha comes in different grades and qualities. The most expensive type is ceremonial grade. That's the kind you use sipping. Then there is culinary matcha, that's the kind you might use for matcha lattes, smoothies, and this recipe. Culinary matcha comes in different quality levels too, so I recommend the kind that you would also use for drinking. For this recipe I like Ujido ceremonial blend matcha powder, or Encha culinary blend matcha powder. These two matchas are also great for matcha lattes (which I drink every single morning), so you won't be using it just for these matcha sticky buns. If you're already a matcha lover, this recipe is perfect for you. 
Now onto the recipe! 
Check out my other cinnamon roll recipes: Gingerbread Cinnamon Rolls OR Sweet Potato Cinnamon Rolls 🙂
Chocolate Matcha Sticky Buns
Ingredients
The Dough
1

cup

plant milk unsweetened plain

3

tbsp

vegan butter

1

packet active dry yeast

or other instant yeast

1

tbsp

cane sugar

1/4

tsp

salt

3

cups

unbleached all-purpose flour

1

tbsp

matcha powder
Matcha Icing
1

cup

powdered sugar

2

tsp

matcha powder

2-4

tbsp

plain unsweetened plant milk

start with 2 tbsp and add a little at a time to thin while you whisk
Instructions
The Dough
Warm the plant milk and vegan butter on the stove or in the microwave until butter is melted. Should take about 1 minute in the microwave. Check after 30 seconds.

The liquid should not exceed 110°, so use a

kitchen thermometer

to check. Any hotter and you'll kill the yeast.

Once the liquid is around 100-110°, sprinkle the yeast over the top of it, and let it sit for 10 minutes.

Transfer it to a large mixing bowl, or the bowl of your

stand mixer

, and stir in the sugar and salt.

In another mixing bowl combine the flour and matcha powder. If your matcha is very clumpy, use a mesh strainer to sift it into the flour. Mix well.

Add the flour mixture into the wet ingredients 1/2 cup at a time, stirring all the while. If you are using the stand mixer, use the knead attachment to mix the dough as you add the flour.

When you can no longer stir it, transfer it to a floured workspace, and gently knead it until you've formed a smooth ball. If you're using the stand mixer, no need to knead it by hand, simply form into a ball.

Place the dough ball into a lightly greased mixing bowl, and cover with plastic wrap or a kitchen towel, and allow it to rise for about one hour.
The filling
Mix the sugar and cocoa powder together in a small bowl.
Assembling the sticky buns
Preheat oven to 350°.

Once the dough has doubled in size, you can press out the air, then transfer it back onto your floured work space.

Roll the dough until it is about ⅙th inch thick, and about 12x16 inches.

Brush the dough with the melted vegan butter, and top evenly with the sugar cocoa mix, then sprinkle on the chopped chocolate.

Carefully cut the roll with a serrated knife into 1 inch slices, you'll have about a dozen. Or cut them a little thicker to make 8 larger rolls.

Place the rolls onto a greased cast iron skillet or baking pan (about 10x10).

Bake for 30 minutes, until they're slightly golden on the top.
Matcha Icing
Place powdered sugar in a mixing bowl, and stir in the matcha powder.

Add the plant milk 2 tbsp at a time, and whisk until smooth. Add more plant milk if you want it thinner.

Remove rolls from oven, and allow to cool for 5-10 minutes.

Top with the Matcha icing and serve immediately.