This Chocolate Mousse Tart post is sponsored by Califia Farms. Califia Farms launched new varieties of delicious rich and creamy oatmilk––a refrigerated version and a shelf-stable barista blend––and I've been experimenting using them in recipes. Obviously you can add them to your morning oats, use them for your coffee drinks and matcha, or blend them into smoothies (all which I love doing), but have you considered using oatmilk for a chocolate mousse pie? Keep scrolling…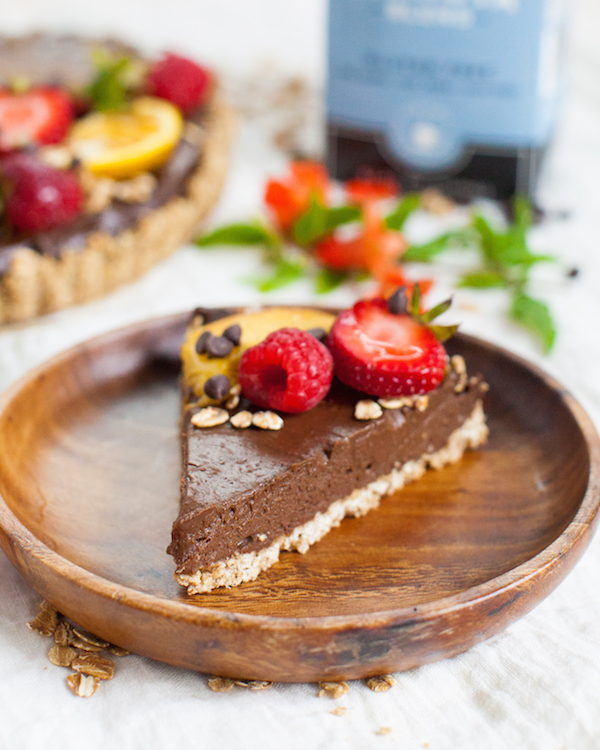 Since I found out I was pregnant, I felt inspired to eat even healthier than I had before. That says a lot because I was already a very healthy vegan eater. I gave up coffee because I was so sensitive to the caffeine kick, stopped eating heavily processed vegan meats & cheeses, and seriously limited my intake of sugar. My pregnancy was a breeze after the first trimester, and my breastfed baby is super healthy. And 5 months postpartum, I'm still on that health kick! 
But I've never been one to completely avoid the finer things in life…not forever at least. Aside from being a strict vegan, I take an 80/20 or 90/10 approach to most things food. And I give myself serious bonus points if I'm able to make something that tastes absolutely decadent, but is still healthy or healthy-ish. Enter this oatmilk chocolate mousse tart!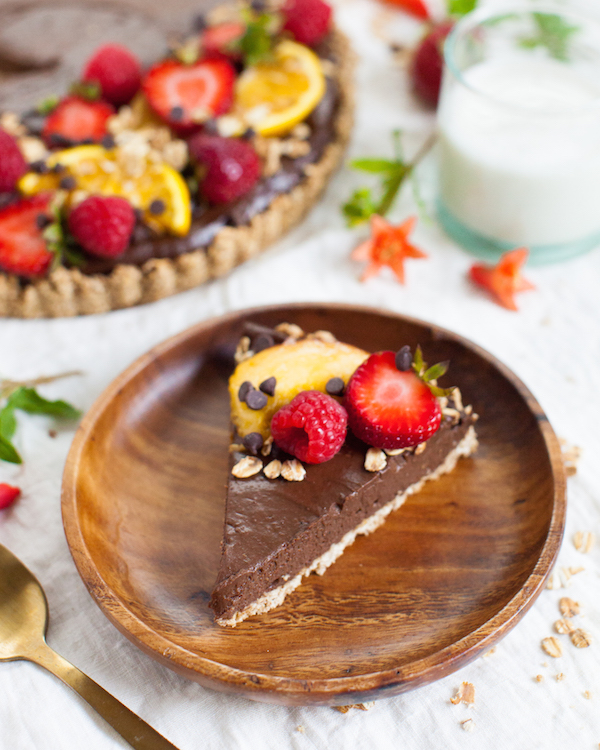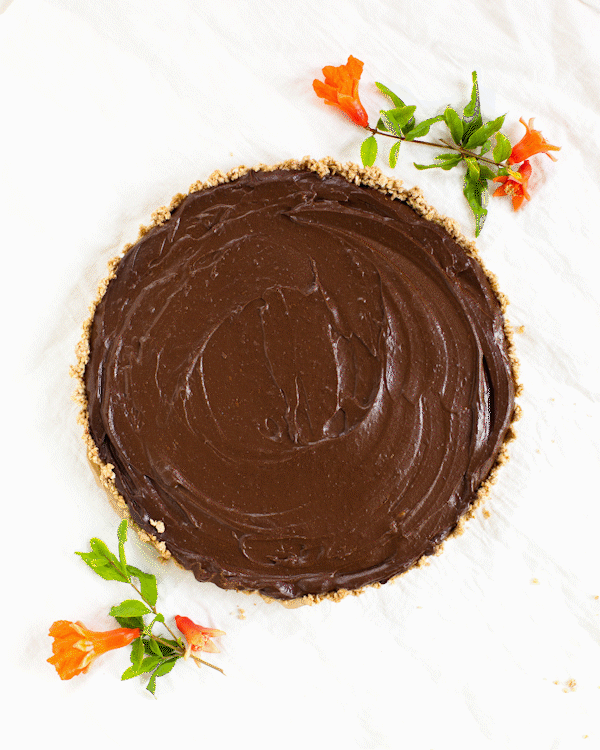 For the first month of my daughter's life I didn't touch chocolate. I'd think about it, look at it, and talk about how I missed it, but I wouldn't eat it for fear that it would wire her up and keep her awake at night. Sleep deprivation is real, and I couldn't take any chances y'all. Though now she's 5 months old, and I am thoroughly sleep deprived despite the fact that chocolate does NOT keep my baby up at night, but it does give me the boost I need during the day. So I'm back on it, and because this mom job is so difficult, I think I deserve something super yummy and rich and still fairly healthy.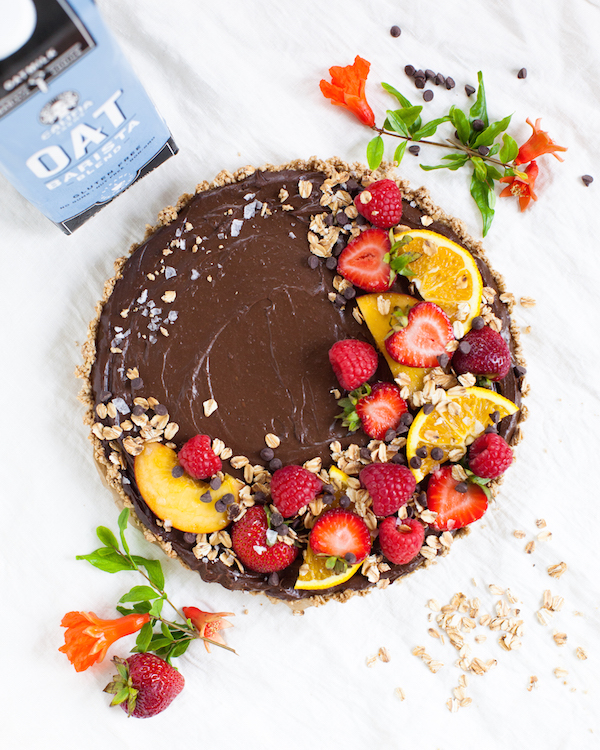 This oatmilk chocolate mousse tart is made with Califia Farms Barista Blend oatmilk, ripe avocados, dates, and vegan semi-sweet chocolate chips. The crust is made with oats, spelt flour, and maple syrup. It's absolutely divine! And did you know that oats are a superstar ingredient for breastfeeding moms? Oats are natural galactogogues, which means they encourage ample and healthy milk production! I eat steel-cut oats for breakfast and make myself tahini cookies for my late-night snack, but this oatmilk chocolate mousse tart is a true celebration of oats.
I love that I can be healthy and set a positive example of health for my daughter while still enjoying one of my favorite ingredients: chocolate!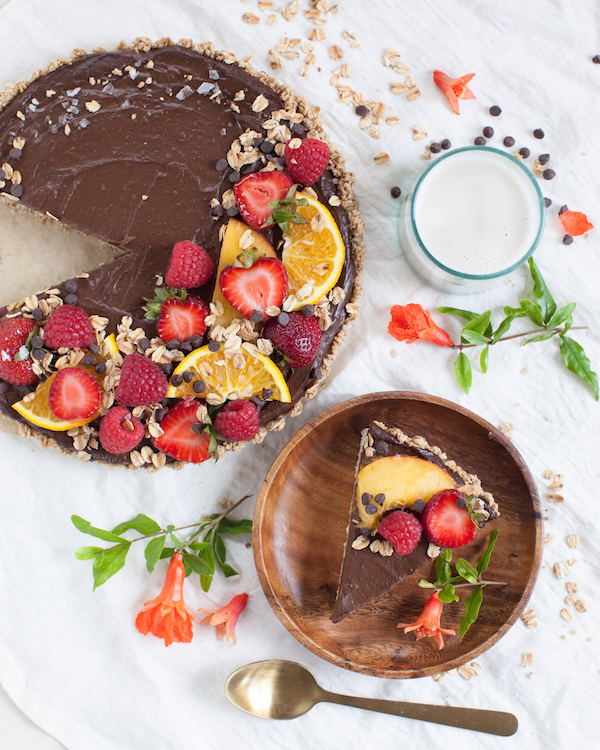 Dreamy Oatmilk Chocolate Mousse Tart
This dreamy dessert needs time to set and firm before enjoying, at least 6 hours, so plan accordingly. If you just cannot wait to dig in, keep some of the filling aside for immediate enjoyment. You can also use the refrigerated Califia Farms Oatmilk or Über Oatmilk.
Ingredients
Crust
1 3/4

cups

oats

1/4

cup

spelt flour or whole wheat flour

1/4

cups

maple syrup

1

teaspoon

baking powder

1/2

tsp

salt

2

tbsp

oil
Filling
10

oz

vegan semi sweet chocolate chips

3

ripe avocados

about 2 cups

1/2

cup

soft pitted dates
Instructions
Crust
Preheat oven to 350° and line the bottom of a tart pan with parchment paper.

Place oats into a food processor and blend until it is a coarse meal.

Transfer to a mixing bowl and use a wooden spoon to stir in the remaining ingredients.

Pour the mixture into the tart pan and use your fingers to press it firmly down to make a crust.

Bake for 15 minutes, then set aside to cool.
Filling
Melt the chocolate chips in a double boiler (boil water in a small pot and melt chocolate in a heat safe glass or steel bowl on top of the boiling water).

Place the remaining filling ingredients and the melted chocolate into a food processor or blender and blend until creamy and no lumps are left.

Once the crust is cooled to room temperature, pour the filling in and use a spatula to spread it evenly.

Refrigerate and allow it to set for at least 6 hours.
Check out my other savory recipes using Califia Farms!