This blog post is sponsored by WeddingWire, the free online wedding planning site for finding the perfect vendors, reading reviews, building a wedding website, creating a registry, and more. We've used WeddingWire every step of the way during our process, especially to find our beautiful (yet affordable) Southern California venue! Now we're just a month away from the Big Day!!! Also, be sure to check out the video below. All views and opinions are my own.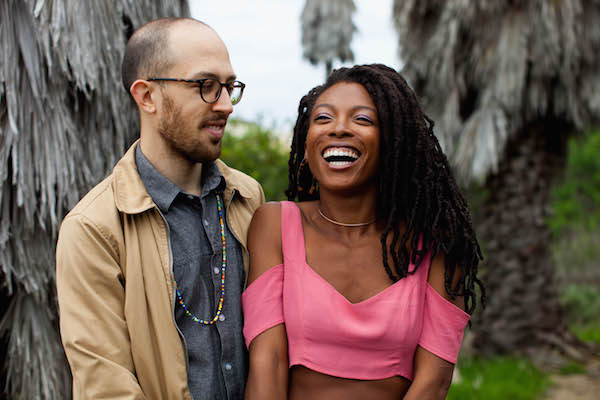 In a few short weeks I'm getting married to my partner of 10 years, Maxx! I couldn't be more excited to become his wife and him my husband. I've been yearning for this moment for so long. Call me naïve, but in the years leading up to Maxx's proposal, and when I was waiting not-so-patiently for him to pop the question, I never once considered how stressful and expensive getting married could be. I guess I always thought that my wedding planning would be different (and less expensive). But why?!
But luckily we realized we would need a wedding planner early on in the process, so we haven't been doing this alone. Our wedding planner, Michelle Newson of Onederland Events, has been our cheerleader, vendor matchmaker, accountability partner, and sobering friend. Last weekend we visited our Topanga Canyon venue with Michelle, and took her to my new favorite vegan restaurant, Vinh Loi Tofu. If we didn't already have our amazing vegan wedding caterer, we'd be begging this place to do it. Even Michelle, a self-proclaimed meat lover, loved this restaurant! Over lunch we discussed the next steps in our planning process, everything from collecting vendor contracts to finishing our wedding website (sneak peek coming soon) to where to seat our guests to whether or not we should hire a DJ to lighting options for our dance floor.
After lunch, Maxx and I agreed that hiring a wedding planner was a great choice for us. But how do you know if hiring a planner is the right option for you, especially if you're on a budget?! Let's chat!
DO I NEED A WEDDING PLANNER?
Planners offer different packages: We didn't hire our planner to do all of the work. It would be great to have someone plan every detail of our vegan wedding, but we couldn't afford that option. Planners offer different packages from planning and orchestrating your entire Big Day, to day-of coordination. Couples who are working with a smaller budget might consider starting to work with a planner a month or two before the wedding, once most of the big decisions have been made.
Time is money: Having someone make vendor referrals and connections for us has been a big time-saver. Comparing a million different vendors may help you get a good deal, but for us that would take valuable time that we could spend earning the money we need to pay for this thing, or spending quality time together.
Staying organized: A wedding planner will help you stay organized, and stay on top of all of your planning obligations. They will also help you keep track of vendor contracts and details for the Big Day. This is especially important because you want to feel confident that everything and everyone is taken care of during the wedding.
You can also use WeddingWire's free online planner to organize your favorite vendors, and even contact them through the site. There's also a detailed countdown checklist so you won't forget any of the important stuff: apparently I should be writing my vows tomorrow 🙆🏾
You'll need a coordinator: Most venues require a wedding coordinator for the wedding day. A coordinator will help the event run smoothly, make sure the vendors (like the caterer, florist, DJ, and videographer) know what's going on, and help keep your guests from running to you with issues. Wedding planners can take this role too!
When looking for a wedding planner make sure they are someone you get along with, and would love to have at your wedding. They'll be meeting your family, interacting with your guests, and keeping you on schedule for the day.
What if you're on a tight budget? Even if you're on a tight budget you can work with a wedding planner in the last month leading up to the wedding, and as your day-of coordinator. However, if you really would like to save the money and keep track of the planning on your own use WeddingWire. It's free, and you can use reviews to help guide your decisions. I also love that you can see the vendor rates right there on WeddingWire! After we get married I will be sure to post more about how we stuck to our budget. Trust me, it ain't easy to do so in Southern California, but using WeddingWire to find an affordable venue that allowed us to bring our own alcohol and caterer was the first step.
Truly, we hired Michelle as our wedding planner because we wanted to have the accountability from someone other than our family, and we wanted to be able to relax on our Big Day knowing that we have someone who has our best interests at heart. So far, working with her has been very helpful and super fun.
She's not vegan, but she's open minded, so maybe after working with us she will be 😉