Better than Chipotle Vegan Burrito Bowl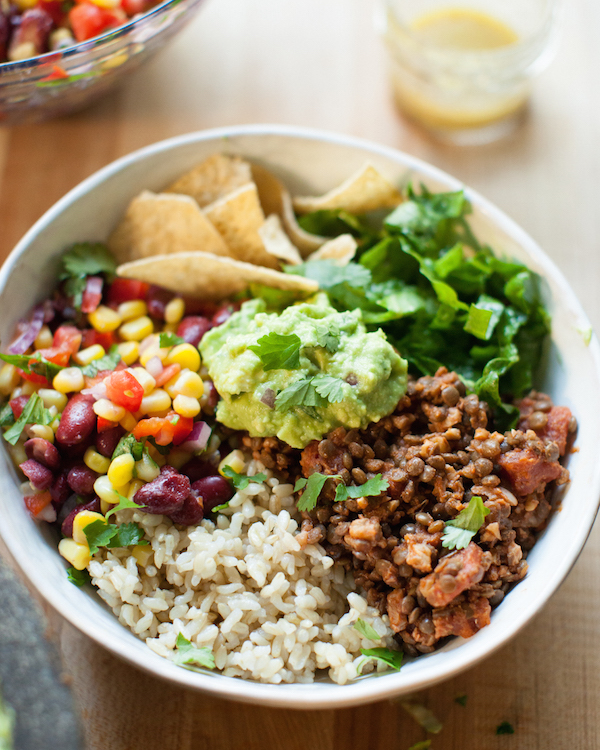 2 cups romaine, chopped
2 tbsp lime vinaigrette (recipe below)
½ cup cooked brown rice
½ cup lentil walnut taco meat (recipe below)
½ cup corn & bean salad (recipe below)
¼ cup guacamole (recipe below)
handful of tortilla chips
fresh cilantro
2 tbsp fresh lime juice, from about 1 lime
2 tbsp apple cider vinegar
1 tablespoon dijon mustard
2 teaspoons maple syrup or agave
½ teaspoon black pepper
½ teaspoon cumin powder or cumin seeds
⅓ cup extra virgin olive oil
2 tbsp extra virgin olive oil
4 cloves garlic, minced
1 cup walnuts, chopped finely
2 cups cooked black lentils (or use green or french lentils. Don't use red lentils)
1 14-oz can diced tomatoes
½-1 chipotle pepper, minced
2 tsp chipotle sauce (from the can of chipotle peppers)
1 tsp oregano
1 tsp cumin powder
1 tsp salt
1 can red kidney beans or black beans, drained and rinsed
2 cups frozen or fresh corn, thawed or grilled or quick sautéed if fresh
1 ripe tomato, diced
¼ cup red onion, diced (optional)
¼ cup fresh cilantro, chopped
½ teaspoon salt + more to taste
juice of 1 lime
2 ripe avocados, cubed
¼ cup red onion, diced
½ jalapeño pepper, minced (seeded or unseeded)
½ cup cilantro, chopped
juice of 2 limes
½ tsp sea salt
Place the romaine in your serving bowl, and toss with the salad dressing.
Add the other ingredients to the bowl, and garnish with fresh cilantro.
Place the ingredients into a jar.
Tighten the lid and shake until emulsified.
Warm oil in a skillet over medium heat.
Add the garlic, and sauté for about 30 seconds or until fragrant and slightly golden. Be careful not to burn it.
Add the chopped walnuts, and stir well. Toast for about 3 minutes, or until fragrant.
Add the lentils, tomatoes, chipotle pepper and sauce, oregano, cumin, and salt.
Stir well, and bring to a simmer. Cook for 10 minutes, then season to taste with salt if needed.
Place the ingredients into a mixing bowl and stir well. Season to taste with more salt if necessary.
Place the guacamole ingredients in a mortar and pestle and mash until your desired texture is reached. Tip: I actually like to mash mine with a fork first, then switch to the pestle so that I don't make too much of a mess.