Yummy Instant Pot Black Beans | Caribbean-Inspired Vegan Bento Box Meal Prep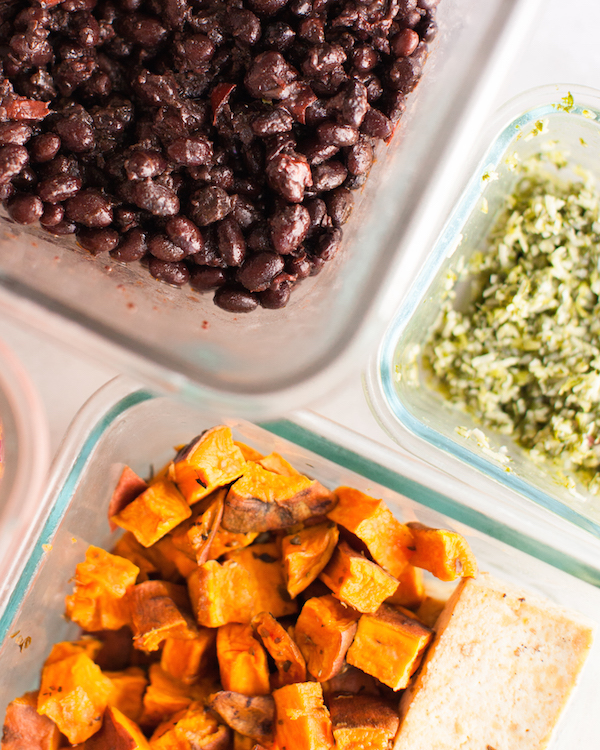 2 tbsp avocado oil, or other oil
½ yellow onion, diced
1 red bell pepper, diced
3 cloves garlic, minced
1 lb black beans, ideally soaked overnight
2 tsp vegetable bouillon paste (I like Better Than Bouillon brand)
Optional additions: 1 tsp cumin seeds, 2 tsp oregano, 1 bay leaf
Warm oil in the Instant Pot on the sauté setting.
Add the onions, pepper, and garlic, and sauté until onions are translucent.
Add the black beans, vegetable bouillon paste, and spices.
Pour enough water over the beans to just cover them. If your beans weren't soaked, then cover about 1 inch.
Pressure cook on high for 15 minutes if beans were soaked; 30 minutes if they were not soaked.
Allow the Instant Pot to natural pressure release, then open.
Only use soaked beans if you are not using a pressure cooker.
Sauté the onions, peppers, and garlic in oil.
Add the beans, veggie bouillon paste, spices, and 6 cups of water.
Bring to a boil, then reduce to a simmer for 45 minutes.
Skim off any foam.
Test to make sure the beans are tender, if not keep cooking until they are.
Season to taste with salt.
Recipe by
Sweet Potato Soul by Jenné Claiborne
at https://sweetpotatosoul.com/vegan-bento-box-meal-prep/