Chocolate Matcha Sticky Buns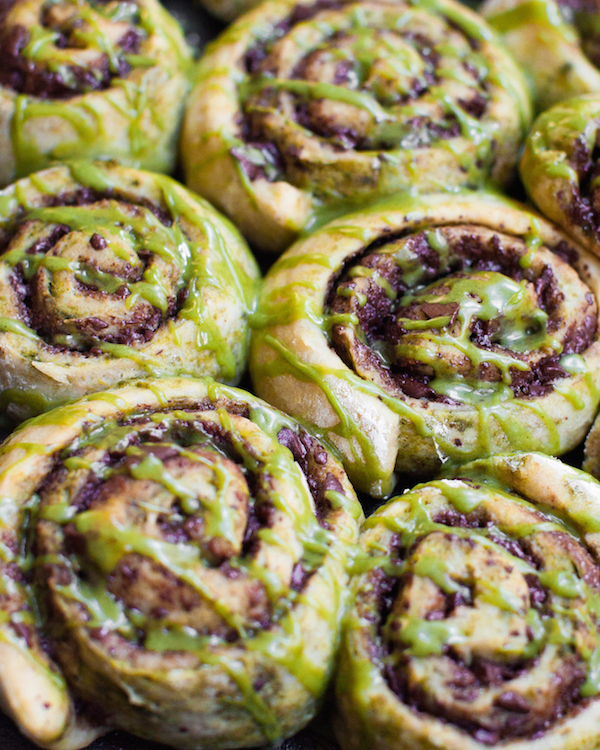 1 cup plant milk unsweetened plain
3 tbsp vegan butter
1 packet active dry yeast (or other instant yeast)
1 tbsp cane sugar
¼ tsp salt
3 cups unbleached all-purpose flour
1 tbsp matcha powder
1 cup powdered sugar
2 tsp matcha powder
2-4 tbsp plain unsweetened plant milk, start with 2 tbsp and add a little at a time to thin while you whisk
Warm the plant milk and vegan butter on the stove or in the microwave until butter is melted. Should take about 1 minute in the microwave. Check after 30 seconds.
The liquid should not exceed 110°, so use a kitchen thermometer to check. Any hotter and you'll kill the yeast.
Once the liquid is around 100-110°, sprinkle the yeast over the top of it, and let it sit for 10 minutes.
Transfer it to a large mixing bowl, or the bowl of your stand mixer, and stir in the sugar and salt.
In another mixing bowl combine the flour and matcha powder. If your matcha is very clumpy, use a mesh strainer to sift it into the flour. Mix well.
Add the flour mixture into the wet ingredients ½ cup at a time, stirring all the while. If you are using the stand mixer, use the knead attachment to mix the dough as you add the flour.
When you can no longer stir it, transfer it to a floured workspace, and gently knead it until you've formed a smooth ball. If you're using the stand mixer, no need to knead it by hand, simply form into a ball.
Place the dough ball into a lightly greased mixing bowl, and cover with plastic wrap or a kitchen towel, and allow it to rise for about one hour.
Mix the sugar and cocoa powder together in a small bowl.
Preheat oven to 350°.
Once the dough has doubled in size, you can press out the air, then transfer it back onto your floured work space.
Roll the dough until it is about ⅙th inch thick, and about 12x16 inches.
Brush the dough with the melted vegan butter, and top evenly with the sugar cocoa mix, then sprinkle on the chopped chocolate.
Roll the dough tightly (watch this videoto see how it's done).
Carefully cut the roll with a serrated knife into 1 inch slices, you'll have about a dozen. Or cut them a little thicker to make 8 larger rolls.
Place the rolls onto a greased cast iron skillet or baking pan (about 10x10).
Bake for 30 minutes, until they're slightly golden on the top.
Place powdered sugar in a mixing bowl, and stir in the matcha powder.
Add the plant milk 2 tbsp at a time, and whisk until smooth. Add more plant milk if you want it thinner.
Remove rolls from oven, and allow to cool for 5-10 minutes.
Top with the Matcha icing and serve immediately.