I'm excited to announce the pre-order of my cookbook, SWEET POTATO SOUL. Purchase your copy today at Amazon, Barnes & Noble, Books-A-Million, Indie Bound, or iBooks.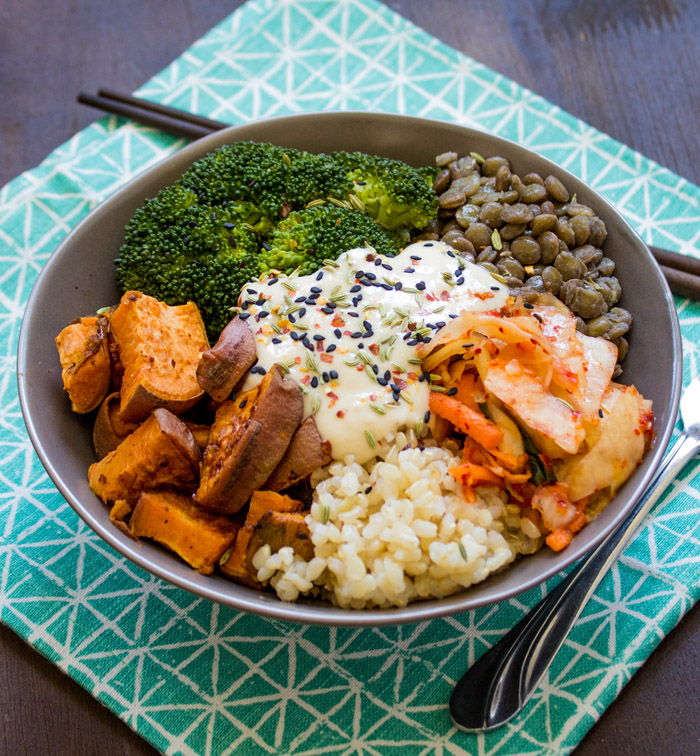 Is it really Thursday?
Oh lawd! I'm trying to figure out where the time goes. It seems like just yesterday it was Monday, and I was eagerly beginning a new week. I was talking about how to stay motivated, and feeling extra motivated myself. Monday, Tuesday, Wednesday, and all of a sudden, Thursday? I'm not complaining, I LOVE Thursdays. I'm just vexed.
It's been a great week, I must say. The weather in New York has been perfection! It's finally warm, the sun is shining, and I can finally show off my pedicure in the new vegan platforms I just bought. The pollen count is high, but the beauty of the green trees and flowers makes it okay. The chirping of birds (probably baby pigeons) and the sight of bugs (even flies) has given my week life!
The only really important thing I haven't yet accomplished this week is making goodies to send to my favorite ladies down in Georgia for Mother's Day. Yesterday I made some banana espresso biscotti, and tonight I'm roasting some delicious harissa almonds. Now my only task is to get to the post office.

I really wish that I was home to see my mom and Nana this Mother's Day. I would probably make them a vegan quiche, waffles too, and I'd do vegan crab cakes for dinner because they really love those <3 Instead, I'm doing the next best thing, sending my love in the form of baked goods by way of the United States Postal Service.
How do I stay nourished while I'm busy?
I'm going to blame my last minute Mother's Day shipment on my busy week. I've been cooking for clients, coaching, and working a lot on my blog. I recently joined Food Blogger Pro, THE program you should join if you want to learn how to have a successful blog. I love it so much that I became an affiliate! It's a fantastic program, but it ain't easy to do all of this work.
To stay nourished this week I have been relying on my all time favorite quick and easy vegan meal, the Buddha bowl. I first tasted one of these bowls of sunshine and joy a few years ago at Cafe Gratitude in Los Angeles. I was immediately hooked, and when I discovered I could easily recreate the dish at home, I knew I had struck gold!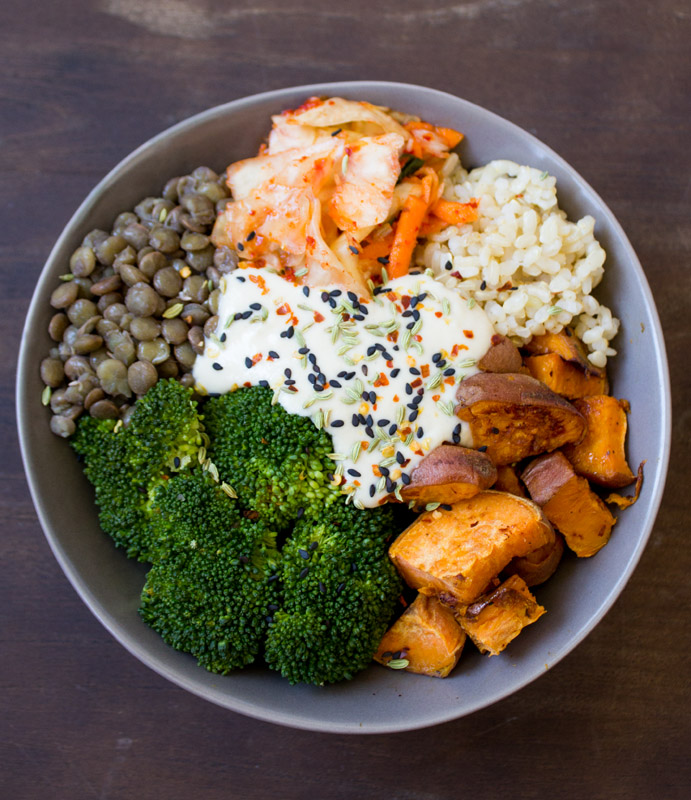 What's the hype?
A Buddha bowl is a well balanced vegetable and grain bowl inspired by the principles of the macrobiotic diet. In case you aren't familiar with it, the macrobiotic diet is a way of eating that recommends a grain and vegetable based diet, and emphasizes the balance of yin and yang in food for greater health. The modern macrobiotic diet has its roots in Japan, and like traditional Japanese cuisine the synergy between the different flavors (sweet, sour, bitter, salty, light, and hot) is important to every meal. I suppose the "Buddha" bowl is a western co-optation of the macrobiotic bowl. It is 1.) absolutely delicious, 2.) crazy easy to make throughout the week, 3.) comforting and nourishing, 4.) very healthy, and 5.) pretty.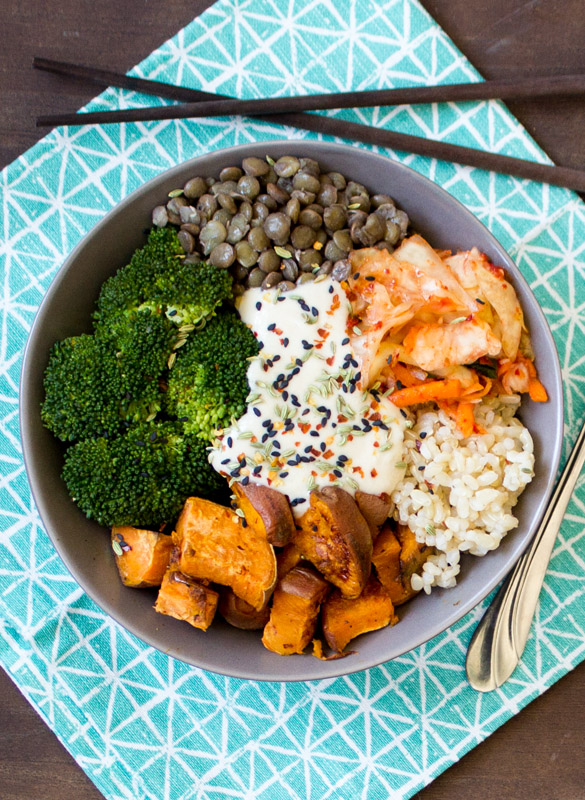 So–what's in my classic Buddha bowl?
I cook a bunch of brown rice, sweet potatoes, lentils, and beans at the beginning of the week so that I can quickly steam some broccoli or kale, and have this dish within minutes. I also make a jar of miso tahini dressing so that I can drizzle it on my bowl anytime. The thing that really pulls this bowl together is the kimchi. All of the flavors and textures combine to make a heavenly meal in just a couple of minutes. Just remember to cook your base ingredients at the beginning of the week so that you only need to scoop them into a bowl when you're ready to eat.
I've been a busy bee this week, but Buddha bowls have kept me nourished, healthy, and sane 🙂
For an even simpler Buddha Bowl recipe check out my e-book 5 Ingredient Vegan!
Happy Mother's Day to you!!! xoxo
Everyday Buddha Bowl
The big key to making this Buddha bowl quickly is cooking your grains, legumes, and veggies ahead of time. I do this about twice a week, so that it only takes me 5 minutes tops to have this delicious bowl. The sauce is really great, so you may want to double my recipe 😉
Ingredients
2

sweet potatoes

cubed & roasted

2

cups

cooked brown rice or quinoa

2

heads broccoli

chopped and steamed or roasted

2-3

cups

cooked lentils or beans

two 14-oz cans

1-2

cups

kimchi or sauerkraut

fennel seeds

black sesame seeds, and chili flakes

Tahini Miso Sauce

1

tbsp

light or yellow miso

¼

cup

tahini

juice from 1/2 a lemon

3-5

tbsp

water

dash of cayenne pepper
Instructions
Combine the sauce ingredients in a bowl, and stir until smooth and creamy. Add more water to thin if you like.

Place the sweet potatoes, rice, broccoli, lentils/beans, and kimchi in bowls. Top with tahini miso sauce, fennel seeds, black sesame seeds, and chili flakes.

Take a picture and post your photo to Instagram, Facebook, Twitter using #sweetpotatosoul 😉