You're going to love this balanced vegan Buddha Bowl made with marinated tempeh, beets, roasted sweet potatoes and massaged kale. This tempeh bowl is delicious, easy to make, and perfect for meal prep.

VIDEO VIDEO VIDEO
What is a Buddha Bowl
A Buddha bowl is a vegetable and grain bowl inspired by the macrobiotic principal of eating; a way of eating that prioritizes balance of wholesome plant-based ingredients for optimal health.
Buddha bowls contain the following:
Whole grain like brown rice, quinoa, or millet 
Legume like beans, tempeh, tofu, or lentils
Starchy vegetable like sweet potato or pumpkin
Green vegetable like broccoli, kale, spinach, or cabbage.

 

Fermented vegetable like sauerkraut or kimchi. 
Wholesome fat like avocado, coconut, tahini, nuts, or seeds.
Buddha bowls are fairly easy to make. I like making all of the ingredients on my meal prep day, and enjoying throughout the week––even in differing combinations. This Maple Mustard Tempeh Bowl may be healthy, but the combination of creamy avocado, tangy sauerkraut, starchy sweet potatoes, and savory sweet tempeh make it taste like comfort food!
Colorful Tempeh Bowl
We eat with our eyes first, and this Tempeh Bowl is quite an attractive feast! An easy way to make sure you're eating a balanced meal is to design your dish to be colorful and vibrant. We can thank the phytonutrients in our favorite fruits and veggies for their brilliant color. For example, the orange in carrots and sweet potatoes comes from a powerful antioxidant called beta-carotene. Beets get their rich color from betalain, another powerful antioxidant and anti-inflammatory phytonutrient.
The Ultimate Vegan Tempeh Bowl
Maple Mustard Marinade
This sweet and savory marinade is used to marinate the tempeh and serve as a dressing for the massaged kale. You'll need:
Maple syrup

Vinegar

Soy sauce

Mustard

Cayenne pepper

And black pepper
Tempeh
Tempeh is fermented soy bean cake. More on that in this post. If you're new to tempeh you're in for a treat. Any kind of tempeh will work for this recipe (original, 3 grain, etc). Tempeh needs time to absorb the flavors of the marinade so I recommend marinating it for at least one hour in this dressing. If you don't have that much time, steam the tempeh for 10 minutes before marinating it for at least 30 minutes.

Kale and Avocado
You gotta love your greens! The kale in this bowl provides extra vitamins, minerals, and fiber. Rolling up your kale and then slicing it into thin pieces will give you the best results for this bowl. The thinner sliced the kale is, the more tender it will be.  Massaging the kale with dressing and avocado will help break down cell wall, making it more palatable and delicious. You'll also be able to better absorb the nutrients from the kale. 
Brilliant colored ingredients
This wouldn't be a masterpiece if we didn't add color! Now that the salad base is done, we can decorate the bowl with great nutrients and designs. Cutting up some sweet potatoes and adding them in is a bright orange color and a great ingredient to add a hint of sweetness to it. Adding in some beets, sauerkraut, and grains will boost up the flavor in the bowl.
Once you've done all these steps above, you can now mix all these ingredients together for your almost completed dish. Now add in your cooked tempeh, and for extra texture and flavor, add pumpkin seeds. Just like that, you've made the most delicious comforting tempeh bowl ever!
Check out these other incredible vegan tempeh recipes!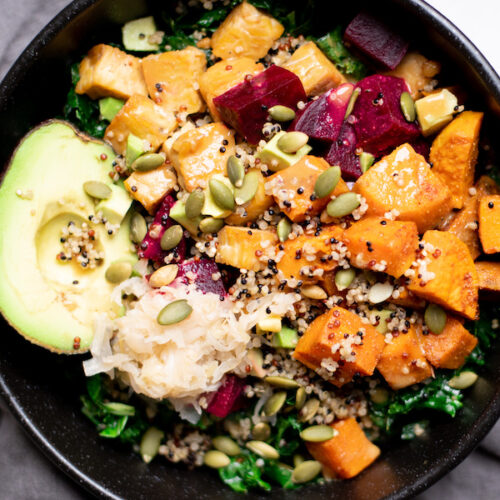 Maple Mustard Tempeh Bowl
Delicious and hearty tempeh bowl made with sweet potatoes, beets, massaged kale, and marinated tempeh.
Ingredients
Tempeh Marinade
1/4

cup

apple cider vinegar

2

tbsp

tamari soy sauce

2

tbsp

maple syrup

3

tbsp

stone ground mustard or dijon mustard

1

tsp

fresh black pepper

1/2

tsp

cayenne pepper
Buddha Bowl Ingredients
1

package tempeh

cubed

2

sweet potatoes

cubed & roasted at 375° for 35 minutes

2

medium beets

steamed and cubed (or roasted)

1

cup

quinoa

cooked

1/2

cup

sauerkraut

1

bunch of kale

stemmed, washed, and chopped into thin ribbons

1

avocado

1/2

cup

toasted pumpkin seeds
Instructions
Marinade
Place ingredients into a bowl and whisk to combine.

Toss in the cubed tempeh, and stir well to coat it in the marinade.

Cover and allow the tempeh to marinate for at least 1 hour, or up to overnight.
Make your Bowl
Heat 1 tbsp of oil in a large skillet.

Add the marinated tempeh, and be sure to reserve the marinade liquid (you will need to use it for the salad dressing).

Cook the tempeh on medium heat until brown on all sides.

Place the chopped kale into a large mixing bowl, and drizzle the remaining marinade liquid over it.

Add diced avocado, and use your hands to massage the avocado and dressing into the kale. Massage it until it is tender, about 3 minutes.

Add the sweet potato, beets, quinoa, sauerkraut, and tempeh. Toss well to make a salad. Top with pumpkin seeds.

If you would rather serve the Buddha bowl with the ingredients still separate, place each ingredient into a bowl, and top with pumpkin seeds.