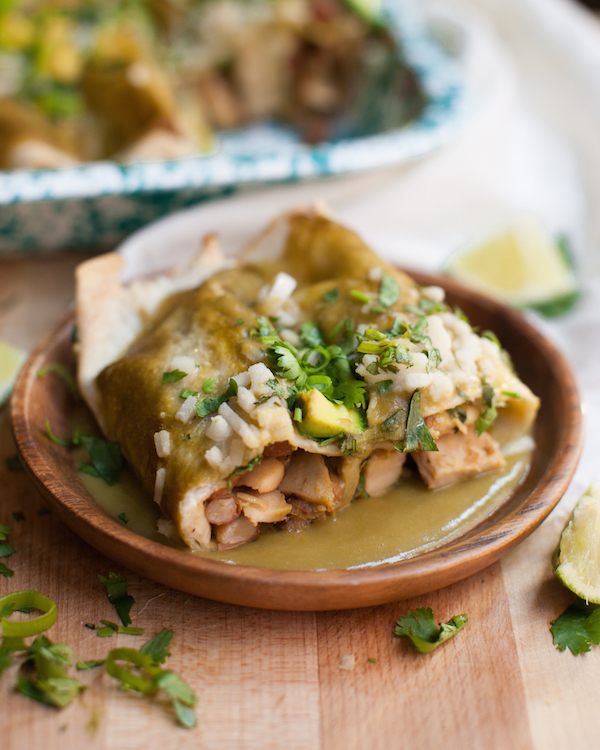 Have I got a recipe for you! These vegan Green Chili Chicken Enchiladas are everything! Like seriously, they're delicious, filling, AND easy to make. And aren't enchiladas the best dish for every meal? Breakfast, lunch, or dinner, I'm always in the mood for some enchiladas. For the "chicken" I used the Mindful Chik'n from Sweet Earth Foods. It's a gluten-free non-GMO soy based product, and is a perfect replacement for real chicken. Scroll down to the recipe for more ideas of how you can use plants to replace chicken 😉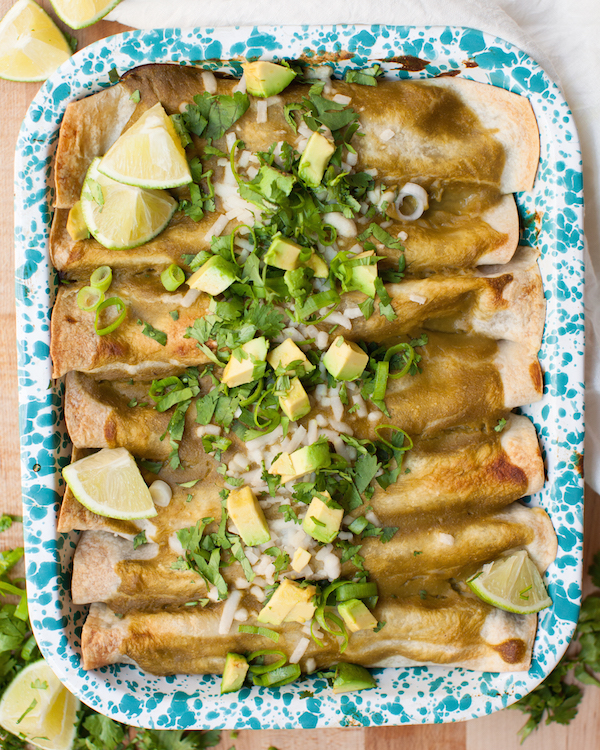 I remember when I first became vegan in 2011, I often felt like an alien. The fact that I didn't eat animal products was a source of confusion, ridicule, and threat to so many people––both strangers and those close to me. Half the time people wouldn't even know what it meant to be vegan. Fast forward to today, veganism has become mainstream and I regularly meet people who tell me they're vegan, going vegan, or aspire to be vegan. So much has changed!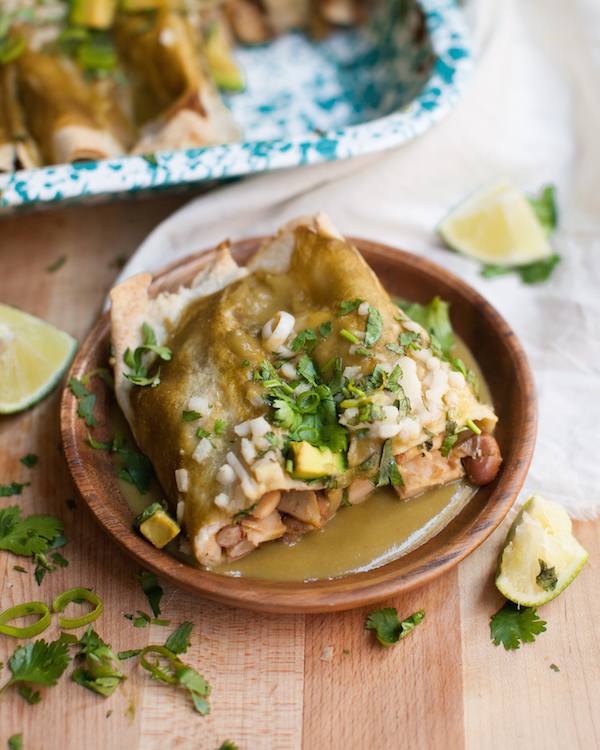 Of course the conversations around animal agriculture abuses, health benefits of eating only plants, and convincing documentaries has helped make this movement mainstream. But it ultimately comes down to the food. The food has to taste good and be filling. It has also helped that people are realizing that they can veganize their favorite non-vegan foods. I wrote a whole cookbook about veganizing soul food, something many people didn't think could be done. There are also so many amazing vegan products on the market: vegan "chicken", ground "meat", vegan cheese and other dairy alternatives, and so much more. I'm just waiting for the day that a plant-based meat alternative is the first choice for most Americans.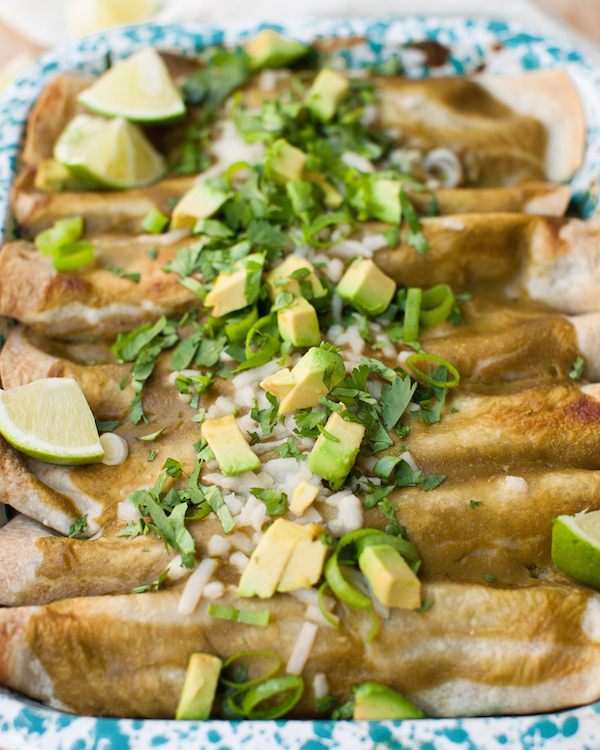 These Green Chili Chicken Enchiladas are the perfect dish for the meat lover and vegan alike. They're stuffed with both pinto beans and vegan chik'n, which gives them a delicious texture and makes them all the more filling. If you don't want to use a vegan chik'n, you could swap that out for mushrooms (especially oyster), or jackfruit! These are so tasty, I highly recommend doubling the recipe and freezing the extra batch for later. Summer cook-out or potluck coming up? Take these to wow the whole party!
Green Chili Chicken Enchiladas
If you don't want to use vegan chik'n, you can swap for 3 cups sliced mushrooms (any kind will do, but I especially like oyster mushrooms for this), or two cans of green jackfruit.
Look for roasted green chilis in a can. I used four 4oz cans of chopped green chilis for this. But you may be able to find larger cans.
Save a bit of the enchilada sauce to plate the finished enchiladas over.
To make this totally gluten free use gluten free tortillas and use garbanzo flour in place of white flour for the sauce.
Ingredients
Green Chili Enchilada Sauce
1

tablespoons

oil

1/2

cup

diced yellow onion

1/2

jalapeño pepper

seeded & minced

2

garlic cloves

minced

1 1/2

tbsp

white flour

1/2

cup

water

2

cups

roasted chopped green chilies

including the liquid

1

tsp

salt + more to taste

1/2

tsp

freshly ground black pepper

2

tsp

sugar

1

tbsp

white vinegar

2

tbsp

fresh lime juice + more limes to taste and for garnish
Enchilada Filling
1/2

cup

diced yellow onion

1

package Sweet Earth Mindful Chik'n or 3 cups mushrooms

or 2 cans drained and chopped or shredded jackfruit

1 15

oz

can pinto beans

drained and rinsed (about 2 cups)

1/2

tsp

salt

8

wheat tortillas

1/2-1

cup

vegan cheese

I used Follow Your Heart vegan mozzarella shreds

cilantro for garnish
Instructions
Green Chili Enchilada Sauce
Warm oil in a saucepan over medium-high heat.

Add the onions, pepper, and garlic to sauté.

Once the onions are translucent and golden (about 3 min), sprinkle the flour into the pan. Stir, and allow it to toast for about 30 seconds.

Pour in the water and use a wooden spatula to help deglaze the pan.

Add the chilis, salt, pepper, and sugar, and stir.

Cook for 5 minutes, then stir in the vinegar and lime juice.

Season to taste with more salt.

Remove from heat, and allow it to cool until safe to blend in the blender. If you have an immersion blender, you can blend it right away.

Blend until smooth.
Enchilada filling
Warm oil in a saucepan over medium-high heat.

Add the onions to sauté.

Once the onions are translucent and golden, add the Mindful Chik'n. Cook for about 5 minutes, or until it starts to brown on all sides.

Stir in the pinto beans and salt, and remove from the heat.
Assemble
Preheat oven to 350° or 400° if you like the edges of your enchiladas crispy.

Place a tortilla flat on a plate or cutting board, and spoon about 2 tablespoons of enchilada sauce onto it. Spread it evenly onto the entire tortilla.

Top with about 1/2 cup of the filling. Top that with vegan cheese.

Roll your tortilla and place it in a baking dish.

Repeat with the remaining tortillas and filling.

Cover the enchiladas with a generous helping of the green chili enchilada sauce and vegan cheese.

Bake for 20 minutes.

Serve garnished with cilantro and fresh lime.