Like super delicious recipes like this Beet Sweet Potato Soup? You'll love my new cookbook, Sweet Potato Soul. Order here! Don't miss the details for my upcoming Los Angeles book launch event at the bottom of this post ✨
I have been making this beet sweet potato soup every week because it checks off all the boxes. It is:
☑ hearty
☑ warming
☑ nutritious
☑ very easy to make
☑ super delicious
Hearty 💪🏾
This beet sweet potato soup will fill you up right. It's full of hearty tubers, and packs a serious fiber punch. If you ordered a bowl at a restaurant as an appetizer, you'd be taking your entire entree home in a to-go box. If super-hearty is not enough for you, if you're going for extra-super-insanely-hearty, add white beans and/or white potatoes—they're both delicious in this soup as well.
Warming 🔥
It's soup, hot soup, so of course it's warming! Make sure to eat it nice and piping during these winter months. (Yes, even here in LA it gets cool at night, and a warm bowl really hits the spot.) There is no leftover that is easier to reheat than soup, even if you don't have a microwave, so a giant pot of this stuff is the steamy gift that keeps on giving.
Nutritious 🌿
When you assemble an all star cast of colorful root vegetables (and stalks and leaves) you are pulling together some major nutritional power along with it. Between the high fiber in beets, sweet potatoes, and carrots and the anti-inflammatory magic of ginger, this soup is great for the gut. Celery is also known to support a healthy digestive tract — it contains a polysaccharide called apiuman that has been linked to various aspects of stomach health.
Beet greens are also crazy nutritious. They're chock full of vitamins and minerals, and a great source of iron. Two cups of beet greens contain a bit more calcium than a cup of cow's milk (~325mg vs ~275mg), but about half as many calories (~80 vs ~150). Those same two cups also have about 70mg of vitamin C, about the same as a medium sized orange. Those two cups of beet greens also contain about 5.5mg of iron, almost double the amount of a typical hamburger 😵 Also, vitamin C helps with iron absorption, making beet greens an even more amazing source of iron.
And of course you know sweet potatoes got you covered in the nutrition category too 😏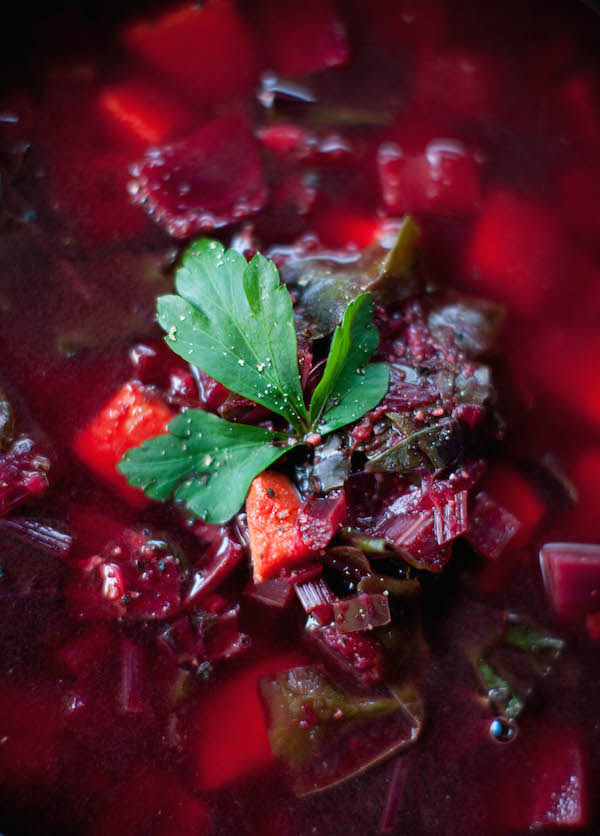 Easy 🍰
See the recipe below for proof. We're simply talking about some slicing and dicing and some peeling—the pot pretty much does the rest!
Delicious 😛
I really do love all of the above qualities of this beet sweet potato soup, but let's be real. The #1 reason why I keep turning to it again and again is that it tastes so so good! I can really chow down on a bowl of this stuff. The fact that it's extremely healthy and extremely easy makes it a truly perfect dinner. You will love having it in your arsenal 🙌🏾
Hearty Beet Sweet Potato Soup
This beet sweet potato soup has lots of flexibility! If you don't have one ingredient, you can skip it or replace it with something else. For example, no onions? Use scallions or leek. You can also add other ingredients to boost the flavor or nutrition. I love to add fresh grated turmeric (add when you add ginger), or add beans or lentils. Just make sure you don't skip the beets and sweet potatoes! If you can't get your hands on beets with the greens attached, use swiss chard in place of beet greens and beet green stalks.
Ingredients
1

tablespoon

grapeseed oil

1/2

yellow or red onion

diced

4

cloves

garlic

minced

1

jalapeño pepper

seeded and minced

2

tablespoons

ginger

about 1 1/2 inch knob, minced or grated

1

stalk celery

chopped (about 1 cup)

1/2 - 1

cup

beet green stalks

chopped (or use swiss chard stalks)

1

carrot

diced (about 1 cup)

3

beets

cubed (about 2 cups)

6

cups

vegetable broth or water + 1 tablespoon vegetable bouillon paste or 1 cube

1

sweet potato

cubed (about 2 cups)

2

cups

beet greens

chopped (or use swiss chard)

3-4

tablespoons

red wine vinegar

1

cup

fresh parsley

for garnish
Instructions
Warm oil in a large dutch oven or soup pot over medium heat.

Add the onion, garlic, jalapeño, ginger, and celery, and beet green stalks and sauté until the onions are translucent, about 5 minutes.

Add the beets and carrots, and continue to sauté for another 3 minutes.

Add the vegetable broth or water + bouillon, and black pepper. Then bring the soup to a boil. Add more veg broth or water to thin it out if you'd like.

Simmer with lid ajar for 10 minutes.

Add the sweet potatoes, and continue to cook for another 20 minutes, until the veggies are tender.

Stir in the beet greens, and cook another 5 minutes until they are also tender.

Remove from the heat and stir in the red wine vinegar. Season with more salt and/or vegetable bouillon paste.

Serve hot with fresh parsley.
In the Los Angeles area? Join me for a very special cookbook launch dinner party & book signing on Feb 21st. Click here to purchase tickets!