I have been making these amazing marinated Tempeh Tacos for a decade, and have no plans of ever stopping. They are absolutely delicious, easy to make, and beautiful––topped with crispy red cabbage and carrots, and creamy guacamole. Tempeh is full of protein and fiber, so these pretty little vegan tacos will certainly fill you up, and keep you feeling nourished for hours. If you are new to tempeh, this is a great recipe to start with!!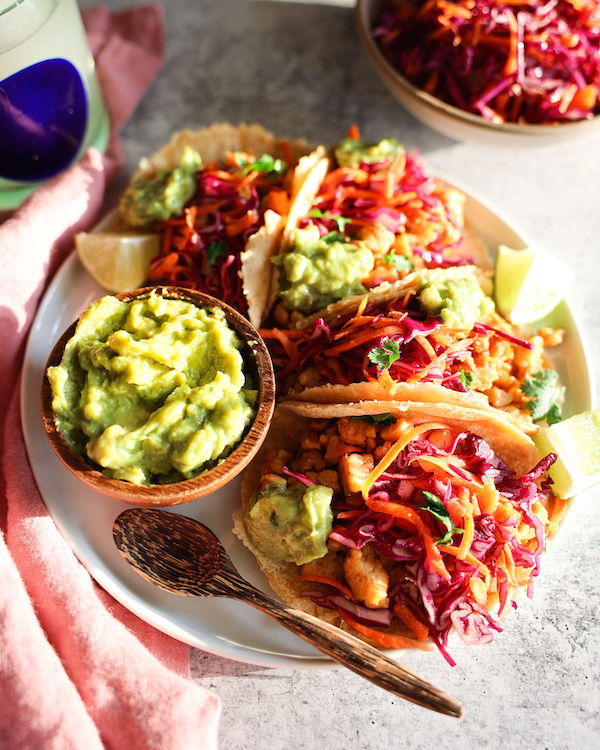 Let me please start by saying: tempeh is one of my favorite ingredients. It is versatile and highly nutritious. It is a fantastic replacement for meat because of its ability to take on the flavor of whatever you cook it in, and because it is high in protein. These marinated tempeh tacos are one of my favorite tempeh recipes ever!
What is tempeh made of?
Tempeh is a fermented soybean cake. Sounds yummy, right? I know, it doesn't sound very sexy, but there's a good reason why this is one of my favorite foods ever.
Tempeh is a very simple wholesome food. To make it, cooked soybeans are inoculated with a fungus spore, and allowed to ferment for a few days. The end result is a nutritious food that is easy to digest, full of probiotics, and has a meaty texture.
Sometimes soybeans are mixed with whole grains, like brown rice, to make tempeh. You can also find soy-free tempeh made from other legumes and grains like black bean tempeh and chickpea tempeh.
This delicious soy product was invented in Indonesia, and for hundreds of years has served as a staple food product, like tofu has in east Asia.
Is tempeh healthy?
In America tempeh is most known as being a fantastic plant-based protein. Just 1 cup of tempeh contains 31 grams of protein. To put that into perspective, the average woman requires 46 grams of protein each day.
Tempeh is also a great source of fiber, iron, magnesium, vitamin B6, potassium, and calcium. Being made of soybeans, tempeh contains soy isoflavones which, among other things, have been shown to help lower bad cholesterol. If you have high cholesterol a vegan diet full of wholesome nutrient dense foods like tempeh is great for reducing cholesterol, improving heart health, and losing weight.
Though unpasteurized tempeh is high in probiotics––good bacteria––most of that is lost when you cook it. However, you will still reap the benefits of eating a fermented product because the soybeans become easier to digest during the fermentation process.
How is tempeh different from tofu?
Tofu is the world's most well-known soybean product, and it's very different from tempeh. Tofu is not fermented, whereas tempeh is. Tempeh is made from cooked whole soybeans, while tofu is made from curdled soy milk. Tempeh is more nutrient dense than tofu, with higher amounts of protein, magnesium, and B6.
Tofu and tempeh are not always interchangeable because they have very different textures. It's hard to choose one over the other, but I can certainly say it's better in these tempeh tacos.
What does tempeh taste like?
Overall tempeh has a mild nutty and savory flavor. It has the ability to take on the flavor of whatever you cook it in. Some tempeh has a tendency to be bitter when eaten straight out of the package. Homemade tempeh (comment below if you want that recipe), has a sweeter taste.
Many people do not like tempeh because of the bitterness found in store-bought varieties. To get rid of any bitterness the tempeh should be steamed, marinated, or cooked in a sauce. If you still think it tastes bitter––which I don't––try making your own, or buying it from a local maker. My favorite store-bought brand is Lightlife.
Tempeh has a meaty texture, which makes it ideal for vegan tacos. Depending on how you cut and prepare it you can really control its texture and taste. I love dicing it like I have for these tacos, but I also love it cubed for curries, thinly sliced for vegan bacon, or kept nearly whole for bbq tempeh sandwiches.
Variations to these tempeh tacos
This marinade for these tempeh tacos is a recipe I've been using for over a decade. I discovered it on 101 Cookbooks. I have tried lots of variations, but this one is truly perfect. If you don't have balsamic vinegar you can use apple cider vinegar. Chipotle chili powder can be replaced with normal chili powder, or skipped.
To make these recipes in just 10 minutes, skip marinating the tempeh, and just cook it directly in the sauce.
If you don't have tempeh (!!!) you can use beans, mushrooms, or tofu. Each of these options can also be cooked on the stove in the marinade. However, if you want to use tofu, I recommend first crumbling it, then marinating it in the sauce, then cooking it in an airfryer at 400° for 15-20 minutes to dry it out and concentrate the flavor… Or just stick with the tempeh 😉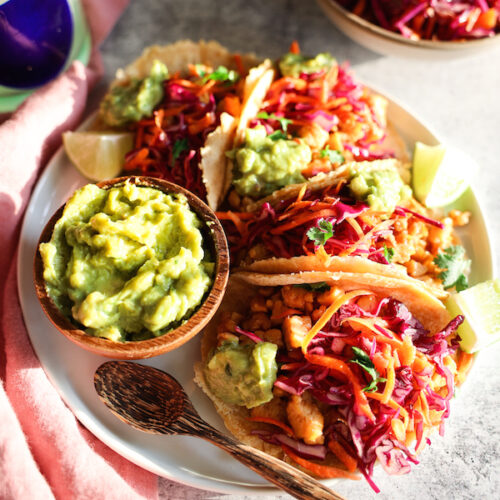 Marinated Tempeh Tacos
Ingredients
Tempeh marinade:
1

package tempeh

diced into large crumble sized pieces

¼

cup

soy sauce

¼

cup

balsamic vinegar

2

tablespoons

maple syrup or agave

1

tbsp

chipotle chili powder
Guacamole
2

ripe avocados

cubed

¼

cup

red onion

minced

½

cup

cilantro

finely chopped

1/2-1

whole jalapeño pepper

minced

juice of 2 limes

½

tsp

sea salt
Tacos
1/4

red cabbage

shredded

3

carrots

shredded

1

tbsp

extra virgin olive oil

1

lime

8-12

small corn tortillas
Instructions
Tempeh
Place the diced tempeh into the bowl or container you'd like to marinate it in.

Mix the marinade in a small bowl, then pour it over the tempeh. Allow it to sit for at least 15 minutes or overnight.

To cook the tempeh: transfer it to a skillet and cook until it is hot, golden, and the marinade has cooked off.

Or you can bake the tempeh by transferring it to a baking dish, with the liquid, and bake at 350° for 20 minutes.
Guacamole
Place the guacamole ingredients in a mortar and pestle and mash until your desired texture is reached. I like mine with some chunks in it.

Season to taste with more salt and lime. Set aside.
Assemble the tacos
Combine the shredded red cabbage and carrots in a bowl, and toss with olive oil and lime. Season to taste with a little salt if you'd like.

Warm the tortillas over a flame or in a toaster oven at 350° for 2 minutes. To keep them warm, if you are heating over a flame, wrap them in a clean kitchen towel.

Assemble the tacos by layering the marinated tempeh, cabbage slaw, and guacamole into the warm tortillas.

Garnish with more cilantro and a squeeze of lime and/or hot sauce.