This post is sponsored by Barilla. We teamed up to introduce you to their new line of one-ingredient legume pastas made from chickpeas or red lentils. If you love pasta, and you love getting the most nutrition out of every meal, then you're going to go crazy for this new pasta, and the Mediterranean Pasta Salad recipe below!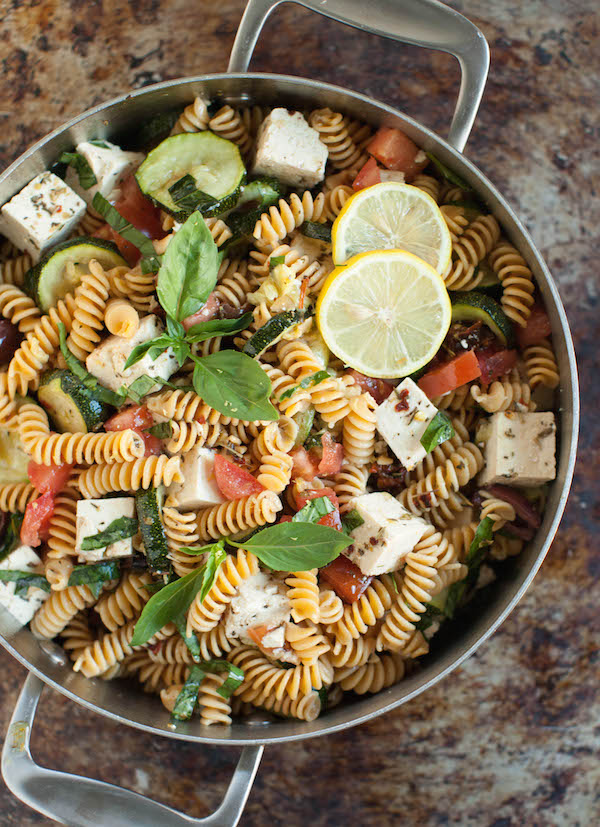 Two things I adore about pasta: 1) it's so easy to make, and 2) it makes me feel so good inside! I bet you can relate. But there are two more things I'm learning to love more and more about this food staple. For one, pasta is so versatile and serves as the perfect vessel for any sauce, vegetable, or herb. Growing up, we only ever ate it with red sauce (still my personal fave), but now I realize there are a million ways to serve pasta. And two, pasta itself is now being made with new ingredients. I have never had issues digesting wheat pasta, but my half-Italian husband would complain about discomfort after a big of spaghetti (the irony), so now we mostly stick to wheat-free pasta.
Barilla recently launched a line of one-ingredient legume pasta, and I'm excited to be collaborating with them to bring you a monthly series of delicious vegan pasta recipes. Because I'm still having a hard time totally letting go of summer, and the weather is still warm, I was inspired to make this flavorful and hearty Mediterranean Pasta Salad with Barilla's Chickpea Rotini for the first post. The recipe has a few parts, but each step is easy and the payoff is big. This recipe calls for roasted zucchini, but as we really progress into fall, I plan to replace that with roasted butternut squash 🙂
As a pregnant woman, I've been less interested in cooking. I know, that is totally insane coming from me, but it's true. Every day I just want to plop down with a tall smoothie or bowl of pasta! However, I've really been trying to limit my intake of highly processed foods and, opting for nutrient-dense complex carbs instead. It's always important––but even more so when you're pregnant––to get plenty of fiber at every meal. Fiber helps you stay full longer, which is so crucial when you are pregnant and can't eat a huge volume of food at once. Fiber also helps you maintain healthy digestion, elimination, and gut microbiome. So, I swapped out wheat pasta for legume pasta, added a ton more veggies to every dish, and started making bigger batches so I don't have to cook so often. What I love about this Mediterranean Pasta Salad recipe is that it gets tastier as the days go by.
Try it and let me know what you think! You can find the Barilla Legume pasta on Amazon, and at select grocery stores nationwide. The pastas come in four varieties: Chickpea Rotini, Chickpea Casarecce, Red Lentil Penne, and Red Lentil Rotini. Have fun exploring them all, and keep returning to my blog for more recipe ideas! For more on the new pastas from Barilla, visit www.barilla.com/legume.
Mediterranean Pasta Salad
Ingredients
2

zucchini squashes

thinly sliced or 2 cups butternut squash, cubed

1-2

tbsp

grapeseed oil

1/4

cup

red wine vinegar

1/4

cup

extra virgin olive oil

1

tsp

dried basil

1

tsp

dried oregano

1

tsp

freshly ground black pepper

1/2

tsp

red chili flakes

1/2

tsp

dried thyme

1/2

tsp

dried rosemary

1/2

tsp

salt

1 12-

oz

package tofu

drained & cubed

1

package Barilla Chickpea Rotini

1/3

cup

black olives

pitted & halved

1/4

cup

sundried tomatoes

chopped

1

vine ripened tomato

chopped

1/4

cup

fresh basil

chiffonade or chopped
Instructions
Preheat oven to 350° and line a baking sheet with parchment or a silicone baking mat. Place the zucchini or butternut squash onto the baking sheet and toss with 1-2 tablespoons of grapeseed oil. Spread evenly over baking sheet, and roast for 30 minutes.

In a medium mixing bowl, combine the red wine vinegar, extra virgin olive oil, basil, oregano, black pepper, chili flakes, thyme, rosemary, and salt. Whisk or stir well to combine.

Add the cubed tofu to the bowl with the dressing and toss to coat. Set it aside on the counter or refrigerator to marinate while the squash cooks.

To make the pasta: boil 4 quarts of salted water, add pasta and boil for 6-7 minutes for al dente pasta (I add 1-2 more minutes because I like a softer pasta). Drain well, then toss immediately with a drizzle of extra virgin olive oil. Spread it evenly over a baking sheet to cool until ready to use.

Once the squash is roasted, transfer it to a large mixing or salad bowl, then add the pasta, tofu with its marinade/dressing, olives, sundried tomatoes, and raw tomatoes. Stir well to coat, and season to taste with salt if needed.

Serve immediately or set it aside to cool and marinate more. Top with fresh basil before serving.