This Mushroom Gravy & Vegan Mashed Potatoes recipe is part of my round up of delicious Thanksgiving recipes. Check out the video and additional recipes below. For more comforting goodness make sure to order my cookbook, Sweet Potato Soul. Happy Holidays!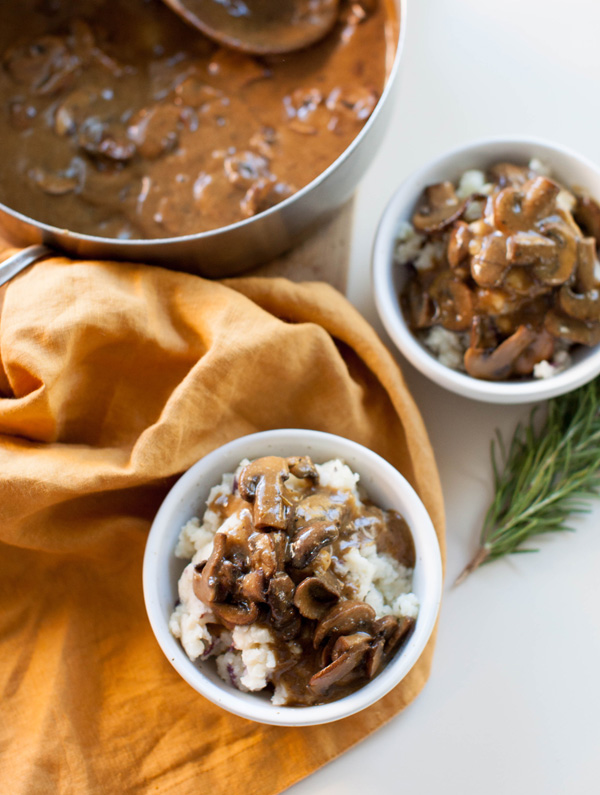 Growing up, the Thanksgiving table was not complete without mashed potatoes and gravy. My Nana would spend hours preparing every single dish, and this was one of my favorites. To this day it is one of my favorite comfort foods. Like so many of my pre-vegan favorite foods, I was elated when I found out it could be made vegan. Swap the butter for vegan butter, and use mushrooms instead of meat, and you've got a dish to die for!
This mushroom gravy can be served over all sorts of vegan Thanksgiving goodness, but I love it most over mashed potatoes. And it doesn't hurt that it's super easy to make.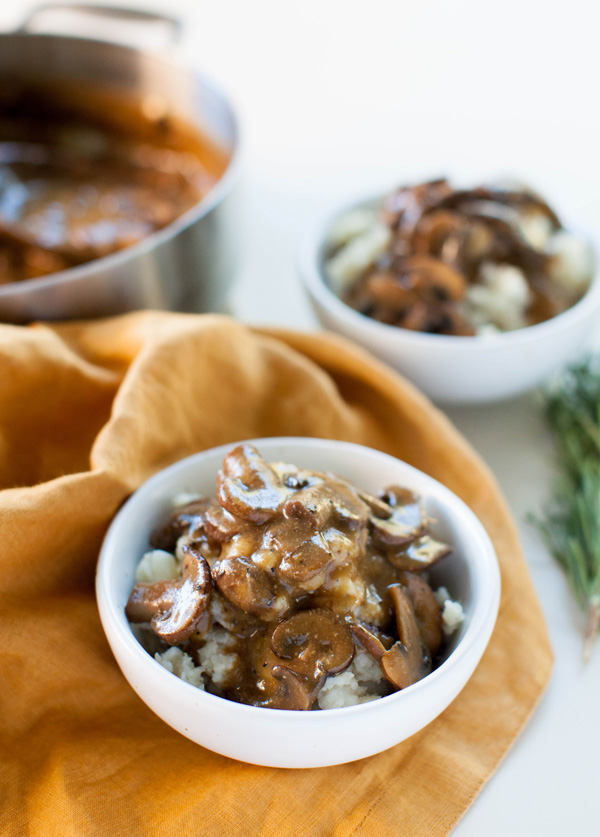 My recipe calls for porcini powder, which you can find online or at specialty grocery stores. It adds more depth, richness, and umami flavor to the gravy. But rest assured that if you have trouble getting your hands on it, you can skip it. This delicious mushroom gravy is still great without it.
For the mushrooms I kept it simple and used baby bella. This is one of the most common mushrooms; you can find it anywhere, from Walmart to Whole Foods. However, this gravy can also be made with more intensely flavored mushrooms like maitake, oyster, or chanterelle—or a mix of mushrooms. If you love fancy mushrooms but find them to be too expensive, look for them at Asian grocery stores. I buy fresh and often organic mushrooms for unbeatable prices at a Korean grocery store in LA called Galleria.
Check out my other Thanksgiving recipes in the video below. For even more check out my Sweet Potato Soul Thanksgiving Pinterest board.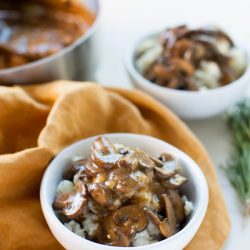 Mushroom Gravy
Feel free to use other delicious mushrooms for this mushroom gravy. A mix of different mushrooms works well too.
Ingredients
1

tablespoon

grapeseed oil

10

oz

package baby bella mushrooms

sliced thinly

2

tablespoons

all-purpose flour

2

teaspoons

porcini powder

2

cups

vegetable stock or water + 1 teaspoon vegetable bouillon paste

1

teaspoon

freshly ground black pepper

1

teaspoon

dried rosemary

½

tablespoon

tamari soy sauce

1

tablespoon

nutritional yeast

Salt to taste
Instructions
Heat oil in a saucepan on medium heat.

Add the mushrooms and a pinch of salt, and sauté until they are tender, about 7 minutes.

Add the all-purpose flour and stir well. Allow the flour to toast for about 30 seconds.

Add the porcini powder, vegetable stock (or water and bouillon), black pepper, and rosemary.

Bring to a simmer, and reduce the heat to medium-low.

Continue to cook and reduce the gravy for 30 minutes. Add the tamari and nutritional yeast, and season to taste with salt.

Remove from the heat and allow the gravy to cool for 10 minutes before serving.
Vegan Mashed Potatoes
I used red potatoes for this recipe, but you could also use yukon potatoes, or any other variety of creamy potatoes. When using red potatoes I like to leave the skin on some of them for added texture and color in the finished dish.
Ingredients
6

red potatoes

1

tablespoon

vegan butter

olive oil, or coconut oil (plus more to taste)

1 1/2

teaspoon

salt

2

cloves

roasted garlic

see note below

2

tablespoons

unsweetened plain soymilk

or other non-dairy milk
Instructions
Boil the potatoes for about 25 minutes, or until they are tender, though not too mushy.

Drain the potatoes, and allow them to cool until safe to handle.

Remove the skins from the potatoes if you want. I kept the skin on half of my potatoes because I like the texture and color.

Place the potatoes into a mixing bowl and use a potato masher or fork to mash them slightly. Add the vegan butter, salt, and roasted garlic, and continue to mash. Once the ingredients start to combine, pour in the soy milk. Keep mashing until your desired texture is reached.

Season to taste with more salt, then serve with the mushroom gravy.

Roasting garlic: To roast garlic, cut the tips off of a bulb of garlic, or a few cloves. Place them in the center of a piece of aluminum foil, add a drizzle of oil, wrap them tightly, then roast for about 35-45 minutes at 350°. Do this while you're potatoes are cooking and cooling.