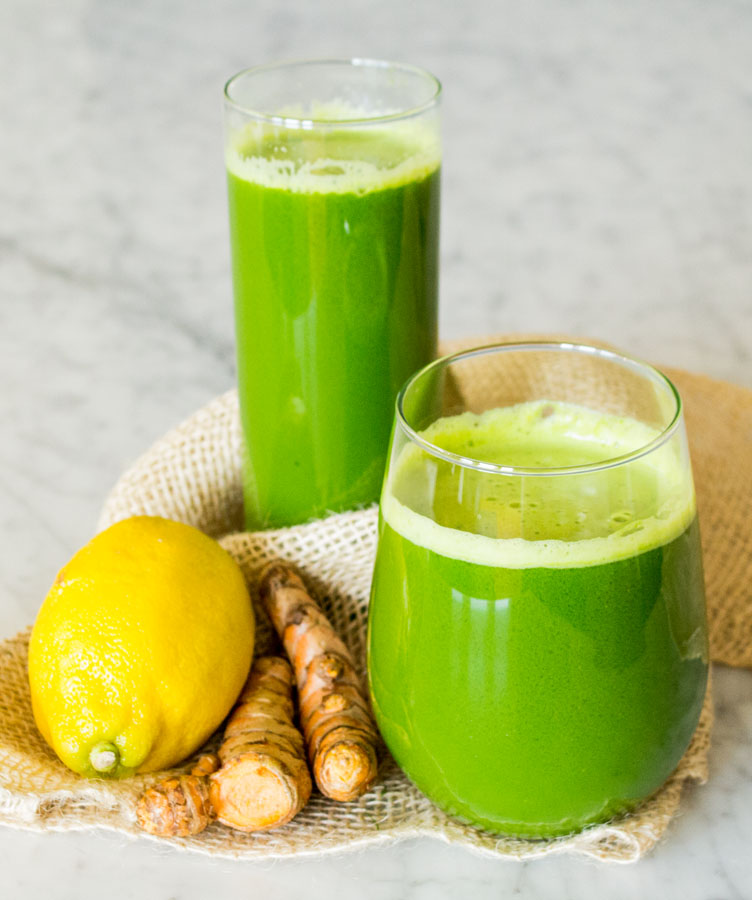 Hey!! Whoa, it's been way too long since I last posted. I'm sorry. Girlfriend has been working her ass off! Well, not literally. Maybe it would be more appropriate to say, working my ass back on. You know, because I'm a chef, and we eat a lot of food. Also, I've been so busy that I haven't had the time to go to yoga in over a week. Tonight will be my first class back. Praise the lord!
Praise the lord for green juice too! Amen!
After a long week of eating lots of sweets, and far too much food, green juices are exactly what I need to get my health and energy back on track. I'm not a fan of juice cleanses, mainly because I like food too much to deprive myself. However, having a green juice, or two, each day, along with eating lots of green veggies, and avoiding refined sugar (including wheat products, unfortunately), is all the cleanse I need to feel my very best!
In this week's video I show you how I make my daily green juice. As you'll see, the only fruit I include is lemon or lime. I avoid all other fruits in my juices, because they are too sugary. Without the fiber (which is extracted from juice), even sugars from fruits can spike your blood sugar levels. So, you'll often find me eating an apple or pear while I'm juicing 🙂
The juicer I use is the Omega 8006. I started off with the Breville juice fountain, but wasn't happy with it's inability to extract all of the liquid/nutrients from greens. If you're going to only juice green vegetables, buy a masticating or higher end cold-press juicer. My Omega 8006 is fantastic at extracting all of the good stuff. Since I started juicing I have noticed that I have more energy, and better skin!!
Since the fiber is removed, green juice makes it easy for your body to assimilate vitamins, enzymes, minerals, and water from the veggies. I used to be a green smoothie queen, but after too many smoothies and too many years, I developed an aversion to them. Green smoothies are truly wonderful, but often replace a meal. I'm too interested in eating to give up my meal for a green drink. I drink a green juice, and 10-30 minutes later, I'm ready to eat!
Do you juice? What's your favorite combination? For me a juice is not complete without ginger, lemon/lime, cucumber, AND fennel. Tell me what ingredients you cannot live without in a juice!
Daily Green Juice
This recipe makes about a liter of juice. I usually make this in the morning and save half to drink in the afternoon, or share with my guy. I use an Omega 8006 masticating juicer. Because it is a slow cold-press juicer it has a very small chute for ingredients. I cut all veggies to fit that chute. Cut your veggies depending on the size of your juicers chute.
Ingredients
1

large cucumber

peeled if it isn't organic

1

medium bulb fennel

6-8

cups

of kale or collard greens

1

cup

cilantro or parsley

large piece of ginger

about 2-inches long 1-inch thick

1

piece

of fresh turmeric

about 1/2-inch thick, 2 inches long

1

lemon

peeled
Instructions
Put all of the ingredients through your juicer. Enjoy immediately, or (if you have a cold-press juicer) store some in the fridge for later.