I'm excited to announce the pre-order of my cookbook, SWEET POTATO SOUL. Purchase your copy today at Amazon, Barnes & Noble, Books-A-Million, Indie Bound, or iBooks. Another version of this easy nut-free vegan mac and cheese recipe is in the book. Vegan soul food for the win!!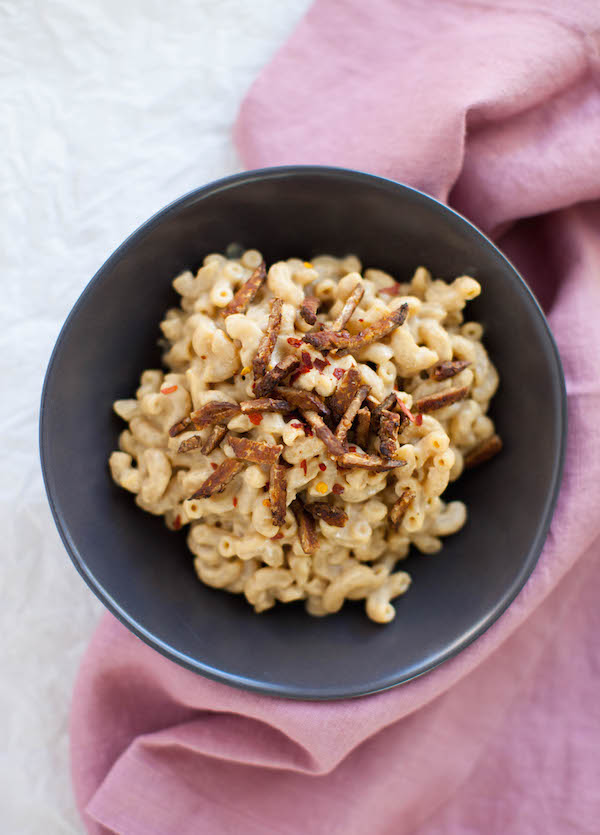 Creamy, rich, comforting vegan mac and cheese without nuts? Yes, please!! I'm allergic to cashews, so I can rarely eat mac and cheese at vegan restaurants. Luckily I have discovered easy ways to match the creaminess of dairy or nut based mac & cheese using wholesome ingredients. What if I told you that you could have all this creamy goodness using humble white beans?!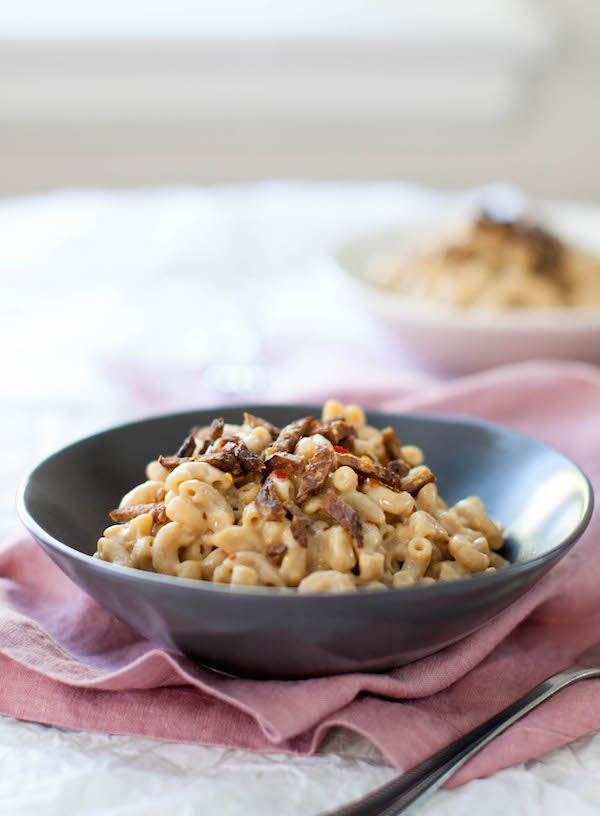 Yep. White kidney beans will do the trick! Blended with non-dairy milk, arrowroot powder (a natural thickener), and nutritional yeast, they make a luscious "cheese" sauce. The crazy part is that it's actually good for you. White beans are a great source of fiber, antioxidants, protein, and b-vitamins like folate. Nutritional yeast, the ingredient that gives this dish its cheesy taste, is also high in protein, and is fortified with b-vitamins…even b12!
I used whole wheat elbow pasta for this, but you could use a gluten-free version instead. Top it with some Fakin' Bacon, and you've got yourself a drool-worthy dish.
And by the way, I am still a huge fan of my other vegan butternut squash mac and cheese recipe. This one is just way easier to make. Definitely a bonus! 
Nut-Free Vegan Mac and Cheese | Easy Vegan Soul Food
Ingredients
1/2

tablespoon

arrowroot powder or cornstarch

1

cup

unsweetened plain soy milk

or other plain non-dairy milk

1

tablespoon

grapeseed oil

1

clove

of garlic

minced

1/2

teaspoon

onion powder

1/2

teaspoon

salt

+ more to taste

1/2

teaspoon

smoked paprika

optional

1/2

teaspoon

dijon mustard

1

teaspoon

mellow miso

or white miso or chickpea miso

1

teaspoon

lemon juice or apple cider vinegar

1/2

cup

nutritional yeast + more for garnish

1/2

cup

cooked white kidney beans

aka cannellini beans

1

package of Lightlife Fakin' Bacon tempeh bacon

8

ounces

of elbow pasta

red chili flakes for garnish
Instructions
Mix the arrowroot in a small bowl with 1/4 cup of the milk. Make sure to get out the clumps. Set aside.

In a sauce pot, warm the oil on medium heat.

Add the garlic, and sauté for about 30 seconds, or until it starts to brown ever so slightly (careful not to burn, it should get slightly golden).

Add in the remaining soy milk along with the onion powder, salt, smoked paprika, mustard, miso, lemon juice, and nutritional yeas. Stir well to combine and break apart any chunks of miso or nutritional yeast.

Reduce the heat to medium-low, and stir in the arrowroot soy milk.

Continue to stir to combine the ingredients and thicken the sauce (about 1 minute).

Add the cooked beans, and keep stirring for another 2 minutes.

Remove it from the heat and allow it to cool until safe enough to blend.

Meanwhile, panfry the tempeh bacon in a skillet coated with a very thin layer of oil. If you are using a cast iron skillet or non-stick skillet you can skip oil if you prefer. Cook on each side until crispy, about 3 minutes each side over medium-heat.

Cut the tempeh bacon into small pieces.

Cook your macaroni noodles al dente with plenty of salt (follow package instructions––the elbows I use cook for 5-7 minutes).

Strain the noodles and place back in the pot they were cooked in.

Once cool, transfer the sauce to a blender and blend until very creamy. No chunks should remain.

Season to taste with salt, nutritional yeast, or more lemon juice if necessary.

Pour the "cheese" sauce over the noodles, and stir well to coat every noodle.

Serve hot, topped with the tempeh bacon pieces, chili flakes, and a sprinkle of nutritional yeast.
Save
Save