A girl should pamper herself as often as possible. That's my philosophy. I love getting my nails done, going to the spa for a massage, and seeing my beautiful Los Angeles esthetician Adina Diaz. I leave each service feeling revived, beautiful, and inspired to live my dreams!
There was once a time when I didn't think twice about the products that were used in my occasional pampering sessions. Were they tested on animals? Were they vegan? Did they contain synthetic fragrances? Had any of the ingredients been linked to causing cancer?­­­­ I never once thought to ask my specialist about their products.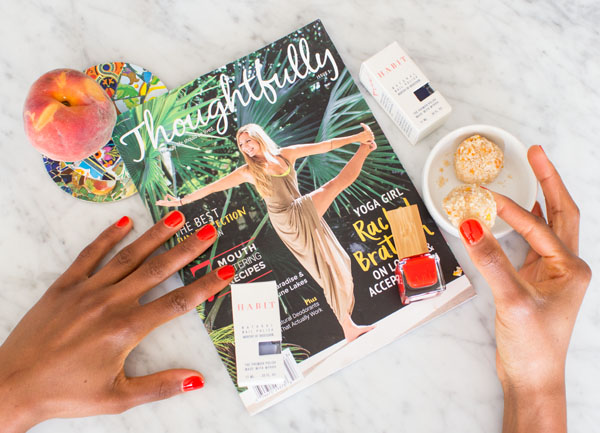 Once I became vegetarian, I started becoming more interested in the products I use on my skin every day. I was starting to clean up my diet. It made a lot of sense to also clean up my beauty products and find skin care specialists who care as much as I do.
Now my daily skin routine is grounded in using natural products and food grade ingredients. Coconut oil, apple cider vinegar, and Aztec clay are my at-home beauty superstars. Still, a girl needs to pamper herself on occasion!
When I was last in LA I visited Adina Diaz for a much appreciated herbal body wrap, a detoxifying and rejuvenating corporal treatment. Adina only uses the very cleanest natural products in her studio, so I shouldn't have been too surprised to discover that her friends do too! When I arrived at Adina's her friend Aja, founder of Habit Cosmetics, was there with a gift for me; a package her stellar all-natural nail polishes.
Not all nail polishes are bad
I had been avoiding purchasing nail polish and going to the nail salon. I feared the toxic chemicals that come along with the varnish (formaldehyde, toulene, and dibutyl phthalate). Why spend a bunch of money on something that could be harming my health in the long run?
It goes without saying that I was extremely excited to get my nails did with Aja's non-toxic polish. It even contains myrrh which apparently strengthens the nail instead of weakening it like most polishes do. I love my nails so much, and now that I know there are brands dedicated to making safe polishes I'm going to keep my fingers pampered along with the rest of my body.
My bright and summery nails even inspired me to create a sweet treat to go along with this post. Raw Mango Coconut Macaroons!
Also, you'll notice the magazine in a couple of the photos is Thoughtfully. I threw it in there because it's a new publication all about natural and ethical beauty. I think you'll enjoy reading it as much as I do!
Enjoy pampering yourself with these goodies! xo
Raw Mango Coconut Macaroons
These macaroons would also be really tasty dipped in melted chocolate 🙂 Makes about 12 macaroons.
Ingredients
5

sheets of dried mango

chopped

2

cups

shredded coconut

unsweetened

1/3

cup

coconut butter

not coconut oil

1/4

cup

maple syrup

1/2

tsp

cinnamon

pinch

of sea salt
Instructions
Place all ingredients in a[url href="http://amzn.to/1KCMnLt"]food processor[/url]and blend until combined, and sticking together (about 20-30 seconds).

Form the batter into macaroon shapes, or roll into small balls.

Serve immediately. Store room-temperature, and not the refrigerator because they will harden too much.