This Savory Steel Cut Oats Bowl is sponsored by The Quaker Oats Company, all opinions are my own.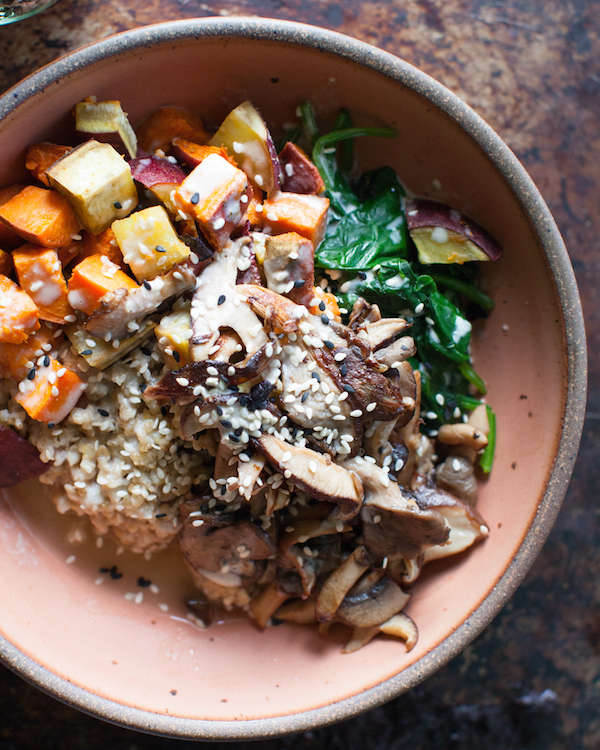 Quaker is my favorite brand for every type of oats––steel cut, old fashioned, quick cook, and instant. And, even better, when you purchase Quaker products through February 28, you can help provide nourishment to families in need through their partnership with Feeding America. How cool is this: for every UPC code from participating Quaker Cereal products that you enter online, Quaker will donate $1 to Feeding America, up to $250,000! Just $1 helps to secure 10 meals on behalf of local member food banks. Now more than ever, every dollar counts. More info at Quakeroats.com/feedingamerica. 
Bowls. I just love this comforting, balanced, and delicious dish. It could be a Mexican-inspired bowl, a bowl with a Southern flair, or just an everyday colorful Buddha Bowl, I love them all. When I finally discovered a savory oat bowl at a local LA restaurant, I realized how great steel cut oats are for this type of recipe, too. This Savory Steel Cut Oat Bowl is inspired by that very bowl, which itself was inspired by Japanese flavors: savory miso, briny seaweed, and a rich broth. 

It is kind of ironic that I created this Savory Steel Cut Oats Bowl to bring awareness to Quaker's partnership with Feeding America. Bowls can be about abundance, balance, and wellness––at least mine are. And those are blessings that so many people have  to go without. These days I've been extra mindful of where my food comes from, and intentional about giving thanks for the nourishment that I have such easy access to. I am blessed. So this particular bowl isn't just a fun and unique recipe, it's a celebration––and trust me, you'll feel that when you eat it. It is a meal that should inspire gratitude, humility, and compassion. 
Quaker steel cut oats serve as the base. On top of it I add meaty shiitake, maitake, and oyster mushrooms (use whatever you like), spinach, roasted sweet potatoes, and a seaweed kissed broth. I love the mix of textures and the blend of sweetness and savory. To take it to the next level, serve the bowl with a creamy tahini miso maple sauce, and a generous sprinkling of furikake (or just sesame seeds and nori flakes). Even kids love this bowl! 
If you're looking for a savory breakfast option, and still want the benefits of eating  oats, this will do. Make all of the ingredients ahead of time so you can easily assemble in the morning. In general I recommend doubling this recipe so you can enjoy it throughout the week. If you have any extra cooked ingredients, even the steel cut oats, you can toss them into a hearty salad. 
I'm now super excited to try steel cut oats in other savory recipes. If you plan on making them stove-top, keep in mind that steel cut oats aren't like old fashioned oats, they take around 30 minutes to cook. To cut the cook time down, try soaking them overnight like you would beans. Simple!
If you have any favorite savory steel cut oat recipes, please share in the comments below!
Savory Steel Cut Oats Bowl
Ingredients
1

cup

Quaker Steel Cut Oats

3

cups

low-sodium vegetable broth

2

sweet potatoes

2

tbsp

oil

for roasting & cooking veggies

1

lb

mushrooms

oyster and shiitake

1

bunch spinach

1

tbsp

miso paste

1

tbsp

maple syrup

1/4

cup

tahini

2

tbsp

rice vinegar

2

tbsp

toasted sesame seeds

nori flakes or other seaweed flakes
Instructions
Instant Pot Steel Cut Oats
Add the oats and 2 cups of vegetable broth. Stir.

Pressure cook on high for 7 minutes, and let it natural steam release.
Sweet potatoes
Toss the sweet potatoes and mushrooms (separately) with the oil, and spread evenly on a baking sheet.

Roast the mushrooms for 25-35 minutes, until tender and slightly golden. Roast the sweet potatoes for 35-45 minutes, or until tender.
Broth
In a saucepan bring the vegetable broth to a simmer. Add the spinach, and cook for 5 minutes, until wilted but still bright green.
Tahini Miso Sauce
In a small bowl or jar with lid, combine the miso paste, maple syrup, tahini, and rice vinegar. Whisk and add water to thin when necessary; 1 tbsp at a time. If you are using a jar with lid, tighten the lid on the jar and shake. You may need to use a fork to blend the miso. Add water to thin the sauce.
Assemble the bowl
When everything is cooked, assemble the bowl. First add a scoop of the steel cut oats, then add the spinach broth, roasted veggies, and top with the tahini miso sauce, sesame seeds, and seaweed flakes.