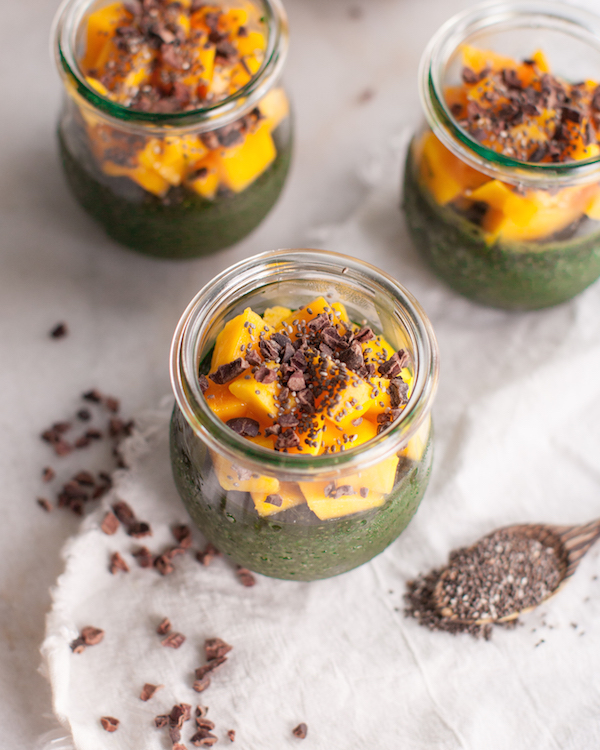 My new favorite snack is this gloriously green Spirulina Chia Seed Pudding. I wish I could claim to have come up with this idea on my own, but I didn't. I buy fresh spirulina from a local company here in Southern California, and spirulina chia seed pudding is one of their new products. They gave me a container to try, and I was hooked! I don't usually like other people's chia seed pudding, but this one was the perfect thickness and sweetness. Plus, the spirulina––a tremendously nutritious blue-green algae––blended seamlessly into this sweet treat. I just knew I'd have to copy the recipe and start making it at home.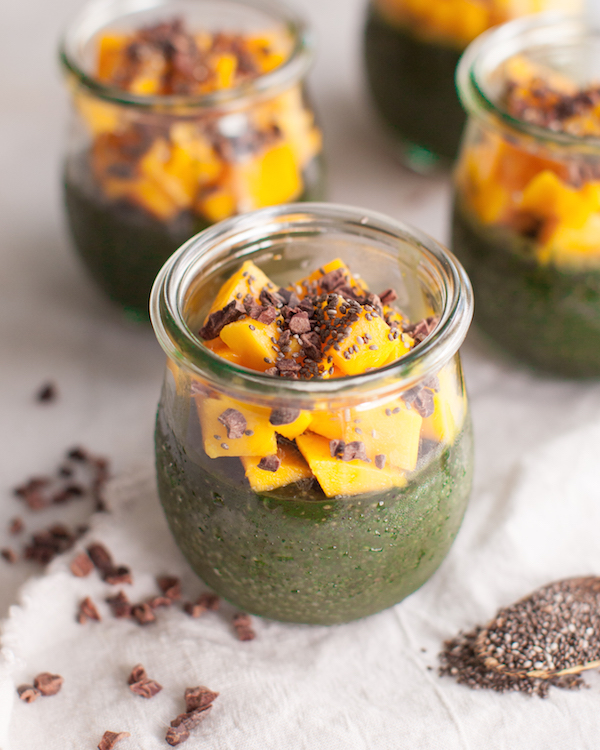 I'm not sure if chia seed pudding is overrated, or underrated. Sometimes it's just bad and boring. But other times it's the perfect snack: delicious, filling, and clean. I grew up eating (and loving) Jello pudding, a snack that requires zero effort and contains zero nutrition. Chia seed pudding, however, requires that you take your time to chew, and in return will keep you full longer than most snacks.
Can we talk about the nutrition in this spirulina chia seed pudding? Each serving of pudding contains 2 tablespoons of chia seeds, which means 4 grams of protein and 11 grams of fiber, just from the seeds. Each serving also has about 1 tbsp of spirulina, which means an additional 4 grams of protein. Both chia seeds and spirulina have all 9 essential amino acids, making them a complete protein. And despite all of that fiber and protein, this pudding is still light enough for me to eat in the morning before I practice yoga.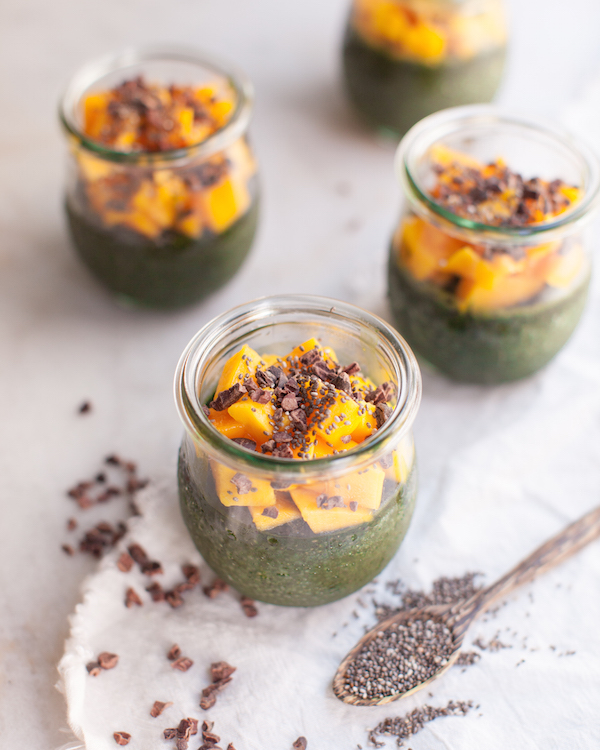 But there's more! Chia seeds are a fantastic source of calcium, zinc, omega-3 fatty acid, and phosphorus. Spirulina is high in antioxidants and phytonutrients like chlorophyll, beta-carotene, phycocyanin. I sweeten this superfood pudding with dates, season it with a little cinnamon, blend it with unsweetened oat or soy milk, and top it with fresh mango (or other fruit), and raw cacao nibs.  A healthier sweet snack does not exist.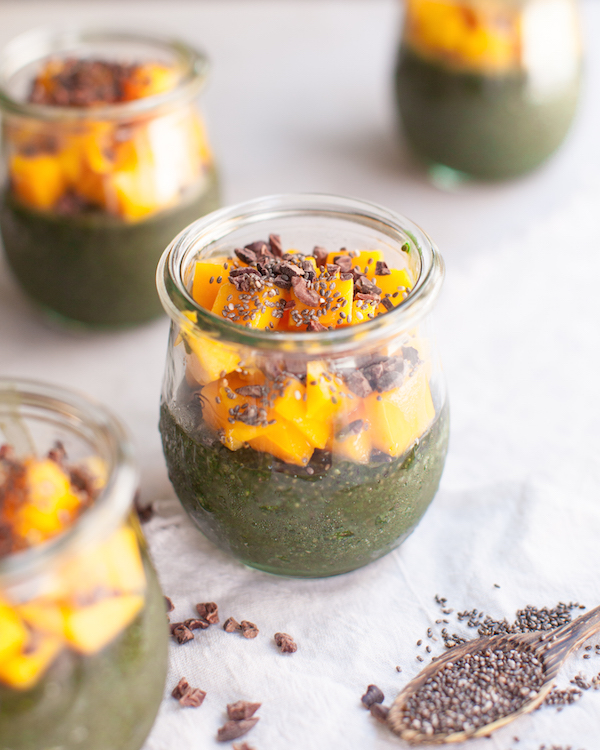 I hope you'll give this recipe a try! Spirulina is expensive, but if you're able to invest in your health by buying high quality nutritious whole foods, then I definitely recommend it. I prefer fresh spirulina which has a very mild taste, and blends well in all recipes. Powdered spirulina can taste kind of fishy, which you don't want in a pudding. I also like fresh spirulina because it might have higher amounts of vitamins and phytonutrients, and it has a lower risk of contamination by bacteria and heavy metals. I buy my fresh spirulina at the farmer's market from Go Spiral Farms. I usually buy a large container and freeze most of it so that I can store it for longer, and easily add it to recipes. Look online to find fresh spirulina near you, or order it online. I have not made this recipe using powdered spirulina, but I'd recommend halving the amount that I use and adding more to taste. I'll test it asap.
Spirulina Chia Seed Pudding
If using dry powdered spirulina, you should use 1/2 what I use with fresh. Powdered spirulina has a stronger flavor than fresh, and is at times kind of fishy. Start small, and add more to taste.
Ingredients
2

cups

unsweetened plant milk

I use Oatly or soy milk

6

dates

soaked 10 minutes and pitted

4-6

tbsp

fresh spirulina

2-3 tbsp powdered spirulina (see note above)

2

tsp

cinnamon

3/4

cup

chia seeds
Instructions
Blend the plant milk, dates, spirulina, and cinnamon until smooth.

Pour the liquid into a bowl, and whisk in the chia seeds. Whisk well.

Pour it into 6 jars or leave in the bowl.

Place in the refrigerator to thicken at least 6 hours, or overnight.