I'm excited to announce the pre-order of my cookbook, SWEET POTATO SOUL. Purchase your copy today at Amazon, Barnes & Noble, Books-A-Million, Indie Bound, or iBooks.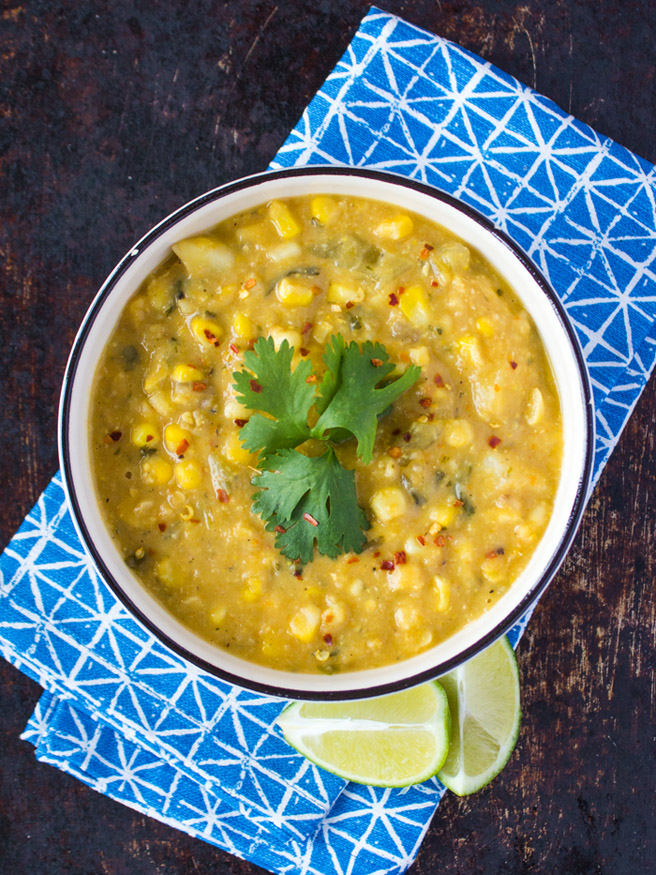 Corn season is here, and I'm so happy! I love diving through the bins of corn cobs at the farmer's market, and bringing home the sweetest golden stalks. I might go so far as to say corn is my favorite grain. Yeah, grain, because it ain't a vegetable (sorry kids). I love it for it's versatility, sweetness, low-cost, and heartiness. In the summer time, when it's in season, I can literally eat it raw!!
Today I want to show you how to turn the season's bounty into a creamy and delicious corn chowder, one of my favorite soups. You may be thinking, "Soup! Are you crazy, Jenné? It's too hot for soup". And I feel you on that, however, this soup happens to be delightful whether it's eaten hot, room temperature, or chilled. Okay?!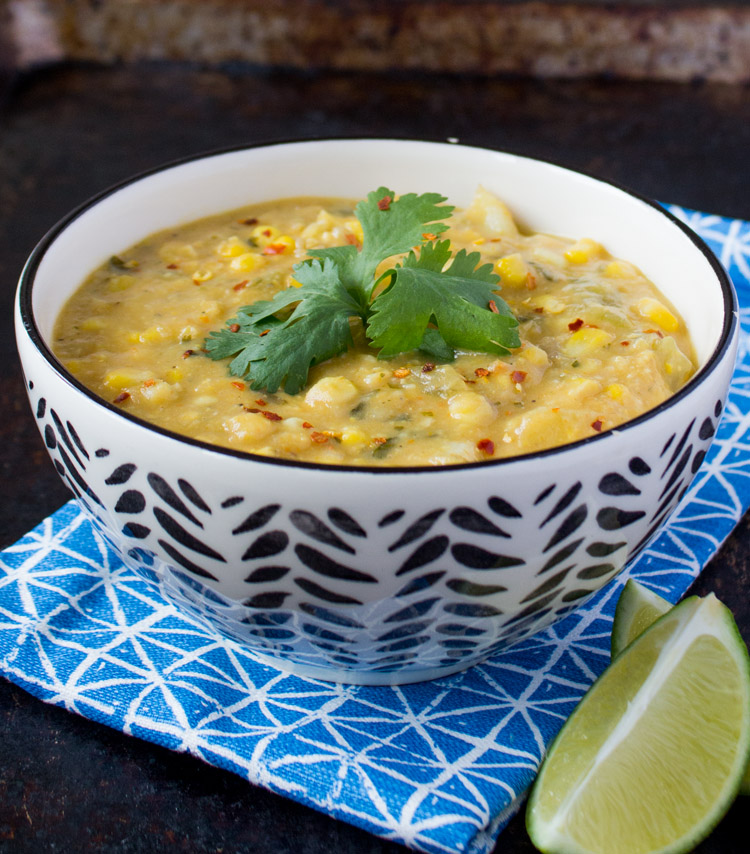 And where does that creaminess come from without cream? Take a guess!
Oh yeah, coconut milk. In addition to giving this soup body and suavidad (smoothness), it adds a subtle hint of the tropics. Add the lime to the coconut creamy corn chowder, and you just might end up licking the bowl. This stuff is really really guuud 🌽💕
Watch the vid, make the soup, a let a girl know how you like it! Post your pics to Instagram using #sweetpotatosoul
Vegan Creamy Corn Chowder
Worried about GMO corn nastying up your soup? Look for organic corn on the cob, and if you can't find that, use organic non-GMO frozen corn. The recipe calls for celery, carrots, and potatoes too. Try to chop them all around the same size.
Ingredients
2

tbsp

coconut oil

1

small red onion

diced

2

garlic cloves

minced

1 1/2

cup

celery

chopped (about 2 stalks)

2

cups

carrots

chopped (about 3 small)

4

small yukon gold potatoes

cubed

2 1/2

cups

corn kernels from 4 cobs

or use frozen non-GMO corn

1 14-

oz

can of coconut milk

1 3/4 cups

2

cups

water

2

vegetable bouillon cubes

http://amzn.to/1JhEFZS

1

tsp

crushed chili pepper flakes

1

tsp

black pepper

1

cup

cilantro

chopped
Instructions
Add the onions, garlic, and celery, and sauté until onions are translucent.

Stir in the carrots, potatoes, and corn kernels.

Pour in the coconut milk, water, and bouillon cube then bring to a boil.

Reduce heat to let soup simmer and cook until the vegetables are tender, about 20 minutes.

Remove the pot from the heat.

Transfer about a third of the soup to a blender, and blend until smooth. Or use an immersion blender to cream part of the soup in the pot.

Pour back into the main pot, and add the chili flakes and pepper.

Season to taste with salt and more pepper if necessary.

Serve immediately and garnish with chopped cilantro, or allow to cool, or chill and enjoy later.