Do vegans eat ice cream? You better believe we do!! Vegan ice cream is just as creamy, rich, and delicious as the kind made from cow's milk. It's also a lot healthier, and requires no animals to be harmed in the making ❤️🐮 Horray!!
This summer my most requested recipe has been ice cream! I finally purchased an ice cream maker, and started thinking about all of the varieties I could make with it. Since I'm allergic to cashews, I knew I would use coconut milk for the base. And it had to be a creative ice cream using seasonal ingredients, yet easy to make. That's how I landed on roasted peach and fig with toasted pecans!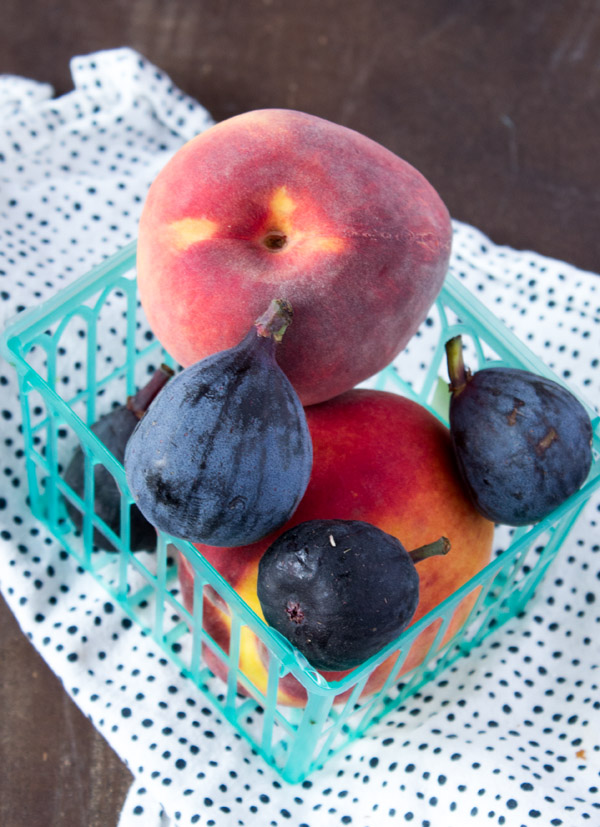 Both peaches and figs are in season, adding all sorts of purpose and joy to my life! I'm probably spending more money on these two fruits than any other groceries right now. I munch on sliced peaches first thing in the morning, and snack on figs before I go to sleep at night. They're both luscious and decadent, and so sweet! And their textures…I just can't get enough!
I chose to roast the peaches for this ice cream in order to bring out even more of the richness of their flavor. The toasted pecans add crunch and that signature buttery nuttiness. I'm really patting myself on the back for this one!
What's your favorite ice cream variety? Later today I'm going to attempt a melon sorbet, and later I want to try making salted banana pecan. Whoa, I'm already drooling 😜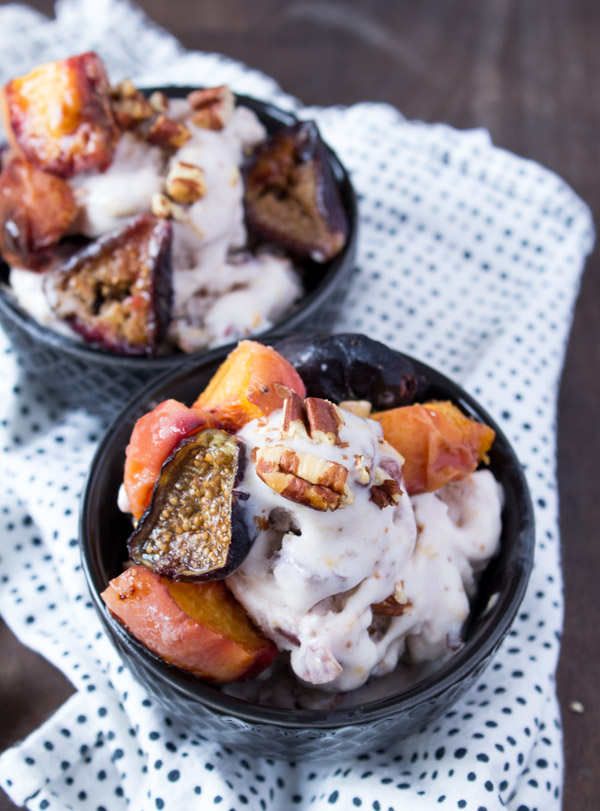 Roasted Peach, Fig + Pecan Vegan Ice Cream
This vegan ice cream is best when made in an ice cream maker. The recipe requires that you let the coconut milk base of the ice cream cool at least 8 hours, and that the ice cream freezer container be fully frozen before use. Plan ahead 🙂 Cashew milk can be substituted for the full fat coconut milk.
Ingredients
2 1/2

cups

full-fat coconut milk

1/2

cup

sugar

pinch

of sea salt

1

tsp

vanilla extract

2

peaches

quartered

5

fresh figs

stems removed & halved

1/2

tbsp

coconut oil

1/2

cup

toasted pecans
Instructions
Preheat oven to 400°.

In a sauce pan set the coconut milk, sugar, and salt to warm over medium heat until the liquid temperature reaches 160° (or just until it starts to simmer). Stir well to make sure the sugar dissolves.

Remove from heat, and stir in the vanilla extract.

Set in a container to chill for at least 8 hours.

Toss the chopped peaches and figs with the coconut oil, then spread evenly over a baking dish.

Roast for 20 minutes.

Spread the pecans over another baking dish and toast for 6 minutes.

Allow the peach and figs to cool completely, and chill along with the coconut base.

Set the pecans aside for use later.

Making the ice cream

When all of your contents are chill follow the ice cream makers instructions, but be sure to wait until the end to add the pecans (last 5 minutes of churning).

Place the churned ice cream into a freezer safe container, and allow the ice cream to freeze and solidify for at least 2 hours.

Enjoy!
Want to try more vegan ice cream recipes? Leave a comment below!