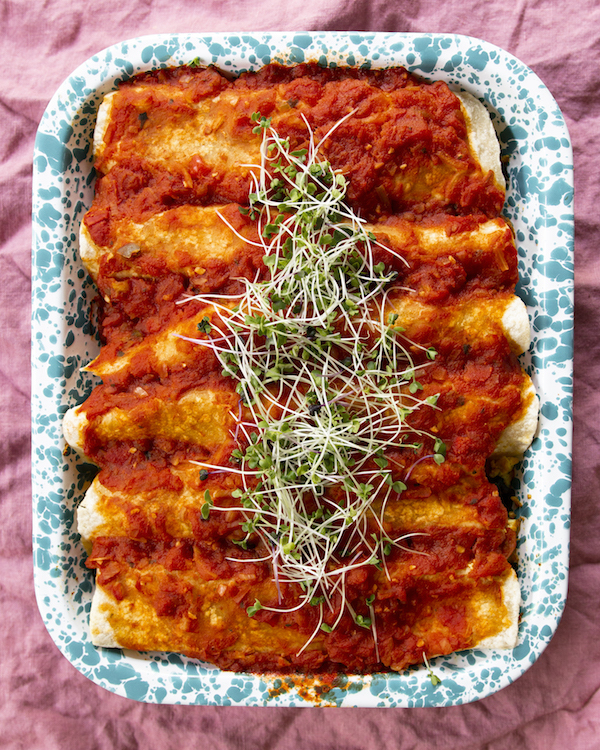 One thing that gets me out of bed in the morning is the promise of a delicious and nourishing breakfast. But what's even better is knowing that the breakfast is already finished and all I have to do is warm it up (or not). That is the beauty of make ahead breakfast.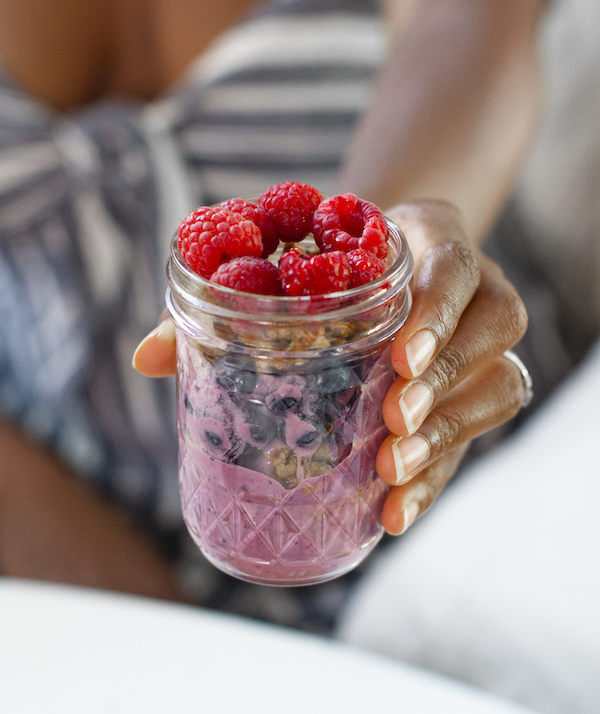 On most days for breakfast we eat steel cut oats or teff porridge. We make them both in the Instant Pot. But if you have an Instant Pot, then you know there is nothing instant about that thing. Sure, it allows you to walk away without worrying about burning the food or the house down, but steel cut oats in the IP still take about 25-30 minutes from start to finish. Not terrible, but how about a make ahead breakfast porridge that only requires you to heat the grains and your choice of plant-based milk? Much better!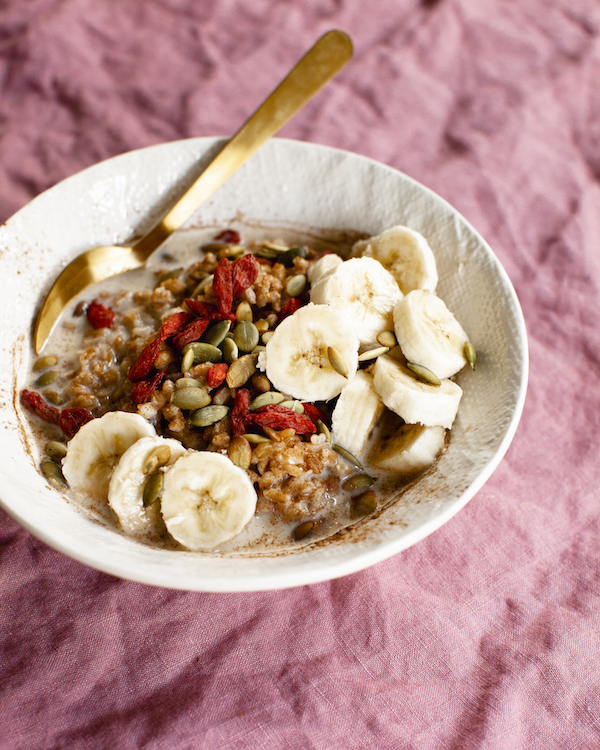 This week I decided to put together some of my favorite make ahead breakfast recipes. You can make these while you're doing your normal meal prep, and not having to make breakfast everyday should allow you to sleep in a little, or just take it a bit easier in the morning. Below you'll find recipes for my make ahead breakfast enchiladas,  farro porridge, and tahini granola. I also love that each of these recipes is lunch or snack friendly too. If you missed my meal prep for busy people guide last week, make sure you check that out, and be sure to add these make ahead breakfast recipes to that meal plan.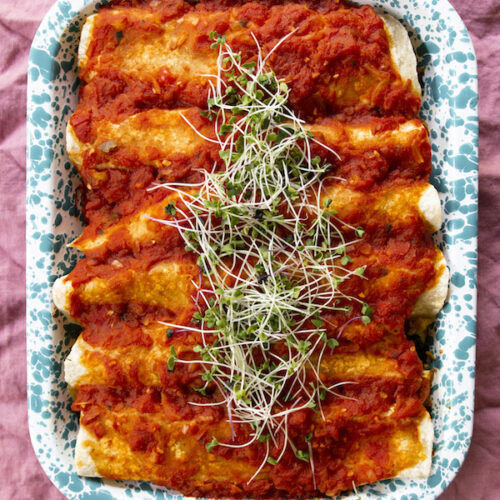 Vegan Breakfast Enchiladas
Here is a link to that gorgeous baking dish I prepared these in https://amzn.to/2ZZgnjs
Ingredients
1 1/2

tbsp

grapeseed oil

or other neutral oil

1

medium sweet potato

cubed

1/2

tsp

smoked paprika

1/2

red onion

sliced

2

cloves

garlic

minced

1

red bell pepper

sliced

1

zucchini

chopped

1

block firm tofu

cubed

1/2

tsp

turmeric

1 1/2

tbsp

nutritional yeast

1

tsp

sea salt + more to taste

1/2

bunch kale

ribs removed and chopped

8

flour tortillas

1

jar

2 cups tomato salsa, I used a store-bought one

fresh cilantro for garnish
Instructions
Warm 1 tablespoon of oil in a skillet or frying pan on medium heat.

Add the sweet potatoes followed by the smoked paprika, and 1/4 tsp sea salt.

Stir well to make sure all sides of the sweet potato are coated in paprika, then place a lid on the pan. Cook on medium-low for about 15-20 minutes, or until the potatoes are tender. Check 2-3 times while they're cooking to give them a stir and make sure they aren't burning. No water should be necessary when cooking these with the lid on, but if you must, feel free to add water, 1 tablespoon at a time.

Remove the cooked sweet potatoes from the pan and set aside.

Add the remaining 1/2 tablespoon of oil to the pan, then add the onions, garlic, and pepper, along with another 1/4 teaspoon of salt. Cook until they begin to soften, about 3-5 minutes.

Add the zucchini, and cook another 5 minutes until tender.

Add the tofu, and use a fork to mash it in the pan. Be careful not to burn yourself. You can also mash it before adding to the pan.

Add the turmeric, nutritional yeast, and remaining salt, and stir.

Stir in the kale, and cook for about 5 more minutes, or until the kale is tender.

Add in the cooked sweet potatoes.

Season to taste with more salt.

Preheat oven to 350°.

Evenly fill and roll 8 flour tortillas with the scramble, and place them in a baking dish.

Pour the salsa over the top, and use a spoon or spatula to spread it evenly over the enchiladas.

Bake for 15 minutes.

Garnish with fresh cilantro.

Reheat this make ahead breakfast in the microwave or in the toaster oven.
Farro Porridge | Make Ahead Breakfast
Make this farro in the
Instant Pot,
or on the stove. Instructions for both are below. If you plan to make in on the stovetop, try to soak it overnight before to reduce the cook time.
Ingredients
1

cup

farro

2

cups

water

1/4

tsp

sea salt

for serving: cinnamon

non-dairy milk, maple syrup or other sweetener, fresh fruit, dried fruit, seeds or nuts
Instructions
Add the farro, water, and salt to an Instant Pot, and pressure cook for 10 minutes.

Allow it to natural pressure release for 5 minutes, then quick release. Once cool, drain off any excess liquid.

To serve: fill a bowl with a serving of farro. Warm that in the microwave or stove-top before putting in the bowl. Pour warm non-dairy milk over it and top with cinnamon, fresh and dried fruit, nuts and/or seeds.
If making the farro stovetop: Bring 3 cups of water and 1/4 teaspoon salt to a boil, then add the soaked farro. Simmer with the lid ajar for 10-15 minutes, or until farro is tender yet chewy. If you haven't soaked the farro overnight cook it for 30 minutes or until tender.
Get the tahini granola recipe here!