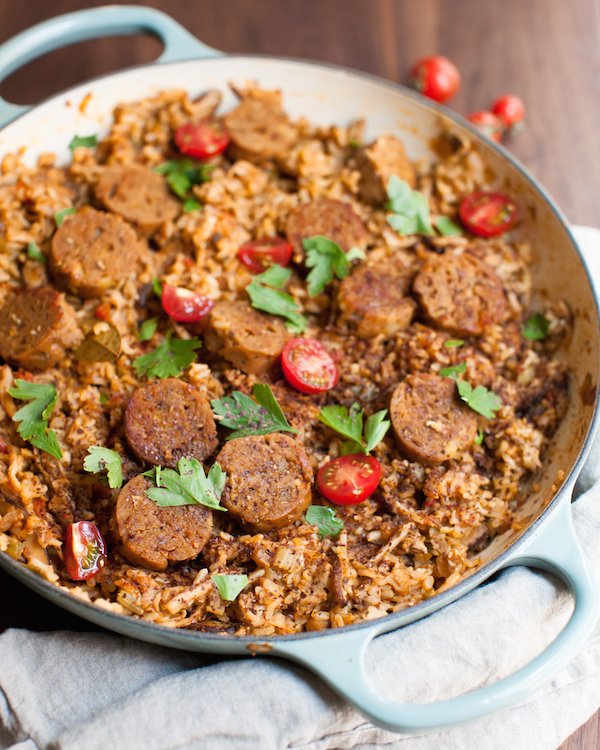 As summer turns to fall I'm craving heavier meals. They've still got to be healthy and vegan, but maybe a little higher in complex carbohydrates 😉 This vegan mushroom jambalaya fits the bill every time! Jambalaya is a delicious Creole and Cajun rice-based dish. It's made a million and one ways, depending on the cook, but the base is always rice.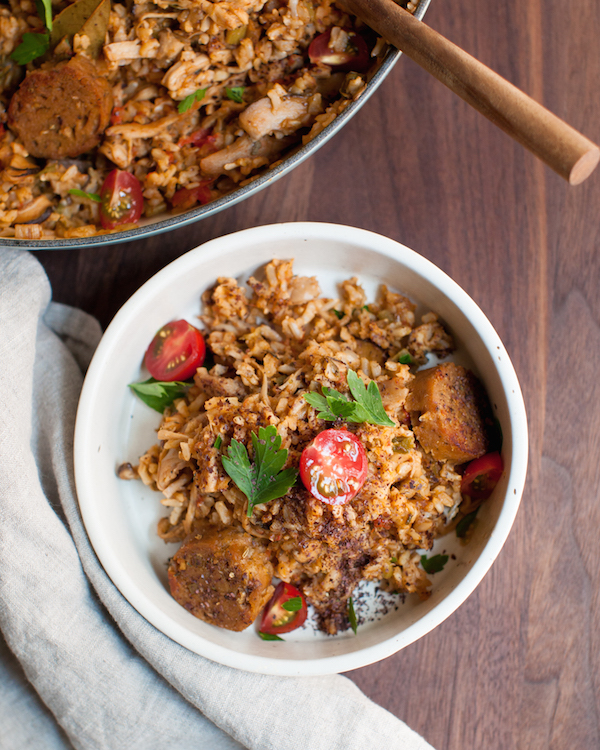 In my cookbook I have a recipe for Jackfruit Jambalaya. Jackfruit isn't very filling on it's own, so I bulk that recipe up with chickpeas. It's the bomb! But I dare say, this vegan mushroom jambalaya is even better! I use a mix of meaty mushrooms––shiitake, oyster, and shredded king oyster mushrooms––to make it. The result is an extraordinarily flavorful and meaty vegan jambalaya. Shredded king oyster mushrooms have a texture similar to chicken, while shiitakes and oyster mushrooms have an almost seafood quality to them. I hate to use non-vegan terms like meaty and seafood, but I really don't know how else to describe to you how familiar and authentic this dish is. Finish it off with pan fried vegan sausage––I used the white bean sausage from my cookbook–– and you've got yourself a perfect jambalaya.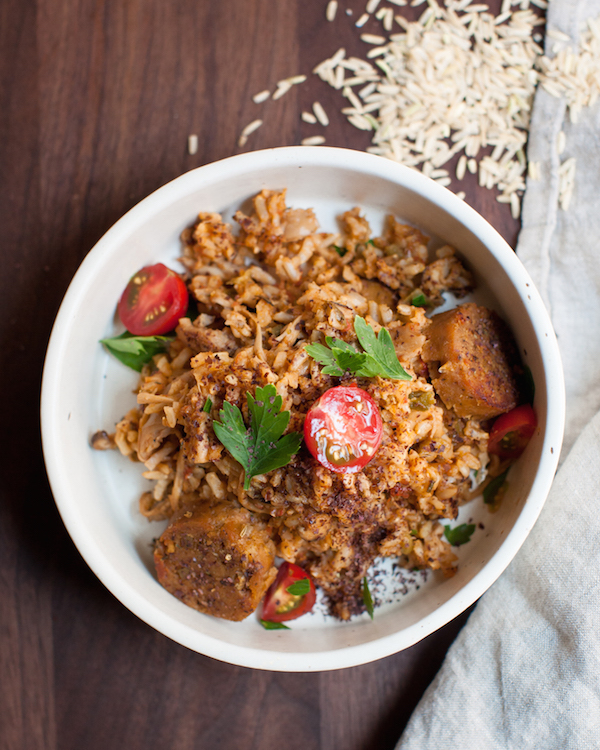 I highly recommend seeking out these "harder-to-find" mushrooms for this dish. I always buy mine at the local Asian grocery store. They're always fresh, and always inexpensive! Oyster and shiitake mushrooms have amazing health benefits, and are often described as medicinal mushrooms. They are especially good sources of antioxidants and anti-inflammatory phytonutrients. These mushrooms have an earthy and rich mushroom flavor, with lots of umami, which is essential for adding depth to this recipe. If you can't get your hands on them, you can use cremini and/or portobello mushrooms. Those mushrooms have a higher water content. So to draw out their meatiness and concentrate their flavor try putting a heavy dish, lid, or pan on top of them as they cook on medium-low heat. I use this trick for all mushrooms, but especially the "normal" ones.
Enjoy!
Vegan Mushroom Jambalaya
Look for shiitake and oyster mushrooms at your local Asian grocery store. There you'll find the freshest mushrooms at the best price. Don't know of one? Do a Google search. H-Mart is a nationwide grocery chain, and there may be one near you.
Ingredients
1

cup

uncooked Brown Jasmine Rice

I use Lundberg Farms brand

2

tbsp

oil

½

yellow onion

diced

2

garlic cloves

minced

3

celery stalks

diced (1 ½ cups)

1

medium green bell pepper

diced

1

14-ounce can diced tomatoes

4

cups

of mushrooms

I used oyster, shiitake, and shredded king oyster mushrooms

4

cups

vegetable stock or water + 1 ½ tsp vegan bouillon paste

3

bay leaves

1

tablespoon

creole seasoning

2

teaspoons

vegan Worcestershire sauce

2-3

vegan sausages

sliced

1

teaspoon

Louisiana Hot Sauce

Salt

¼

cup

fresh parsley

chopped (for garnish)
Instructions
Preheat a large Dutch oven or heavy-bottomed pot over medium heat. Add oil, followed by onion, garlic, celery, and bell pepper.

Sauté until onion is translucent, about 3 minutes, then add tomatoes and mushrooms. Cook mushrooms for about 7 minutes, or until they begin to soften.

Add the rice, vegetable stock, bay leaves, and 1 teaspoon pepper. Stir well.

Cook with lid ajar for 25 minutes, or until rice is almost tender.

Add creole seasoning, Worcestershire sauce, and hot sauce. Continue to cook until rice is tender, about 15 minutes longer. Taste for seasoning and add more salt and pepper if desired.

Pan fry the vegan sausage slices, then stir them into the jambalaya.

Serve topped with fresh parsley and hot sauce.