This vegan collard green recipe is also in my cookbook, SWEET POTATO SOUL. Purchase your copy today at Amazon, Barnes & Noble, Books-A-Million, Indie Bound, or iBooks.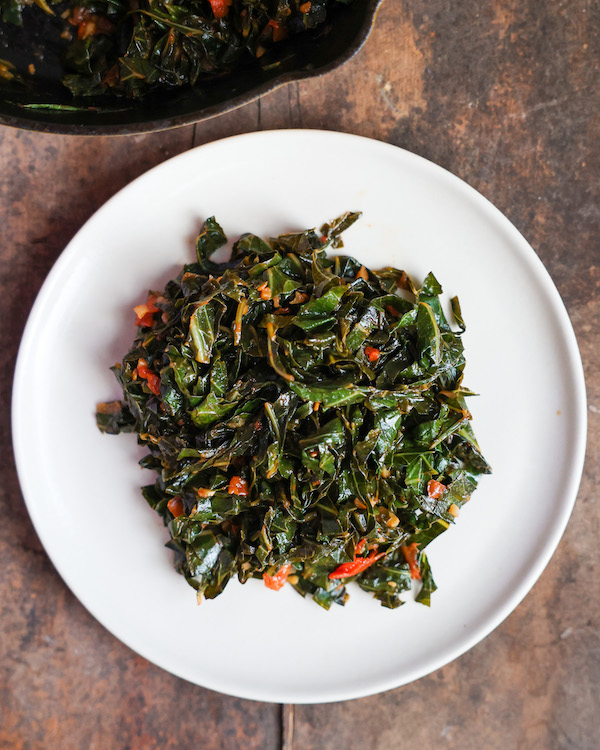 Happy Sunday!!
I am so excited to start a new weekly recipe series called, Soul Food Sunday. This week we're cookin' up a big ol mess of vegan collard greens. No pork on my fork! To replicate the smoky rich essence of Grandmama's greens, we're using smoked paprika, tamari (soy sauce), tomato (extra umami), and plenty of garlic. I've been making vegan collard greens for years, and my whole family loves them! Serve these tender greens with cornbread, with fried Cauliflower "Chicken", with Hearts of Palm "Crabcakes", with Mac & Cheese, with Red Beans & Rice, or with Chipotle BBQ Oyster Mushroom Sliders. Or just skip the main dish and go all in on collards. Your body won't mind.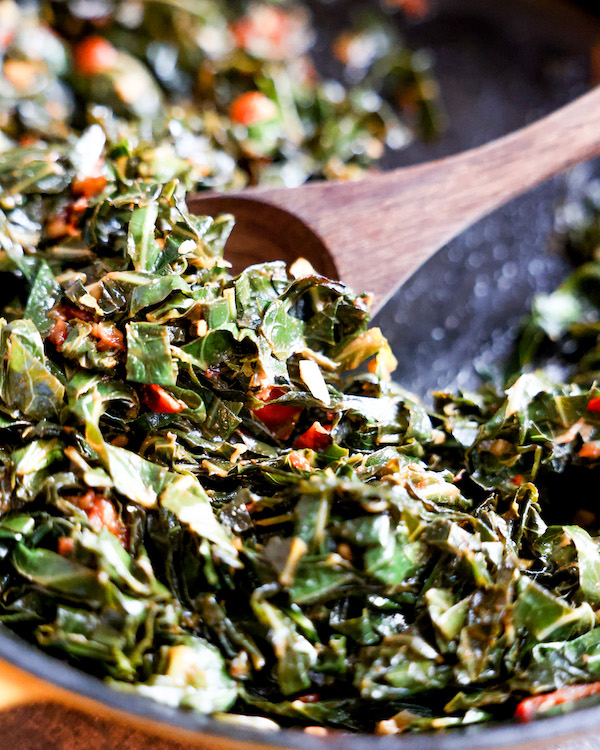 Collards are cruciferous vegetables like broccoli, brussels sprouts, kale, and cabbage. However, outside of the South, these beautiful dark leafy greens don't get much love in the United States. Collard greens, are high in vitamin K, vitamin A, manganese, calcium, b vitamins, iron, vitamin E, fiber, and so much more! While folks are praising kale like it's the father, the son, and the holy ghost, collards sometimes get the side eye. Collard greens are so underrated. Like I mentioned, they're extremely nutrient dense. Instead of relying on one dark leafy green (ahem…kale), add other greens like collards to your weekly rotation. Big ups to mustard greens and turnip greens as well 🙌🏾
Collards are delicious in salad (you'll want to thinly slice them and massage with dressing), as wraps (to replace bread or tortilla), and in soups. There are so many ways to prepare collard greens, but this classic simmer is my favorite!
Vegan Southern Collard Greens
If you like your collards to have a "pot gravy" or broth, add about 1/4-1/2 cup of water to the cooking greens, and season with 1 tablespoon more tamari.
Ingredients
2

tablespoons

olive oil or neutral oil

3

cloves

garlic

minced

2

juicy ripe tomatoes

diced or 1/2 15-oz can of diced tomatoes

1

large bunch of collard greens

stems removed, and leaves very thinly sliced (removing the stems is optional)

sea salt

2

tablespoons

tamari

or normal soy sauce

1

teaspoon

smoked paprika + more to taste
Instructions
Warm oil on medium heat in a large heavy-bottomed pot.

Add the garlic, and sauté on medium-low until it begins to turn golden.

Stir in the tomatoes, and cook until soft, about 3 minutes.

Add the chopped collard greens and a sprinkle of sea salt, and stir well. Reduce the heat to low, and cover the greens. Cook until tender, about 30 minutes, or longer depending on your preference.

Turn off the flame, then stir in the soy sauce and smoked paprika. Season to taste with more soy sauce if necessary.