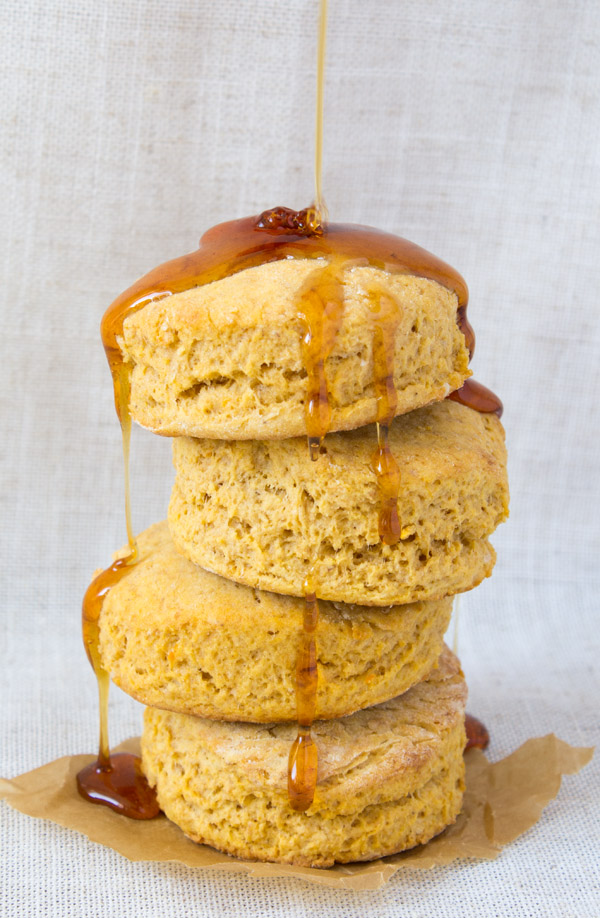 These fluffy and buttery vegan sweet potato biscuits are quickly becoming a staple in our house. I created this possibly-perfect recipe way back in 2015, and it never disappoints. Even my 86 year old grandmother is a fan––she makes them nearly every week!
If you are looking for the perfect vegan biscuits, look no further. These vegan sweet potato biscuits are destined to become a staple in your family like they are in mine!

What you'll need to make Sweet Potato Biscuits
Sweet potato biscuits are so easy to make. With just a few basic ingredients you'll have fluffy, perfectly moist, and slightly sweet biscuits to enjoy for dinner, breakfast, brunch, or the holidays. 
Just like your grandma's biscuits, these vegan biscuits start with cold butter. Because these are 100% vegan, you'll need to use a vegan butter. Stay clear of margarine––it isn't a one to one replacement for butter because of its high water content.
I recommend any variety of Earth Balance, Miyoko's vegan butter, or Country Crock plant butter sticks. You can even use coconut oil for these yummy biscuits. It will impart the biscuits with a coconut taste, which is delicious, but may or may not be what you're looking for. Just make sure you use cold vegan butter or coconut oil for the flakiest biscuit texture.
Use your favorite all-purpose flour for these biscuits. You can also use a whole wheat pastry flour if you'd like a more wholesome biscuit with the same amount of fluff. To make these gluten-free, you can use your favorite gluten-free all purpose baking mix.

How to make Sweet Potato Biscuits
Step one: Make a vegan buttermilk. Combine soy milk and vinegar and set aside for a few minutes. The soy milk will thicken and work like real buttermilk in this recipe: it will react to the baking powder and help the biscuits rise, thus creating a fluffier more voluminous biscuit.
Step two: Mix 3/4 cup of sweet potato puree with the buttermilk. Use sweet potato puree from a baked sweet potato for the best flavor. Set that aside.
Step three: I always use a food processor to blend the biscuit dough. I like how it effortlessly mixes the flour and vegan butter. However, you can use a pastry cutter or a fork and do this by hand. Add the flour, sugar, baking powder, and cold vegan butter to a food processor or mixing bowl, and pulse until the butter is blended with the flour and creates a course meal, with bits as large as peas.
Step four: Now you can add (pulse or fold in) the sweet potato puree. Your finished dough will be pretty sticky. Transfer the dough to a floured surface, and gently fold the dough a few times before flattening about 1/2-1″ thick. Use a round pastry cutter to cut the biscuits, then transfer them to a baking sheet.
Step five: Bake the sweet potato biscuits for 12 minutes. Serve hot with vegan butter and agave, or your favorite biscuit fixins 😉 There's a recipe in my cookbook for vegan honey butter that you'll LOVE on these.
Why Sweet Potatoes?
Sweet potatoes are always a good idea!
They add:
sweet and earthy flavor
moist texture
nutrients: specifically beta-carotene (vitamin A), and vitamin E
a pretty pinkish hue to these biscuits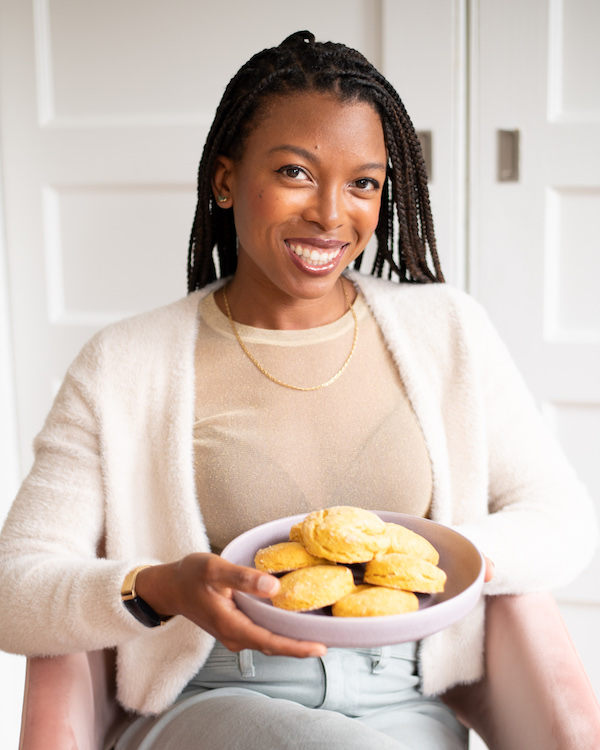 Perfect for brunch
I love making these sweet potato biscuits for special vegan brunch celebrations, like Easter Sunday, birthdays, and Mother's Day. Check out these other vegan brunch recipes that pair perfectly with biscuits:
Sweet Potato Biscuits
Fluffy and light vegan sweet potato biscuits are perfect for brunch, breakfast, or even an afternoon treat.
Ingredients
3/4

cup

sweet potato puree

Use flesh from a slow baked sweet potato

1/3

cup

plain soy milk

or other plain unsweetened non-dairy milk

1

tsp

apple cider vinegar

1 1/2

cup

all purpose pastry flour + more for surface

or use whole wheat pastry flour

2

tbsp

sugar

cane or coconut

1

tbsp

baking powder

1/2-1

tsp

sea salt

5

tbsp

very cold Earth Balance or coconut oil

Agave

for drizzling
Instructions
Preheat oven to 425° and line a baking sheet with parchment paper.

Stir the sweet potato, vinegar, and non-dairy milk together in a bowl and set aside.

Place the flour, sugar, baking powder, and sea salt in a food processor, and pulse to combine.

Add the coconut oil or Earth Balance and pulse until you have a coarse meal.

Add the sweet potato mixture and pulse a couple times to fully combine.

Generously flour a clean work surface (your kitchen counter).

Transfer the dough onto the floured workspace. The dough will probably be fairly wet, so use the flour on the counter to help make it more manageable. Fold the dough over a couple of times, then pat the dough to about 1/2-1 inch thick.

Cut the dough into biscuits using a biscuit cutter, a large cookie cutter (if you want fancy shapes), or a wide rimmed glass.

Transfer the cut biscuits onto the baking sheet.

Continue with remaining dough.

Bake for 12 minutes.

Enjoy immediately with melted Earth Balance, coconut oil, and/or [url href="https://www.beefreehonee.com/"]Bee Free Honee[/url] or Sorghum syrup.

Keep fresh in an air tight container for up to 3 days.