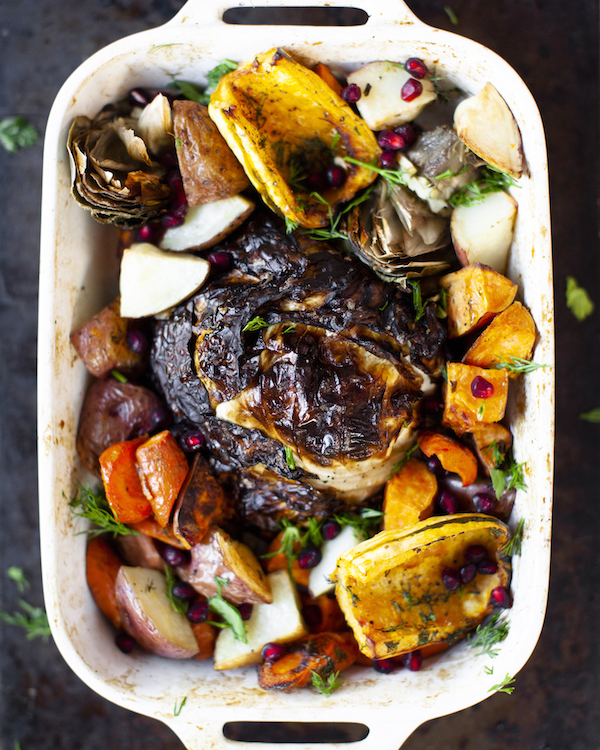 Lately I haven't been experimenting much in the kitchen. I've been so busy with Baby J and work, that all of my recipe creation has been for practical everyday recipes and meal prep. That is great, but I really was missing the adventure of trying and perfecting new dishes. When my brother-in-law sent me this recipe for a whole roasted cabbage "turkey", I was intrigued and ready for a culinary adventure. He had questions about how to veganize the original recipe (which called for dairy butter), and I had questions about whether it would even work. Let's be real here, a cabbage and a turkey are two very different things. And the original recipe only called for salt and pepper to spice the outermost leaves, did that mean the center would be unseasoned?
So I gave the original recipe a go, then made it my own!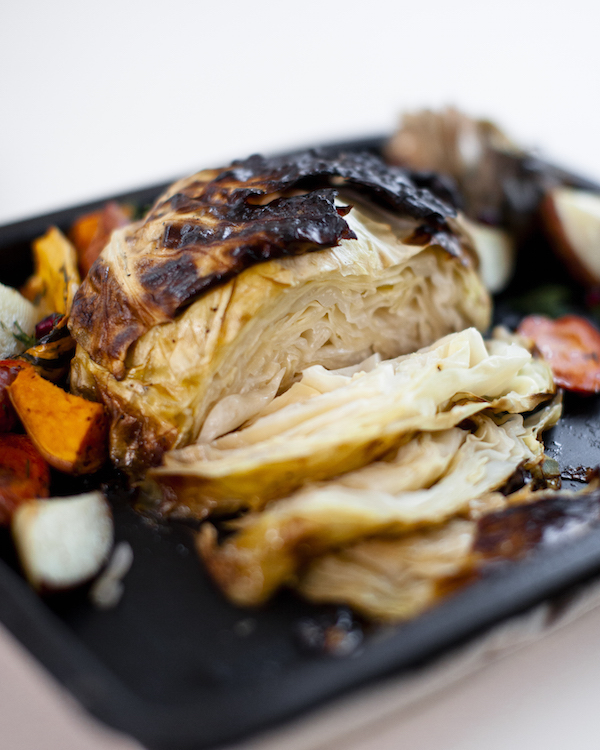 As you'll see in the video, the original recipe suggested that the whole roasted cabbage be cooked whole for 5-5 1/2 hours. Only the outer leaves would be spiced, and you'd need to baste it with the buttery drippings every hour like an actual turkey corpse (yes I did just call it that, because that is what it is). I did all of that, and the end result was a roasted cabbage with very crispy and salty outer leaves and a very chewy "flesh". Not tender and juicy like a cabbage could be. And not deserving of being the centerpiece to a Thanksgiving table.
But it is still a fun concept, and I knew that a whole roasted cabbage as turkey had potential.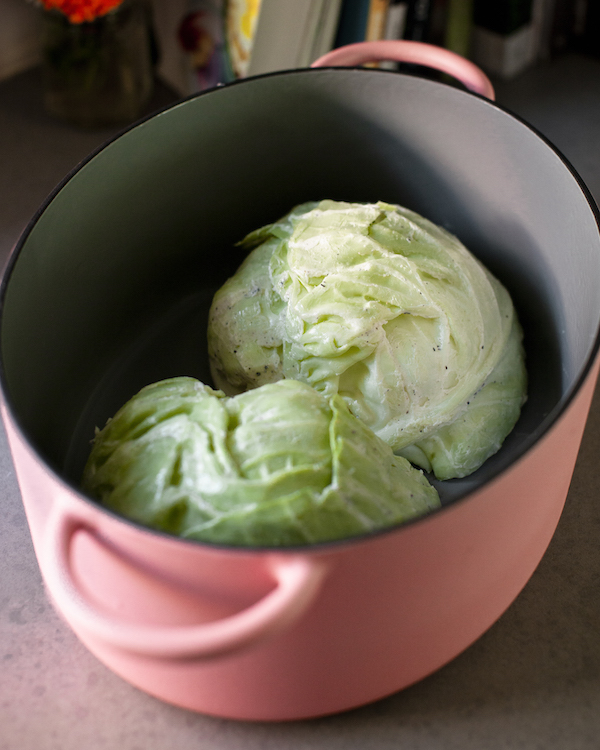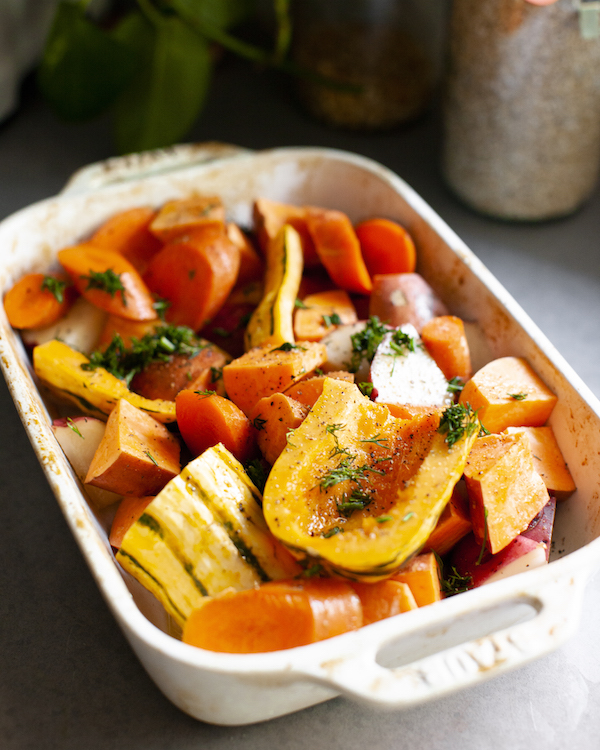 The make this cabbage turkey juicy and tasty, I decided to cut the thing in halve. No more whole roasted cabbage. That way it could cook more quickly, take on more of the flavor from the simple seasonings, and become tender and juicy to the core. I decided to keep the seasoning very simple; just salt, pepper, and vegan butter. I think that overseasoning it would take away from the idea that this cabbage is supposed to be similar to turkey. Plus, cabbage has so much yummy flavor on it's own. I just wanted to bring that out. I decided to serve it with roasted seasonal vegetables. The more colorful veggies arranged around the roasted cabbage makes it more festive and filling. If I decide to make this for Thanksgiving or Christmas, I will definitely serve it with mashed potatoes and mushroom gravy as well. That plus a killer stuffing and sweet potato pie for dessert, and you've got yourself a winning holiday meal.
Let me know what you think of this whole roasted cabbage turkey idea! Would you serve it as a vegan holiday main dish? By the way, if you haven't heard yet, I designed the vegan holiday meal for Whole Foods Market this year. You can order this incredible meal to pickup at your local Whole Foods in the US and Canada. A great option if you don't feel like cooking this year 😉
Whole Roasted Cabbage "Turkey"
This can be made ahead. Roast to completion but skip the very last step (roasting at 400° to crisp outer leaves) until you are ready to serve it. The original recipe comes from
Domino magazine.
Ingredients
3

lb

green cabbage

3

tbsp

vegan butter

1

tsp

sea salt or kosher salt

1

tsp

freshly ground black pepper
Roasted Veggies
2

yukon potatoes

cubed

1-2

medium sweet potatoes

cubed

2

small delicata squashes

quartered

2

large carrots

chopped

2

cloves

garlic

minced

2

tbsp

extra virgin olive oil

1

tsp

salt

1

tsp

freshly ground black pepper

2

tbsp

fresh dill

minced

1

sprig fresh rosemary

minced

any other herbs you like
Instructions
Preheat oven to 400° and position the lower rack on the lowest rung.

Cut the cabbage in half through the base.

In a small bowl use a fork to mash 2 tablespoons of the vegan butter with the salt and pepper.

Carefully pull back the outermost leaf of the cabbage and use your hands to rub the butter mash onto the cabbage. Be careful not to tear the leaf. Press the leaf back down over the cabbage, and coat the outside of it. Coat the cut side with butter too. Do this with both halves.

Place the cabbage cut side down into a baking dish or wide dutch oven. Roast for 35 minutes.

Remove from the oven and add the remaining 1 tbsp of vegan butter to the tops of the cabbage, letting it melt and drip down to the bottom of the baking dish.

Reduce the oven heat to 250° and roast for another 2-2 1/2 hours. You'll know it is done with a knife slides into the cabbage with little resistance, and the outer leaves are golden.

Turn the oven back up to 400° and roast for 20 minutes to burn the outer leaves. They should get crispy and turn dark brown.

Surround the cooked cabbage halves with roasted veggies (instructions below) and serve.
Roasted veggies
Toss the cut veggies with olive oil, salt, pepper, and herbs.

Spread evenly onto a baking dish, and roast along with the cabbage (if your oven is large enough to fit both) for 35 minutes. If not large enough to fit both, do this after the cabbage is finished.