Red cabbage has graced my plate, and will grace this blog once again.
This dish represents how I feel right now, my world today; colorful, fresh, exciting, adventurous, healthy and balanced.  It tastes good, and it feels good.
This is my first recipe post from our beautiful new apartment.  The move was a headache (to put it lightly), but Maxx and I made it through.  We slept in the living room of my old apartment for a few days before moving on to a blow-up mattress in my boss' extra apartment for a few more days.  How lucky we were to have a place to stay when our apartment's application stretched out for two weeks after my previous lease ended.  I shed a few tears of frustration, and wished we had returned earlier from our respective summer travels in order to find an apartment… but all's well now.  As I sit writing this, my peripheral vision is graced by views of a dynamic Harlem below our 17th floor windows.
I also started a new job.  I am working as a server at a well known raw vegan restaurant here in NYC.  Yesterday was my first day not training; and though I only had a couple of tables, and a fraction of the responsibility we take on at Peacefood Cafe, I was a little nervous.  The best thing about working here is the food; which of course is the reason I applied.  Every dish is a work of art, and in these last 4 days I've been thoroughly inspired.  I find myself thinking of creative ways to adopt elements of the dishes for my use at home.  Even the family meal at the beginning of our shift is notable; which brings me to the salad I made this afternoon for lunch.   For family meal a couple of days ago I used the "sweet miso" dressing on my gigantic salad, and was blown away by the incredible flavor, so much so that I've been thinking about ways I can use that same dressing at home, everyday!   There's something so comforting about miso; perhaps it's the connection I've developed with cozy miso soup, or the fact that it has become a staple of my diet and kitchen over the years.  Somehow the idea for this salad that represents my life right now was born out of my simple desire to have sweet miso dressing for lunch.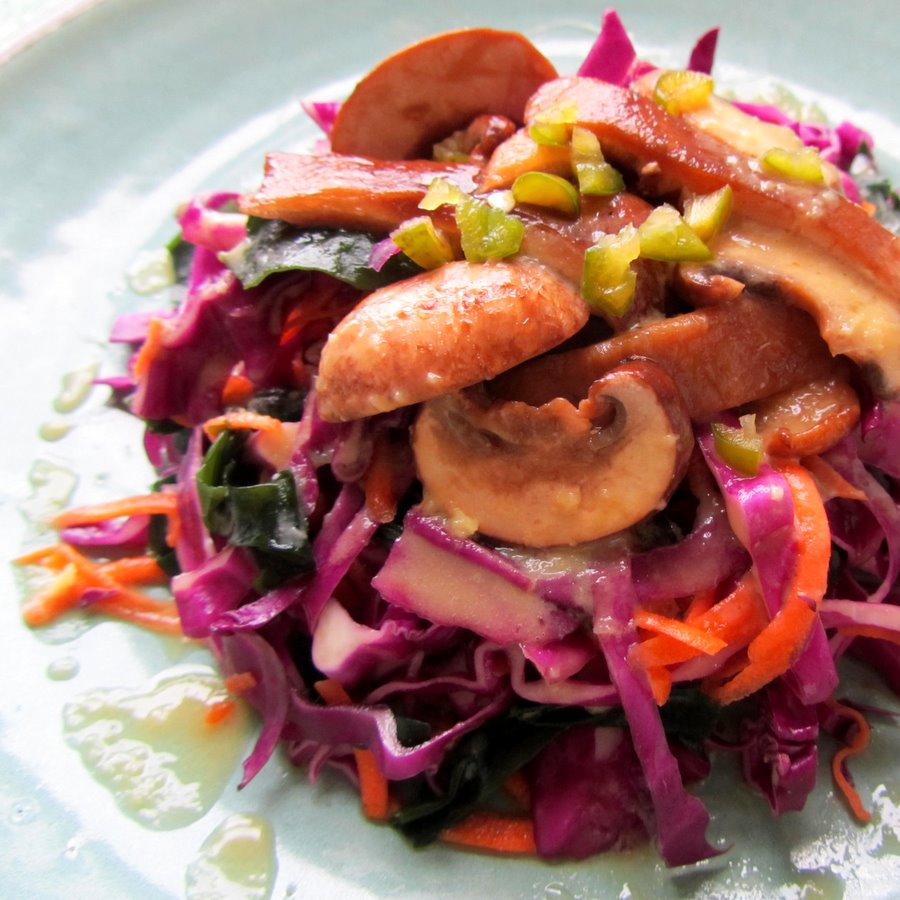 The recipe is in three parts; the mushroom marinade, the dressing and the actual salad.  I suggest you double the recipe to make a large amount of dressing to use throughout the week on other things (ex. roasted sweet potato wedges or grilled corn).  I prefer to marinate my mushrooms for at least 30 minutes, especially the firmer Cremini.  This dish can be made 100% raw by using unpasteurized miso and soy sauce (Nama Shoyu), though any soy sauce will suffice. Wakame is a type of seaweed.  I love its delicate texture and the mild sea flavor it adds to the salad.  You can definitely find it at a health food store or at Whole Foods.  I like food spicy so I used an entire hot pepper (a local variety, but jalepeño, habanero, or Thai chili will work); adjust spiciness as you see fit.  This recipe will make a huge salad, enough to generously serve four.

Red Cabbage Salad 
with Wakame Mushrooms and Sweet Miso Dressing
1 head Red Cabbage, shredded
1 cup Wakame, soaked in water to rehydrate then drained
3 Carrots, shredded
1/2 – 1 medium jalepeño or habanero pepper, or one Thai chili, minced
2 cups Mushrooms, Shitake and Cremini, sliced thinly and marinated (recipe below)
Mushroom Marinade:
1/2 cup Olive Oil
1/3 cup soy sauce, Nama Shoyu, Tamari, etc…
1 tbsp Mirin
Mix ingredients together in a bowl, then add mushrooms.  Stir to coat and let marinate for at least 30 minutes.
Sweet Miso Dressing:
1/3 cup Yellow (or Light) Miso
1/2 cup Orange Juice, freshly squeezed
1 tbsp Mirin
1 tbsp maple syrup or coconut nectar
2 tbsp Sesame oil
1 small clove Garlic
2 tsp Ginger, minced or grated
2 tbsp soy sauce, Nama Shoyu or Tamari
To assemble salad:
In a large bowl combine the red cabbage, wakame, carrot and minced hot pepper. Toss with 1/2 cup of the miso dressing, and allow to rest for a few minutes before serving.  Top with marinated mushrooms and a bit more dressing before serving.