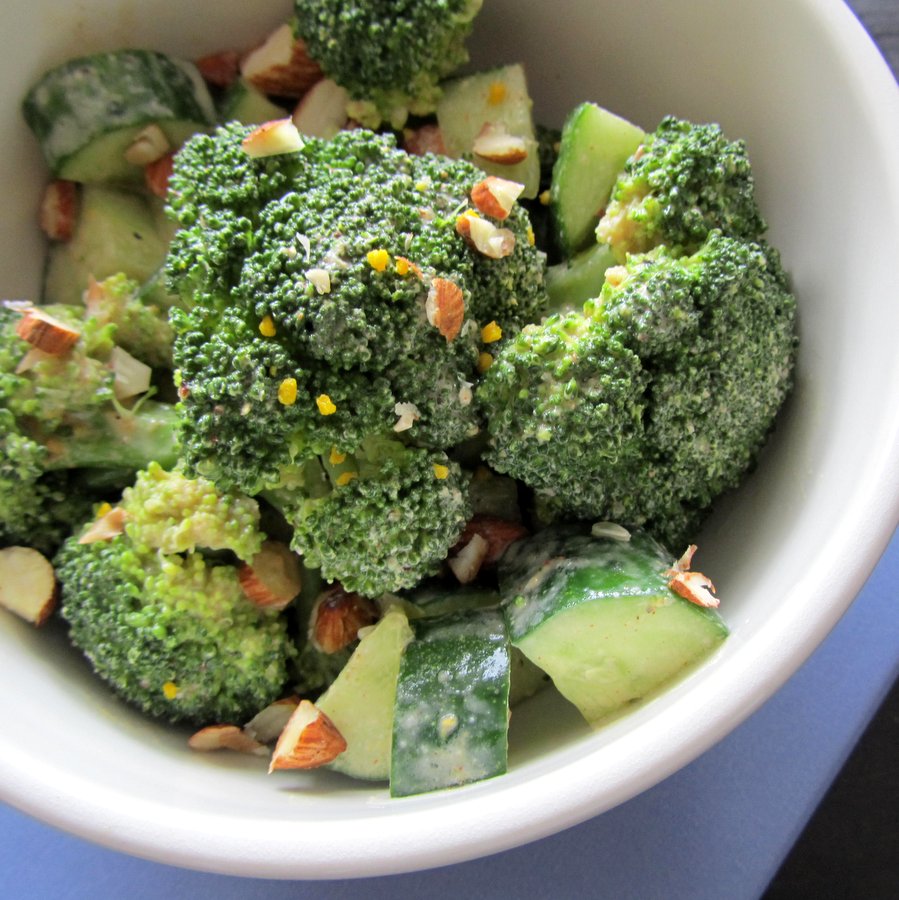 All vegetables certainly have beneficial qualities, but there are some that take their beautifying powers to the next level. Sweet potatoes, almonds, tomatoes, walnuts, cantaloupe, spinach, flax — they all offer fantastic skin benefits. The vitamins, antioxidants and phytonutrients present in these foods lovingly protect and repair the cells of our largest organ, our skin. All of my favorite foods happen to be on the list of the most beautifying edibles, but today lets talk about the Granddaddy of veggies, Broccoli.
Broccoli, or "trees" as I affectionately called it as a child, is high up on the list of foods that will contribute to perfect skin. The Vitamin A present in broccoli helps to generate new vibrant skin cells, and replace dead and dull ones. At the same time, a compound called sulforaphane in broccoli protects your lovely skin cells from the sun's harmful radiation. Vitamin E sends a healthy glow to the surface, and antioxidant vitamin C fortifies the skin against further damage. Broccoli is even host to a number of compounds that aid in the body's natural detoxification, thus keeping your blood clean and clear of inflammation that might otherwise rise to the surface.
Broccoli is cheap, easy to make and pretty darn delicious. It's even packed with fiber and protein to keep you full for longer. If you want to eat more broccoli but are bored with your old steam & salt routine, then look no further because I have got a recipe for you!  All of the vegetables in this simple dish are proven to be beneficial to your epidermis, so eat up! You'll notice clearer skin in no time!
If you're curious to learn more about the best foods to eat for beautiful skin, join Kristin Esposito and me for our Eating for Beautiful Skin workshop at Pure Yoga NYC on August 12th. Details below the recipe : )
Broccoli Tahini Salad
(This salad is delicious eaten right away, or even after it's been sitting in the refrigerator for a few hours. Serve cold.)

1 head broccoli
1 cucumber, cubed
3 tbsp red onion, diced
sauce:
2 tbsp tahini
1 tbsp white/mellow miso
2 tbsp orange juice, freshly squeezed
2 tbsp lemon juice, freshly squeezed
1 tbsp water


1 tsp smoked paprika




1tsp cumin
cayenne pepper, to taste


sea salt




black pepper
1/4 cup almonds, chopped (toast for a couple of minutes on the stove for more flavor)
Cut the broccoli florets into smaller bite sized pieces. Steam for 5-7 minutes, you don't want to overcook them. While the broccoli is steaming, prepare an ice bath. Pour cold water and ice into a large mixing bowl. When the broccoli has cooked, transfer it from the steam basket to this cold water. This will stop it from cooking.
Prepare the tahini sauce by combining all the ingredients (tahini to cumin) in a bowl. Whisk until blended well.
Remove the broccoli from the ice bath, place it in a colander and shake well so that the excess water comes off. Place it into a bowl, then add the cucumber and red onion. Pour the tahini sauce over the vegetables and stir well to coat. Season to taste with sea salt, black pepper and cayenne. Sprinkle the almonds on top of the salad, and using a grater or microplane, shave some orange zest on top.
See you at the workshop: Click Here to Register  or call 212-877-2025