In today's post I'm going to prove to you that it is easy to get more than enough protein on a healthy whole food vegan diet. This high protein vegan video and blog post was sponsored by Thrive Market. Use my link to save $60 on groceries, and get free shipping, and a free month of membership!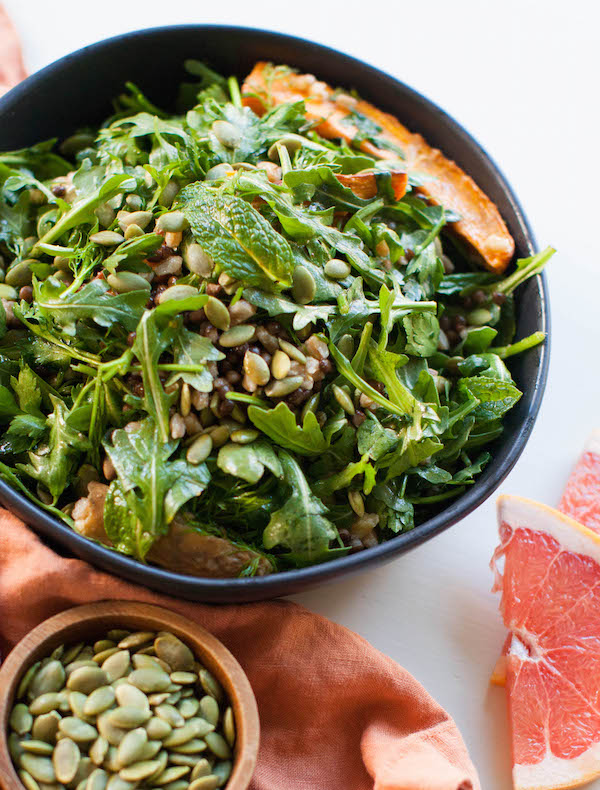 I think we've moved past the stage of people constantly asking vegans, "Where do you get your protein?" I know I used to get this question all. the. time. But I don't so much anymore.
However, I think the vegan protein myth is still alive and well. On the one hand, you have restaurants that refer to meats and meat substitutes as "proteins". ("Would you like to add protein to your salad?" "What kind of protein would you like in that burrito?" 🙄) On the other, the hundreds of vegan protein powders and protein bars. All this could lead one to believe that getting high quality protein is hard for vegans.
Not true!
The key to getting plenty of vegan protein is simple: Eat a whole food plant-based diet, and eat as much as you need to maintain your activity levels and feel nourished.
That's literally it!
Plants have plenty of protein on their own. And I'm going to prove it to you in this breakdown of 3 meals—a breakfast, a lunch, and a dinner—plus a snack. No protein powders or bars, just plants! I didn't even have to eat any soy, and soybeans are by far the plant food with the highest protein content. I have nothing against soy, I love soy, but I can easily dominate in the protein game without so much as a cube of tofu, a strip of tempeh, or a drop of soymilk. 💪🏾
How much protein do you need a day?
The amount of protein you need depends on factors like your activity level, gender, and age, but on average the USDA recommends that a woman get 46 grams of protein, and a man 56.
The more active you are, the more food you need to fuel you, which means more protein, more calories, more everything.
By feeding yourself plant-based whole foods you'll naturally be consuming more protein, fiber, complex carbohydrates, healthy fats, minerals, vitamins, etc. Even with higher activity levels or pregnancy you can easily reach your daily calorie and protein requirements simply by responding to your body's signals to eat more food.
What if you want to lose weight?
You may have heard that getting about 30% of your calories from protein will help you lose weight by keeping you fuller for longer, and reducing hunger. This is true, but also not the complete truth. A whole food vegan diet will also help you lose weight: no need to count calories, protein, carbs, or fat to do that. I get about 15% of my calories from protein, and I have been able to maintain a healthy fit and active lifestyle since 2011, when I became vegan.
The danger of eating 30% of your calories from protein is in getting that protein from animal sources, which can increase your risk of heart disease, cancer, and diabetes. Getting 30% of your calories from protein on a vegan diet may require you to supplement with protein powders, which is completely unnecessary for health, muscle growth, and weight loss.
Fiber from vegetables, fruit, nuts/seeds, and complex carbs (whole grains), will also help you lose weight and keep it off in a very healthy way.
Okay, enough nutrition, show me the FOOD! 😋
Avocado Toast with Chickpeas & Tahini
This high protein vegan breakfast is one of my favorite things to eat. It's easy to make, very filling, and incredibly delicious. There's plenty of protein in this breakfast, but also plenty of fiber and healthy fat from the avocado and tahini.
It's important to eat a breakfast that is high in fiber, in addition to protein, because it will fill you up and keep you full for longer. Fiber helps to balance your blood sugar levels, so you won't experience a crash mid-morning.
[So many people are afraid of bread and carbs, but you really shouldn't be. Sourdough bread (like the kind I use for my avocado toast) contains healthy pre-biotics, which feed healthy gut bacteria, and lower amounts of gluten than other types. Buy bakery sourdough bread from a trusted bakery or farmer's market baker, or make your own. Grocery store bread often claims to be sourdough, but may contain dozens of other ingredients that weaken its healthfulness. Fresh baked bread is best and should contain only the basic ingredients: flour, water, salt, and a sourdough starter.
Food For Life sprouted breads are a good option too, but fresh sourdough bread is far more tasty and satisfying.]
Complex carbohydrates in beans and sourdough bread are what your body uses for fuel. Complex carbs are higher in nutrients like protein, fiber, vitamins, and minerals, so fear not.
Chickpea Avocado Toast | High Protein Vegan Meals | Recipes & Video
This high protein breakfast can be made in less than 10 minutes.
Ingredients
2

thin slices sourdough bread

toasted

1

medium avocado

mashed

1/2

cup

cooked chickpeas

1

teaspoon

tahini

1/4

teaspoon

salt

1/4

teaspoon

black pepper

1/2

teaspoon

fennel seeds

1/4

teaspoon

red chili flakes
Instructions
Spread the mashed avocado onto the toasted sourdough, and top with the remaining ingredients.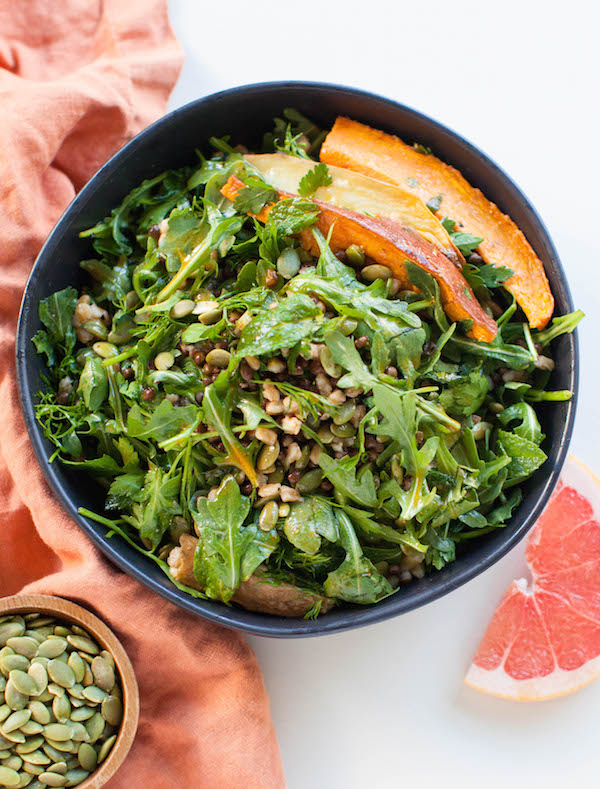 Loaded Sweet Potato Arugula & Herb Salad
Fresh flavorful salads are my favorite thing to eat for lunch. They taste delicious, and are very filling when you bulk them up with whole grains, legumes, healthy fats, and starchy veggies (i.e.. sweet potato!). Greens are a great source of soluble and insoluble fiber, minerals, vitamins, and even protein.
The greens in this high protein vegan salad can be replaced with other greens or lettuce, the farro can be replaced with other whole grains, and same with the other ingredients.
I try to eat a bulked up salad like this every single day. I also find that it supports healthy digestion and elimination: no constipation here!
Obviously protein is important for muscle growth, but so is fiber. As muscle grows it releases waste byproducts into the body, this waste is usually eliminated by fiber. In low-fiber diets this waste can build up and lead to inflammation, and more body fat.
Sweet Potato Arugula Salad | High Protein Vegan Meals
Feel free to sub out the grains, legumes, and greens for this high protein vegan salad. If you are oil free and need some other dressing options, check these out.
Ingredients
2

cups

arugula

1/2

cup

fresh parsley

chopped

1/2

cup

fresh mint

stems removed

1/4

cup

fresh dill

chopped

1

cup

roasted sweet potatoes

1/2

cup

cooked farro

1/2

cup

cooked black lentils

2

tablespoons

dressing

recipe below + more to taste

2

tablespoons

toasted pumpkin seeds or other seeds or nuts

salad dressing

2

tbsp

olive oil

1/4

cup

grapefruit juice

fresh squeezed

2

tsp

pomegranate molasses

1

tsp

maple syrup

1/2

tsp

salt

1

tsp

black pepper

1/2

tsp

smoked paprika

optional
Instructions
Place the arugula, herbs, sweet potatoes, farro, and lentils in a mixing bowl.

Pour the dressing over the veggies, and toss until everything is coated. Season with more dressing or salt to taste.

Serve topped with pumpkin seeds.

note: to make the dressing combine the oil, grapefruit juice, pomegranate molasses, maple syrup, salt, pepper, and paprika in a jar with lid or a small bowl and shake or whisk to combine.
Classic Red Beans & Rice (recipe)
Beans and rice are the classic complete protein meal. In the 80s it was believed that vegans and vegetarians needed to eat certain foods together in order to make up a complete protein (the right combo of amino acids). We now know that our bodies are able to break down proteins we eat into amino acids, and then store the amino acids to be properly combined in our systems for later use. Basically that means that you don't need to worry about protein combining. But beans and rice are still delicious and so filling!
Just one bowl of red beans and rice will give you 38 grams of protein, nearly the entire recommended daily value for a sedentary American (most of us). But that's not it, this tasty meal will also give you 22 grams of fiber, lots of b vitamins, zinc, iron, magnesium, folate, potassium, and so much more.
I love making red beans and rice with vegan sausage—either homemade or Field Roast brand—which also has a ton of protein because it contains wheat gluten, aka pure protein. If you have celiac try the gluten-free vegan sausages from Hilary's or skip them.
Additional resources…
xo, Jenné
Order the Sweet Potato Soul Cookbook!!