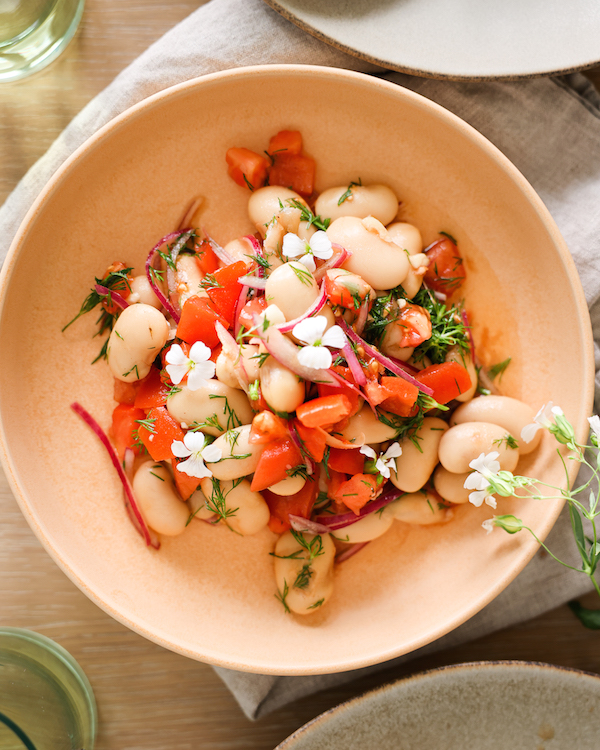 Have you ever fallen in love with a food? I have. Way too many times to count! And I'm not just talking about a casual interest in a dish. But love like you need to get to the bottom of how it is so delicious, you think about it at the most random times, and you want to eat it for breakfast lunch and dinner…and snack time too. Am I totally crazy? Well, perhaps. But you'll appreciate my insanity once you've tried this super yummy Marinated White Bean Salad. 

Ingredients needed for this Marinated White Bean Salad
Somehow the recipes I fall in love with always seem to be the simplest. It's the ones where all of the ingredients are team players and bring out the best in each other. This marinated white bean salad has fewer than a dozen simple high quality ingredients, including fresh tomatoes, garlic, and herbs.
But I don't use any old white beans for this salad. For the best white bean salad you've got to try corona beans. I had never heard of them until quite recently. Corona beans are a gigantic white bean cultivar originally from Italy. Corona means crown, and these babies are definitely bean royalty. Actually, the exact variety I buy is called, royal corona.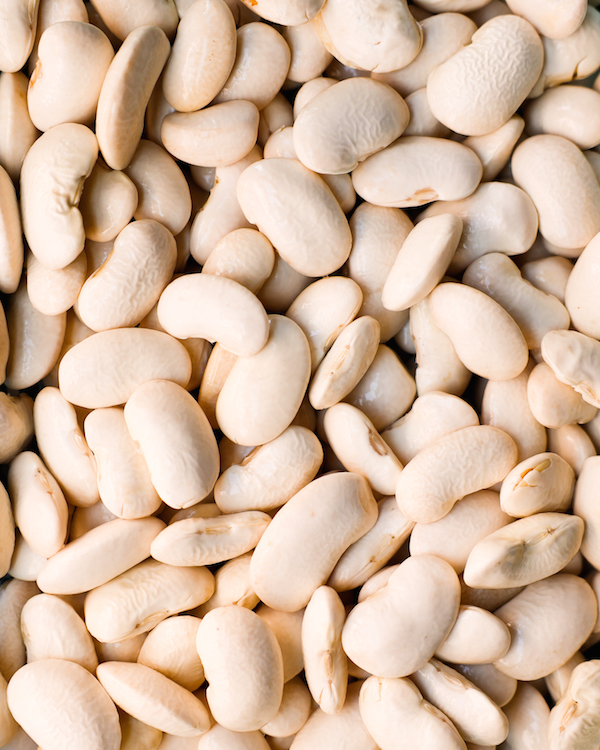 What are corona beans?
Corona beans are my 2nd favorite type of bean––next to black-eyed peas. Being a southerner, I would have rated butter beans as my second favorite until I discovered corona beans. These huge beans are something else. First off, they're enormous by bean standards––about double a lima bean––and super fat! If you want a bean that you can sink your teeth into, this is it. Corona beans are creamy on the inside, and have a sturdy yet tender skin. Their size and thicker skin make them ideal for salads because they won't get mushy. However, this also means they need to sit in the marinade for longer to really soak up the flavor. But even on their own, without even a pinch of salt, corona beans have the best flavor: slightly nutty and sweet. They shine in salads, warm dishes, stews, and everywhere else. 
I buy Royal Corona beans from Rancho Gordo. Buy a few pounds, because one bag won't last long. They elicit quite a craving. 
Can you use any white bean?
I hope my little love note to corona beans made it clear that all beans are not the same. Not even all white beans are the same. In general, most types of white bean will work in this recipe, but depending on which one you use, the end dish will be different. And that is totally fine! 
Corona beans are fantastic, but so are the other white beans out there: cannellini, lima, butter beans, navy, great northern beans. Limas are the only bean I'd avoid for this white bean salad. I LOVE that they get really silky and tender when cooked, but they may make the marinade too starchy and the end salad too mushy. Great northern beans have a thicker skin, making them the best alternative to corona beans in this salad. 
Do you need to soak white beans?
In my opinion most beans are better when you soak them overnight, or at least 6-8 hours before cooking. Soaking helps to break down the sugars, making them easier to digest, and helps them cook quicker. This is especially important if you are cooking them on the stove. While it is optional to soak beans that you will cook in an electric pressure cooker, I still like to take this step because they cook even faster.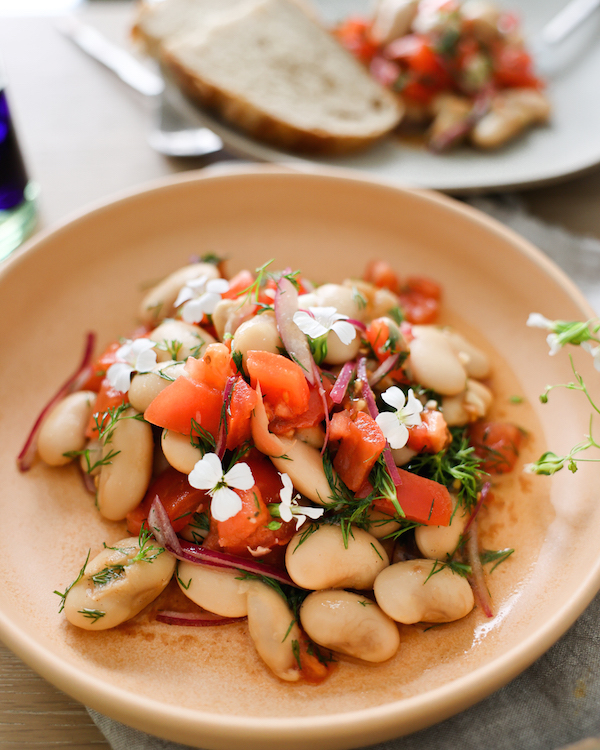 How to cook white beans, and prevent them from getting mushy
Since corona beans are so large and their skin is thicker, I recommend soaking them overnight (full 8 hours), and Instant Pot pressure cook them on high for 30 minutes. Let the steam release naturally for 10 minutes before releasing the remaining steam. This makes the perfect tender yet meaty beans. If you cook them on the stove, they'll need about 60 minutes, and they'll still be perfect. 
Smaller beans need less time to cook; as little as 10 minutes in the Instant Pot, and as little as 30 minutes on the stove, for cannellini and lima beans. Skim the foam off the top as they cook. 
If you are cooking beans on the stove, taste one or two after 30 minutes to determine if they need to cook longer or not. You can tell a bean is cooked if it is smooth all the way through. If the center is hard at all, it is not ready to eat. 
What if I overcook my beans?
All hope is not lost if you have mushy-ish beans. Remove the beans from the heat, and let them cool completely. Refrigerate the beans for at least one hour. If they are complete mush, then there isn't much you can do. However, beans will often firm up once they are cool.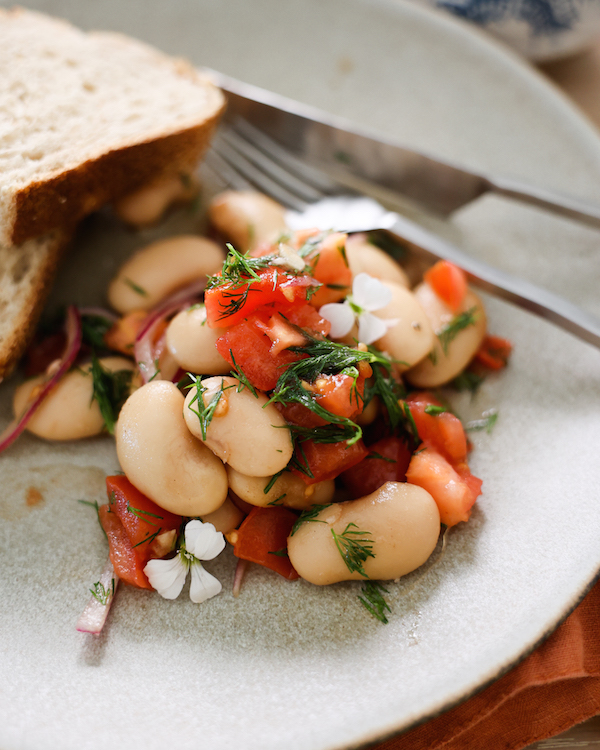 Tips for making this marinated white bean salad
Choose the best beans. Royal Corona beans are as good as it gets for this recipe, but Great Northern Beans are second best. 
Use room temperature beans. Let them cool before tossing them with the salad dressing and herbs. 
Try to let the salad marinate at least 1 hour before serving––overnight is best. 
Serve cool, but not too cold. 

Use top notch tomatoes. 

Use a good extra virgin olive oil for the dressing

I like to serve this salad with other salads––like my beet fennel salad––and with sourdough bread. It's also wonderful on the side of this wild mushroom avocado toast. 
Store in the fridge for up to 5 days. It will get better each day.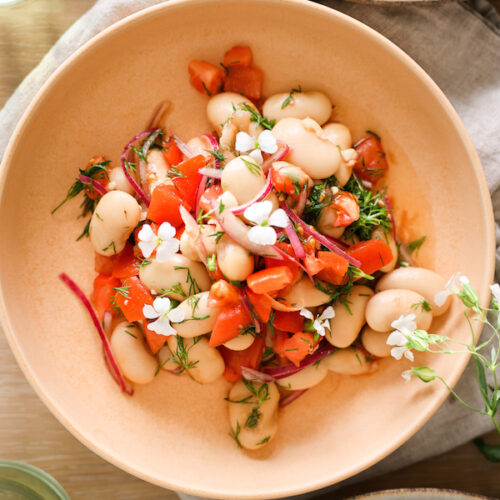 Marinated White Bean Salad
Ingredients
1

lb

white beans

soaked overnight (I used huge corona beans)

2

bay leaves

1

tsp

dried thyme

2

tbsp

apple cider vinegar

2

tbsp

balsamic vinegar

¼

cup

olive oil

2

tbsp

maple syrup or agave

¼

medium red onion

thinly sliced

2

cloves

garlic

minced

4

ripe tomatoes

chopped

½

cup

fresh parsley

chopped

¼

cup

fresh basil

chopped

1 ½

tsp

sea salt + more to taste

1

tsp

freshly ground black pepper
Instructions
Pressure cook the soaked beans in an Instant Pot with bay leaves and thyme: 20 minutes for small beans like Great Northern and 30 min for corona beans. Natural pressure release.

Drain the beans, and allow them to cool.

In a small bowl whisk the vinegar, maple syrup, and olive oil.

Transfer the beans to a large mixing bowl.

Add the tomatoes, herbs, dressing, salt, and pepper.

Season to taste with more salt and vinegar.

Allow the beans to continue to cool and marinate in the refrigerator for at least an hour before serving. Even better when made the day before serving.