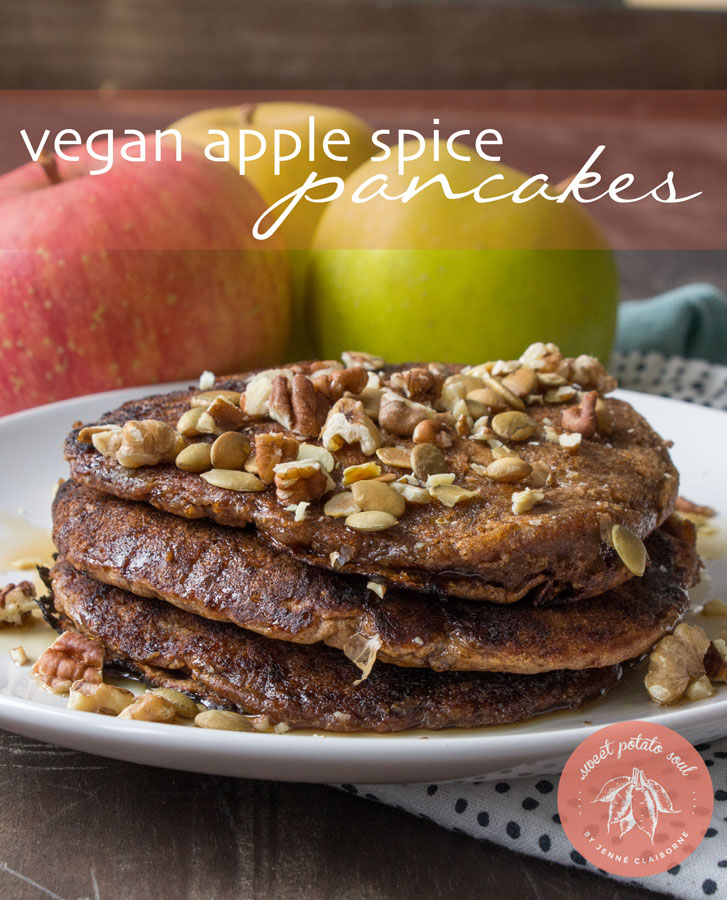 I arrived back in the U.S. last Thursday (or according to my jet lagged body, Friday), with a craving for pancakes and not much else. Since leaving New York City at the end of January I hadn't eaten my favorite vegan breakfast once. In LA, Kristin and I found our daily morning nourishment in creatively curated toast with avocado. In Japan, making pancakes didn't make sense in my teeny kitchen without a big skillet, mixing bowls, or affordable American ingredients. And since nothing comforts me as tremendously as a hot and fluffy stack of pancakes, my weary traveling soul craved them deeply as soon as my feet touched American ground.
I had been promising myself to make these incredible vegan apple spice pancakes as soon as I arrive in Atlanta this Thursday. However, Thursday is days away and my craving was growing by the hour. Then I got lucky.
Here in New Orleans––where I've been exploring the vegan restaurants, music, and unique NOLA culture––I came across Meals from the Heart Cafe in the the French Market, and on their menu right at the top were the words "vegan blueberry pancakes". My heart went pitter patter, and I knew my pancake savior had arrived. They were fantastic; light, fluffy, crispy on the edges, and oozing with blueberries in every bite. I'll most definitely be returning to this joint.
How do I make these pancakes?
Though my pancake craving has been satisfied, I'm still looking forward to making these apple spice pancakes again (for the 10th time). Unlike the ones at the NOLA spot, these are made with whole grain spelt and teff flour which makes them hearty without subtracting from their fluffy pancake appeal. The fiber rich whole grains also keep me fuller for longer. Apple sauce is used to give them that all-American essence, and it also keeps them nice and moist without having to add too much oil to the batter. Fry them up with coconut oil in a cast iron skillet, and be ready to take a trip to pancake heaven.
If you're in the mood for waffles, pour the batter into a waffle iron and you're good to go!


I've posted quite a few pancake recipes on this blog, but I definitely think these are my favorite. Give them a try, and please let me know what you think. Post to social media with hashtag #sweetpotatosoul so I can check out your yummies!
While I'm in NOLA I'll be documenting my culinary and entertainment favorites via photos and video. If you have a favorite NOLA spot that you think I should check out before I go, please let me know! I'd appreciate it sooooo much 🙂
RECIPE BELOW….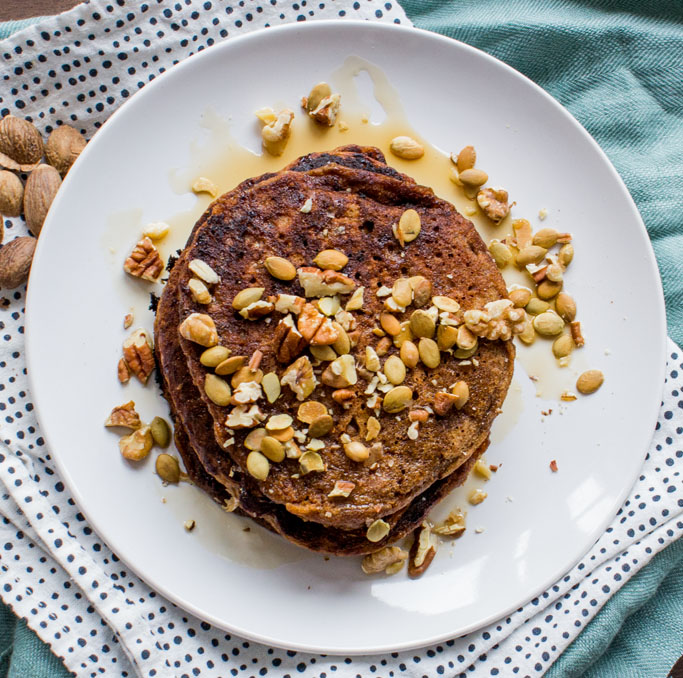 Vegan Apple Spice Pancakes
Vegan Apple Spice Pancakes whole grain pancakes can be made thicker or thinner by using more or less soy milk. However, I think my measurement is perfect for those of us who like a fluffy slightly thick pancake. Any non-dairy milk will do. Soy milk is just my favorite.
Ingredients
2

tbsp

ground flax + 4 tbsp water

1

cup

whole spelt flour

½

cup

teff flour

or buckwheat

⅓

cup

coconut sugar or raw cane sugar

½

teaspoon

salt

1

teaspoon

baking powder

½

teaspoon

baking soda

2

tsp

cinnamon

1/4

tsp

nutmeg

freshly ground

scant 1/8 tsp ground cloves

1 1/4

cup

soy milk + 1 tsp apple cider or white vinegar

1

teaspoon

vanilla extract

¼

cup

+ 2 tbsp applesauce

2

tsp

freshly ground ginger

2

tbsp

coconut

canola, or grapeseed oil + more for frying pancakes
TOPPINGS
maple syrup

sliced apples

toasted nuts and/or seeds
Instructions
Combine the flax and water in a large mixing bow to make the flax egg.

Combine the flour, sugar, salt, baking powder, baking soda, and spices in another large bowl.

To the flax egg add the soy milk, vinegar, vanilla, applesauce, ginger, and oil and whisk well, until combined.

Stir the wet ingredients into the dry ingredients until just combined.

Preheat a skillet and melt a couple tablespoons of coconut oil on the surface. Ladle some batter onto the skillet (about ½ cup), and fill with as many pancakes as you can comfortably fit. I can do 3 in my skillet.

Cook on each side for about 2 minutes, and place cooked pancakes onto a clean plate which you can keep warm in the oven at its lowest setting.

Complete with the remaining batter.

To serve top the pancakes with maple syrup, toasted nuts or seeds, and sliced apples.