The fountain of youth, beauty, fitness, strength, and energy exists my friends! And from it flows greens. Yes, greens. Dark leaves like kale, spinach, and collards. And tender greens like butter lettuce, arugula, and radicchio. Oh what a magical and nutritious fountain it is.
The key to youth, beauty, physical fitness, strength, and energy is locked away in the tiny cells of greens. Look at Popeye! The man knew what was up. You didn't see him chuggin' a protein shake, he was poppin' cans of spinach.
I'm so addicted to greens that when I don't eat them for 24 hours I start feeling like one of the little boys from the musical Oliver singing "Food Glorious Food." Only I'm singing "Greens Glorious Greens!" Meals just aren't complete without them. The more I eat, the more I want, and the better I feel. My skin is its brightest, my thoughts are the clearest, and my digestion is the super bestest when I'm munching on greens.
Even more, I thrive on raw greens. I try to eat a raw salad a day, but when it's cold outside I also crave hearty cooked food. It was a conundrum in the past. I'd flip a coin to decide whether I should cook or massage my greens. I didn't realize that I could have it both ways at the same time. Not until I remembered the magic of pesto.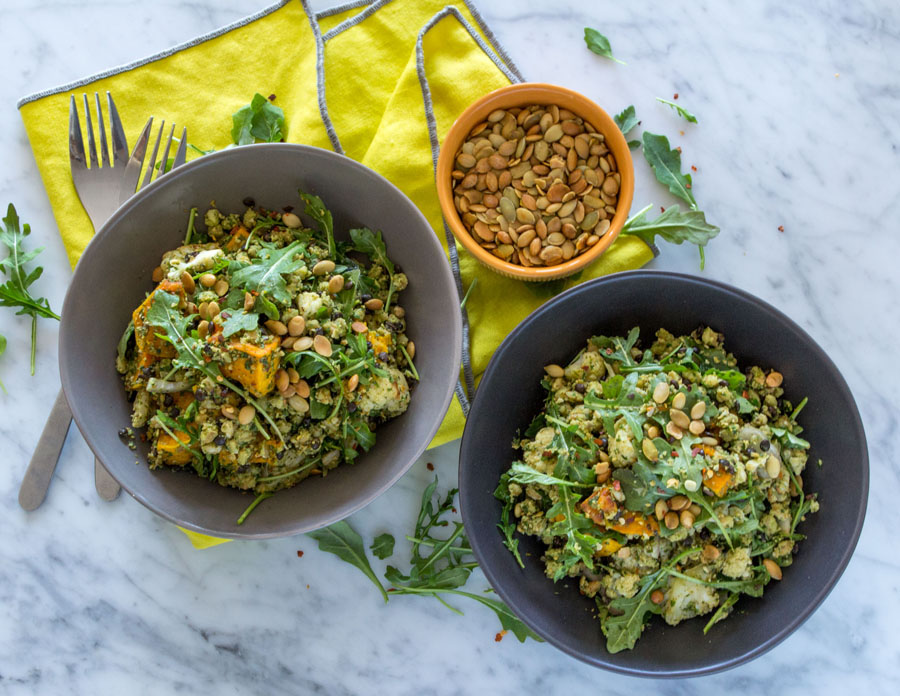 What can I make with raw greens?
Basil pesto is a classic, but I take this beloved sauce to the next level by making it with different seasonal greens. My favorite pesto is made with arugula because it's spicy, and intensely satisfying––even when it's only 20° out. I mix that tasty vegan pesto with grains, legumes, and roast veggies. And voila! My life is complete, and I've got an amazing meal made with "GREENS GLORIOUS GREENS"!!
Raw greens are bursting with vitamins and enzymes that are destroyed when cooked, so it's extra important to get them into your diet on the regular. Cooked greens are hearty and satisfying, and full of fabulous minerals and fiber. In this recipe I'm counting roasted cauliflower as a green, but you can use broccoli if you're real strict with colors 😉
By eating both cooked and raw greens every day, and building your meals around them you will certainly take your health to the next level. Get ready for the glow. Once you start eating a lot of greens your body is going to crave them because they deliver such a nutrient dense punch. Before you know it you'll be singing "Greens Glorious Greens"!
What's your favorite way to make eating greens easier and more interesting? Share with me in the comments below. I'm always on the lookout for more green-spiration!
Arugula Pesto + Farro Pilaf
Use your favorite roasted vegetables in this recipe. I often make this with sweet potatoes, carrots, and broccoli, and in the warmer months I make it with grilled summer squash and peas. Pesto makes any combination complete. Any leftover pesto will keep refrigerated for up to 4 days. This pesto recipe was adapted from my favorite pesto recipe, the Cilantro Pepita Pesto from Sprouted Kitchen.
Ingredients
1

head cauliflower

florets chopped

1

small butternut squash

cubed (about 5 cups)

3

tbsp

grapeseed or canola oil

2

tsp

sea salt

2

cups

cooked farro

from 1 cup uncooked, follow directions on package

1

cup

cooked black lentils

or chickpeas

2

cups

arugula

not for pesto

1/4

cup

toasted pumpkin seeds

not for pesto

Pesto

4

cups

arugula

1

clove

of garlic

minced

¾

cup

toasted pumpkin seeds

toasted in oven at 350° for 8 minutes

¼

cup

olive oil

2

tbsp

lime juice

freshly squeezed

1

tsp

sea salt

1

tsp

black pepper

freshly ground

½

tsp

chili powder
Instructions
Roast Veggies

Preheat oven to 350° and line 2 baking sheets with parchment paper.

Toss the cauliflower and butternut squash with oil, and spread evenly onto the baking sheets. Each veggie with its own sheet.

Sprinkle some sea salt over the veggies, then roast for 40 minutes, or until tender.

Place the farro and lentils in a large bowl, and set aside.

Pesto

Place all ingredients, except the olive oil, in a food processor, and blend until combined.

Pour in the olive oil while the food processor is still blending, and continue to blend another few 30 seconds, or until combined, and not too smooth/pureed.

Assemble

Pour 1 cup of the pesto into the mixing bowl with the farro and lentils, and stir well to coat.

Stir in the roast vegetables, and extra arugula.

Season with more sea salt to taste.

Serve with toasted pumpkin seeds.
p.s. In case you don't feel like cooking, why not have a private chef come over and cook for you? Don't have a big budget? That's just fine! I've created some delicious vegan menus for Kitchensurfing NYC, and for just $25/person you can have a chef come to your NYC home and cook one of my super yummy meals for you. Kitchensurfing is offering a special $25 off discount to my readers! Schedule your vegan menu this Thursday or Friday, and use code KSsoul to save $25 on your booking! Code expires the end of March. Be sure to tag me in the photos you take @sweetpotatosoul because I want to see!