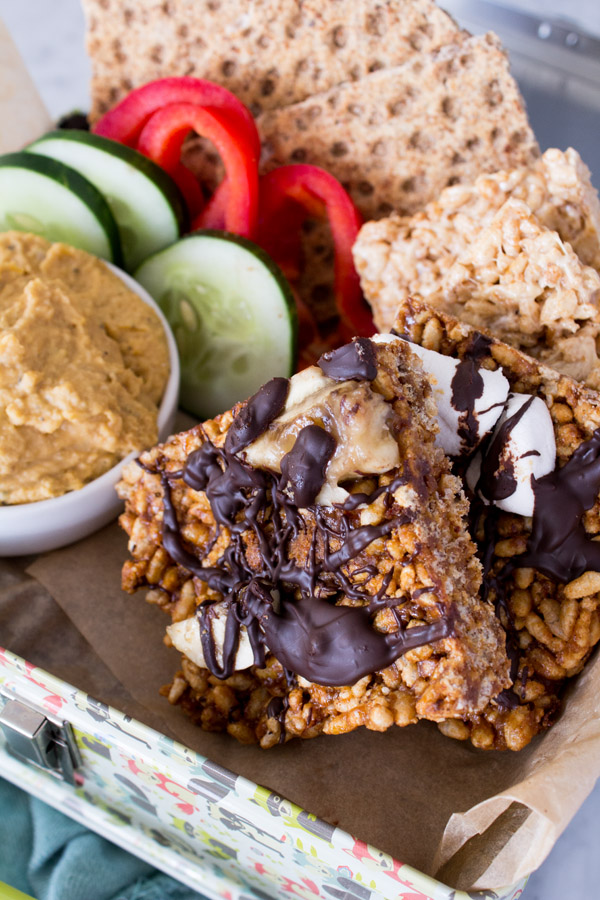 Real talk; going back to school is all about showing off, isn't it? New clothes, fresh hairstyle, exciting stories of summer travels, and envy invoking goodies in your lunch box 🍱
I remember bringing Chick-fil-a and rice krispies treats in my lunch box as a kid. My friends would want me to share with them, and I always did. And while I no longer condone anyone eating at Chick-fil-a, I am still a big fan of rice crispy treats, especially when they're vegan.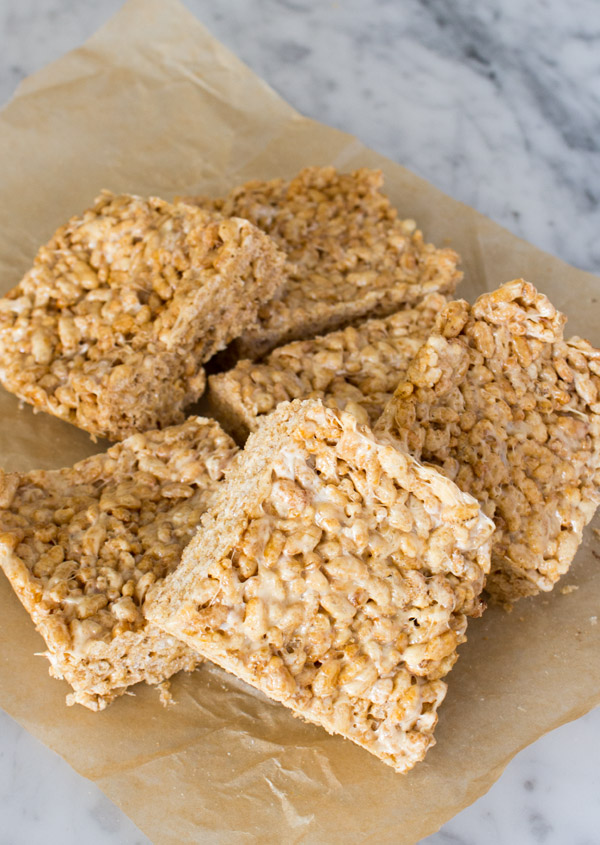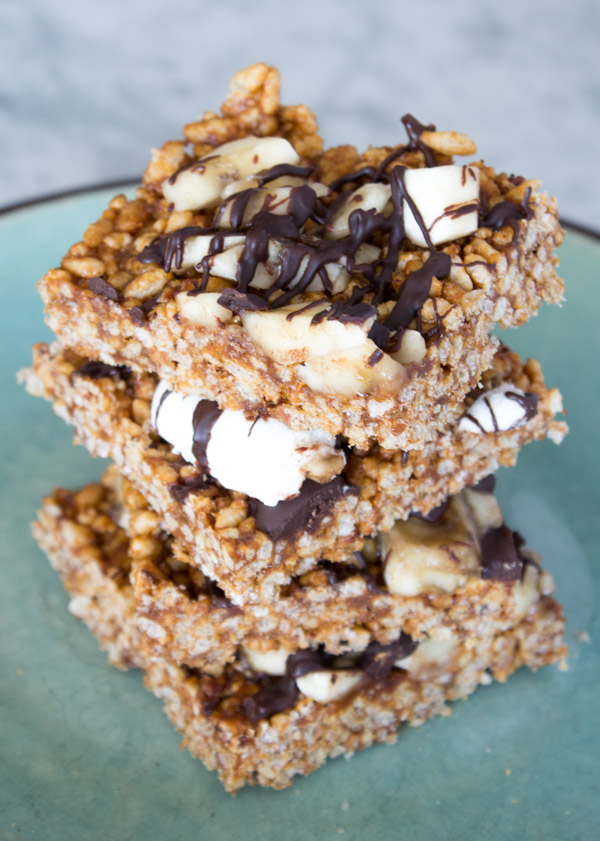 In my video (below) you'll see how incredibly easy it is to whip up two very scrumptious varieties of vegan rice crispy treats; one made with vegan marshmallows and the other made with homemade almond butter. The almond butter variety is healthier than the marshmallow one, but just as delicious (if not more with my chocolate drizzle!).
And then there's the savory snack: sweet potato hummus! I've shared this recipe on the blog before, and it has since become one of my most famous recipes. Like the rice crispy treats it is super easy to make, and perfect to pack in a lunch box for school, or even work. Enjoy!
Vegan Classic Rice Krispies Treats
Find vegan marshmallows and brown rice crisps at health food stores, or online at Thrive Market (my new favorite. It's like a cross between Costco and Whole Foods)
Ingredients
3

tbsp

earth balance vegan butter

1 10

oz

bag vegan marshmallows

6

cups

brown rice crisps
Instructions
Line a 9x9 baking dish with parchment paper.

Melt earth balance in a large pot over medium heat.

Add the marshmallows to melt along with the earth balance. Stir often to prevent burning. Will take about 6 minutes to melt completely.

Remove from heat.

Stir in the rice crisps and make sure they are all coated in marshmallow.

Transfer to the baking dish, and press firmly with a palm sized piece of parchment paper.

Allow to cool for about 1 hour before enjoying.
Almond Butter Rice Crispy Treats
Ingredients
1/2

cup

almond butter

1/3

cup

coconut nectar or maple syrup

or agave nectar

1

tsp

vanilla extract

3

cups

rice crisps

1/2

cup

marshmallow

chopped or use minis

1

banana

chopped

1/4

cup

chocolate chips or 2 oz chocolate bar

melted
Instructions
Line a 9x9 baking dish with parchment paper.

Warm and soften the almond butter and coconut nectar over medium heat in a large pot.

Remove from heat, and stir in the vanilla extract.

Stir in the rice crisps and make sure they are all coated in the almond butter mixture.

Transfer to the baking dish, and press firmly with a palm sized piece of parchment paper.

Sprinkle the top with marshmallows, banana, and a generous drizzling of melted chocolate.

Allow the chocolate to harden in the refrigerator for about 1 hour before enjoying.

Store in the fridge to keep the bars firm. They will soften if they sit out for a while.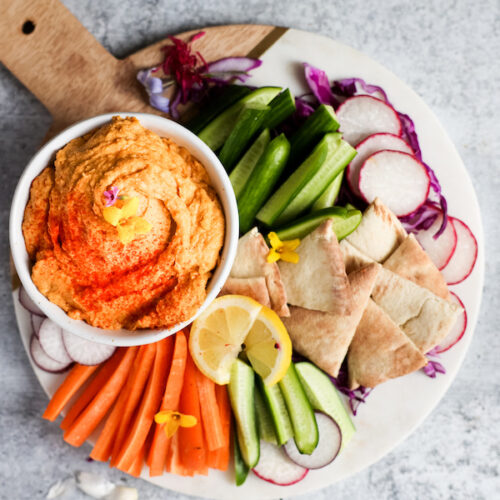 The Best Sweet Potato Hummus
This delicious Sweet Potato Hummus is savory and bold, with the perfect amount of sweetness. Slow baked sweet potatoes give it rich flavor and extra creamy texture. This recipe also appears in my cookbook, Sweet Potato Soul.
Ingredients
1½

cups

cooked chickpeas

warm and un-rinsed. Or use canned.

1

cup

baked sweet potato

flesh only, see tips

1

garlic clove

chopped

1

tbsp

fennel seeds

use less or skip if you don't like fennel

1

tsp

cumin powder

2

tsp

white or yellow miso

3

tbsp

tahini

1

tsp

lemon juice

freshly squeezed

1

tsp

balsamic vinegar

½

tsp

cayenne pepper

1

tsp

freshly ground black pepper

less if you're using preground
Instructions
Place all ingredients in a food processor.

Blend until very smooth and creamy.

Add more seasoning to taste.
Notes
Slow bake your sweet potatoes whole. This will bring out more sweet and earthy flavor, caramelize the sugars, and make the sweet potato incredibly creamy. Use Garnet, Jewel, or other orange colored sweet potatoes for this recipe.
Use warm homecooked chickpeas when you make the hummus for the very best creamy texture. You may use canned chickpeas for this recipe too. It will be still be delicious.
Not all tahini is created equal. Some are more bitter than others, while some separate in the jar, which is not ideal. My favorite tahini brands are: Soom, Seed & Mill, Whole Foods 365 brand, Sprouts store brand, and most Middle Eastern brands. However, I don't recommend Joyva (too bitter) or Once Again (clumps in the jar).