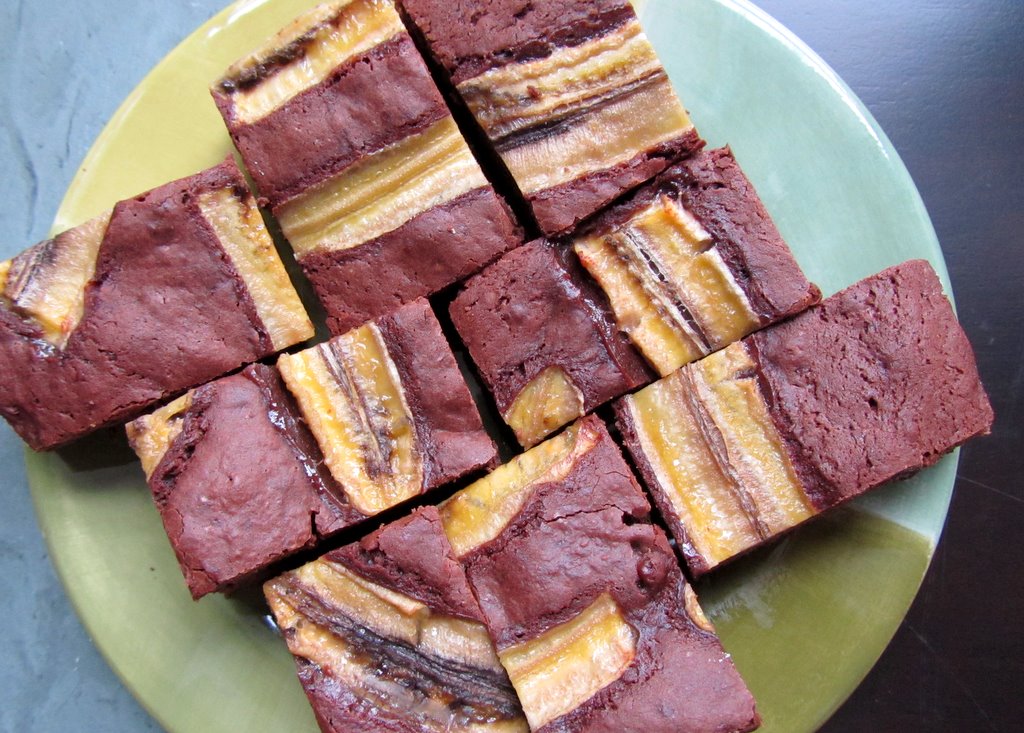 What are you grateful for?
Life's gifts  are so often taken for granted; like the feel of clean warm water as I wash my hands, the taste and texture of my morning oatmeal, a safe place to call home, laughter.  The list goes on, and each night before I go to bed I write down just 5 things I'm grateful for that day.  Tonight, life is number one on my list.
Life, Love, Spirit, whatever you want to call it, or not call it; that presence that permeates all, and is the connecting energy between everything.  In the constant feeling and awareness of that is where I seek to reside.
Boy, I'm getting deep!
I am grateful to not only acknowledge that I am alive and blessed, but to feel that thing called Life within me always. Well feeling it always is what I strive for : )
I believe that everything is Life, it's all Love, it's all God, it's all Good.
Number 2 on tonight's gratitude list are these Banana Brownies, and my newly discovered joy of vegan baking.
How can I go from talking about something so deep to brownies?  Aren't brownies one of life's simple pleasures?  They're so simple and easy to make, and so quintessentially American. For a lot of people brownies represent a childhood comfort food served warm from the oven with ice cream or whipped cream, sometimes with walnuts or chocolate chips baked into the already chocolaty amazingness.
As a chocolate lover, rich and fudgy brownies are my favorite.  I like them complex like a fine chocolate bar, with hints of espresso and perhaps fruity undertones.  When I bite into a brownie it is important to cherish it, and give thanks for such a simple treat.
The other night I discovered that you can use coconut cream from a can of coconut milk to replace butter and lard in some recipes, making soy-free vegan baking easy. When I heard that I was like, "WHAT!? GIRL, STOP!" and immediately my mind started racing with possibilities!  I thought of vegan double chocolate coconut cookies, brownies, empanadas, samosas, and pie crusts!
So what better way to test the legitimacy of this glorious claim than by making vegan brownies? The idea for banana crept in when I was considering egg replacers for my sweets.  I did my research by analyzing over 10 brownie recipes, and finally came up with this Sweet Potato Soul original.
The coconut cream described can be attained easily.  Just purchase a can of higher quality coconut milk–I like to use Native Forest Organic Coconut Milk, or even the Whole Foods store brand–place it in a cool place, perhaps the refrigerator.  When cool, the contents of the can will separate. When you open it up you'll have thick white cream separated from the watery component. That thick cream is the good good that you want.
The coconut cream and chocolate are melted together over steam and cooled slightly before adding to the banana/wet ingredients.  I only use one cup of flour to make a 9×9 inch pan of brownies, and only one cup of sugar.  The mashed over ripe banana lends a natural sweetness that cane sugar cannot compete with, and instant coffee gives them a surprising kick.  The thinly sliced banana strips that I placed on top sink slightly and begin to caramelize.  The coconut flavor is subtle, perhaps because of the banana.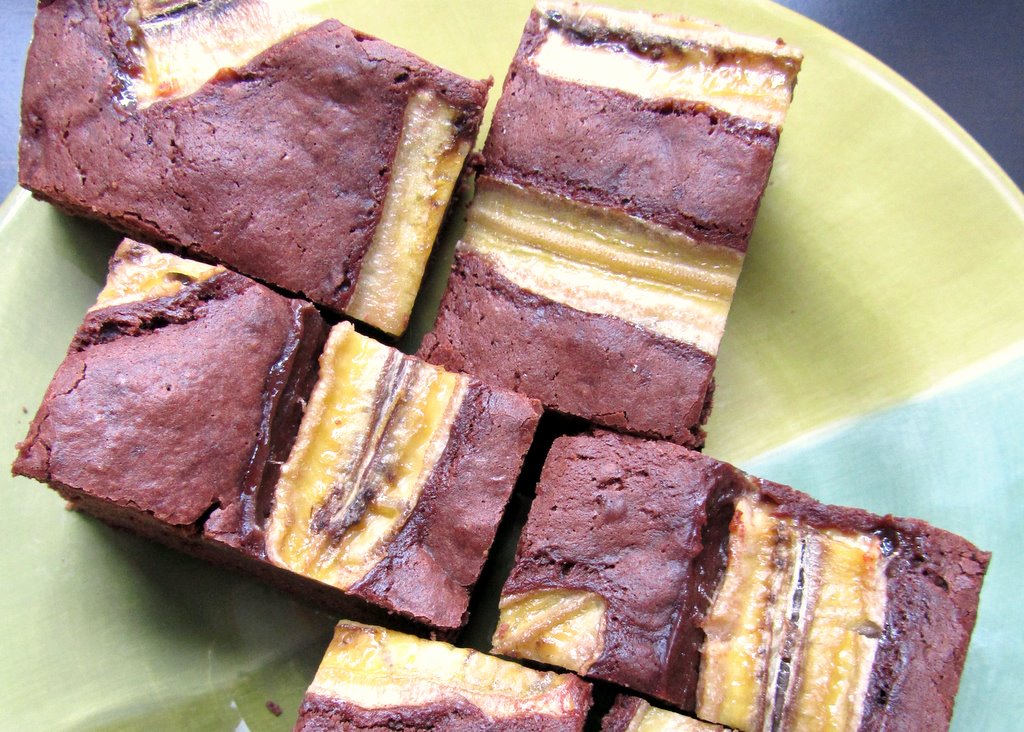 These banana bread brownie hybrids are guilt free. What's the point of feeling guilty about what we eat anyway?  It's time to be grateful for all that we have, especially the delicious pleasures that put a smile on our faces. Right?!
So without further ado, I introduce my fluffy and moist Banana Brownies.
Banana Brownies
Makes one 9x9 pan. When making these, have 3 bowls out and ready to use.  Cut the banana into strips right before placing them on top of the brownies. Serve alone or with vegan ice cream (why didn't I have ice cream?)... Enjoy!
Ingredients
1

cup

cold coconut cream

8

oz

1 cup vegan dark chocolate chunks

1

cup

unbleached all purpose flour

1/2

tsp

salt

1

tsp

baking powder

2

tsp

egg replacer

Ener-G brand + 3 tbsp water (of 1 tbsp flax meal + 2 tbsp water mixed)

1

over ripe banana

mashed

2

tsp

vanilla extract

1

tsp

instant espresso/coffee powder

1

cup

sugar

1

ripe banana

sliced thinly, lengthwise
Instructions
Preheat oven to 350 degrees, and oil (coconut oil) and flour a 9x9 or round 9-10 inch baking pan.

In a small sauce pan bring about 3 cups of water to a boil.

Place coconut cream and chocolate chunks into a heat proof metal bowl, over the boiling water in a steam basket or metal colander.  Do not allow the bowl containing the coconut cream and chocolate to touch the water.

Stir frequently with a spoon spatula, and after about 5 minutes, the steam will have melted the mixture.

Remove from  heat, stir, and set aside to cool.

In a large bowl combine 2 teaspoon of Ener-G egg replacer with 3 tablespoons of water; stir to to dissolve powder.

Now add the mashed banana, vanilla extract, coffee powder and sugar, mix well.

In a medium bowl mix flour, salt and baking powder.

Pour the cooled coconut chocolate fudge into the banana/wet ingredient mixture and stir.  Slowly stir the flour into the wet ingredients and mix well.

Pour the batter--it should be fairly wet--into the prepared pan. Carefully set the banana strips on top and bake at 350 degrees for 40 minutes.

With a paring knife or toothpick check to make sure the brownies are done.  Allow them to cool for 30-40 minutes before cutting.