This rich and creamy Banana Ice Cream is part of my vegan dessert series! Don't miss the other recipes and the video below.
I'm excited to announce the pre-order of my cookbook, SWEET POTATO SOUL. Purchase your copy today at Amazon, Barnes & Noble, Books-A-Million, Indie Bound, or iBooks.  This vegan chicken and waffles recipe is not in the book, but it is a little taste of what you'll find inside.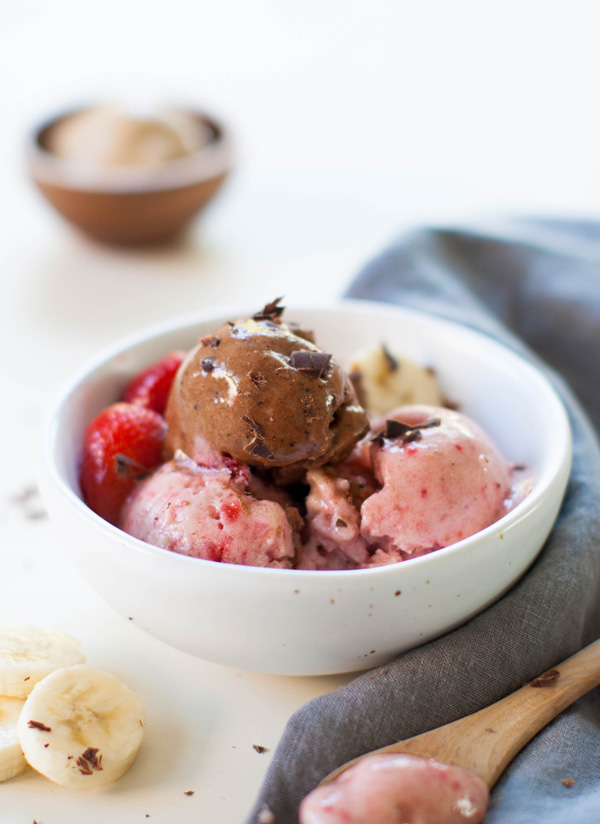 Say hello to Banana Ice Cream—aka Banana Nice Cream, because it's creamy, rich, decadent, yet nice and healthy. No ice cream maker required. This has got to be one of the easiest desserts to make!
Basically, all you need to make this amazing dessert are frozen bananas and a little bit of non-dairy milk. Yes, with those humble ingredients you too can experience the magic of vegan banana ice cream. Of course, you can take it a little further and add fun additions. My favorite combinations are raw cacao powder, espresso, and cardamom; and strawberry. I also like adding frozen mango, doing a chai spice, or adding nuts and chocolate chips. You can get really creative with this nice cream.
First off, always make sure you are using ripe bananas. Ripe bananas will allow you to completely avoid using added sweetener. My favorite way to freeze bananas is to peel them, cut them into small easy-to-blend chunks, then spread them evenly onto a parchment paper lined tray (make sure it will fit in your freezer). Freeze them like this so they don't clump and stick together. If you don't plan to use them within 12 hours of freezing, transfer the already frozen banana chunks to a freezer-safe container. Now that they're already frozen they won't stick together.
To make this perfect vegan banana ice cream, simply blend the frozen bananas with non-dairy milk. I use coconut milk for this because it's so high in fat, and makes for the creamiest nice cream. If you don't have coconut milk try using another non-dairy milk that is high in fat like homemade macadamia, brazil nut, or almond milk.
For those of us who love ice cream for dessert all year round, this banana nice cream should be in the freezer at all times. There isn't a healthier, cheaper, more delicious and decadent ice cream!
Subscribe to my Youtube channel for more awesome videos released every week 🙂
Banana Ice Cream | 3 Flavors
Read my notes about freezing bananas above. To make this decadent and delicious banana ice cream all you need are ripe frozen bananas, coconut milk, and a blender. Note, for best results you should freeze the nice cream again after making it. However, no one says you can't eat a bowl right away, it'll just be more of a soft serve consistency at first 🙂
Ingredients
6

frozen ripe bananas

cut into 1 inch pieces (be sure to peel and cut bananas before freezing)

5

tablespoons

coconut milk or coconut cream + more if necessary
Chocolate Espresso Blend (double if using this blend for the entire batch of nice cream)
2

tablespoons

raw or regular cacao/cocoa powder

1

teaspoon

ground espresso

I used decaf so I can still enjoy it at night

1

teaspoon

cardamom seeds

no shell, or ½ teaspoon ground cardamom

2

teaspoons

date syrup or other liquid sweetener
Strawberry Blend (double if using this blend for the entire batch of nice cream)
1

cup

frozen strawberries

½

teaspoon

vanilla extract
Instructions
Banana Nice Cream Base (plain flavor)
Place the frozen bananas in a high-speed blender with the coconut milk, and blend until creamy.

If you aren't adding flavor additions, transfer it to a freezer safe container, and place into the freezer to firm for about 1-2 hours.
Flavor additions
I like making 2-3 flavors each time I make banana ice cream. So I keep 1/3 of the nice cream plain, then I divide the other batches and one at a time blend in the additions.

Be careful not to overblend. The ice cream should stay very cold, and a texture similar to soft serve.

Transfer it to a freezer safe container, and place into the freezer to firm for about 1-2 hours.