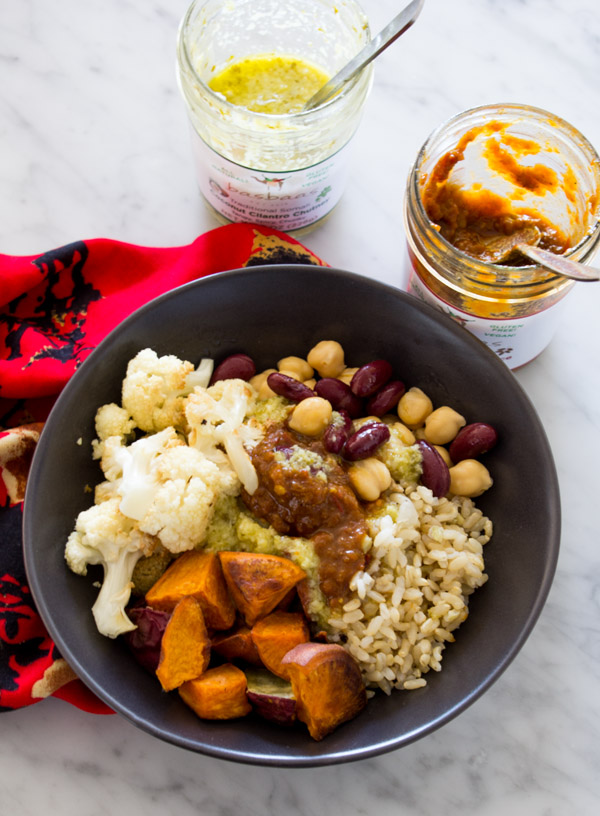 Somalia is a place that I knew very little about. Actually, I still know very little about the country, but at least I know about basbaas. Basbaas is a versatile Somali hot sauce that is traditionally served as a condiment for the main meal. It is truly spectacular! Today I'll use it in this basbaas Buddha bowl.
My friend Hawa was my introduction to this gem of Somali cuisine, and I can't believe I didn't know about it sooner. You know how Sriracha has become a staple ingredient around the country? [My computer actually just corrected the spelling for me! It's in the computer dictionary!] The same could happen to Basbaas, and it will if Hawa has anything to do with it.
Hawa is already working to bring Somali flavors to American plates. In 2014 she launched an artisanally crafted line of basbaas sauces, appropriately named Basbaas. There are different varieties of basbaas, and Miss Hawa's company currently sells two––tamarind date and coconut cilantro chutney. Both can be used in millions of ways. I've tried them on steamed veggies, in tacos, in falafel, with chips, with quinoa, and on Buddha/Basbaas bowls.
Speaking of Basbaas bowl––the meal of champions––Hawa and I made a video to share Basbaas joy with you! Check it out below, and the crazy easy recipe is down there too 🙂
Have you ever had Somali cuisine? I can't wait to try more!
Vegan Basbaas Buddha Bowl
Find Hawa's Basbaas here: http://www.basbaassauce.com/#!shop/zlma2 and here: http://goo.gl/JkbtpI
Ingredients
2

sweet potatoes

cubed and roasted (toss with 2 tbsp coconut oil & roast for 30 min at 400°)

1

head cauliflower

chopped and roasted (same as potatoes)

2

cups

beans

any kind will work (canned or freshly cooked)

1

cup

brown rice

cooked

generous helpings of Basbaas sauces to taste
Instructions
Put all of your ingredients into a big bowl, and top with Basbaas sauces.

Enjoy!
Loved this basbaas Buddha bowl? Leave a comment below!