I have been meaning to post this beet fennel salad recipe for so long. Like, longer than I'm comfortable with admitting. Somehow, whenever I make it, I eat it all before I have a chance to take the photos. Either I need to eat a full meal before I plan to take photos, or this salad is my kryptonite. Perhaps it's a combination of both.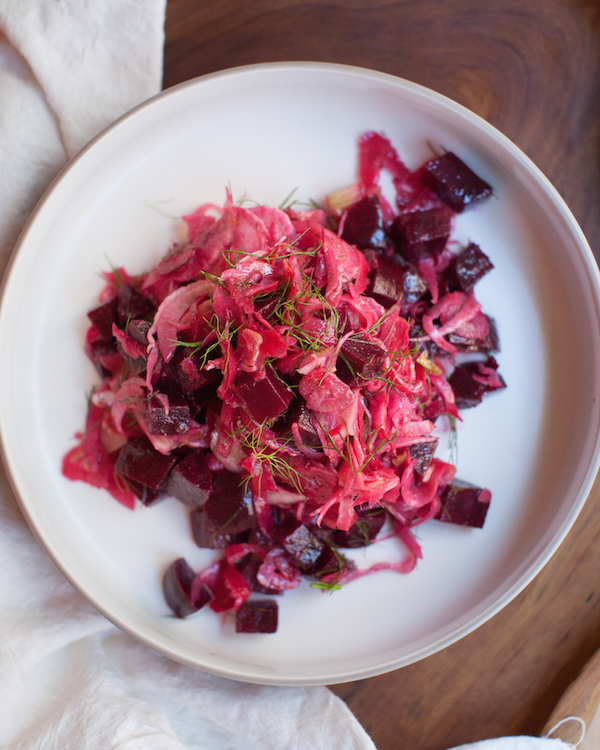 And I haven't always enjoyed eating beets. There was a time when I didn't even like the way they looked, let alone tasted. But the issue was that I hadn't had them prepared in a way that I liked. Until I was an adult, I'd only been exposed to dried up raw shredded beets, and those weirdly gelatinous canned beets. But, prepared the right way, like in this beet fennel salad, in beet burgers, in beet hummus, soup, or just roasted, they are truly delicious! Beets are definitely one of my top 5 favorite vegetables.
This beet fennel salad is perfect. The combination of textures from the cubed beets and shaved fennel is a delight. The flavors are a match made in heaven. It's easy to make, and it gets tastier with time, making it ideal for meal prep. And it's an absolute nutritional powerhouse. Beets are a great source of phytonutrients and antioxidants, fiber, iron,  and magnesium. And they're a terrific source of folate (pregnant mamas, this one is for you). Fennel, like beets and other veggies, has strong antioxidant activity thanks to its many flavonoids and other phytonutrients. It's also a particularly great source of vitamin C. Iron (which beets are a good source of) needs vitamin C to help it be absorbed in the body. This ingredients in this beet fennel salad are truly a perfect match!
I often share this recipe in my weekly meal prep guides that I send out with my email newsletter. Sign up for the newsletter here!
Beet Fennel Salad
Ingredients
4

steamed beets

peel after you've steamed them, and they're cool enough to touch. The skins should slip right off under running water.

1

large fennel bulb

save some of the fronds for garnish. The stalks can also be shaved/sliced for this salad

¼

red onion

thinly sliced

Lemon vinaigrette

recipe below
Lemon Vinaigrette
2

tbsp

fresh lemon juice

from about 1 lime

2

tbsp

apple cider vinegar

1

tablespoon

dijon mustard

2

teaspoons

maple syrup or agave

½

teaspoon

black pepper

½

teaspoon

cumin powder or cumin seeds

1

clove

garlic

minced

⅓

cup

extra virgin olive oil

toasted pumpkin seeds for garnish
Instructions
Cut the beets into cubes.

Thinly slice the fennel bulb. Use a mandolin to do this, if you have one. If not, slice as thinly as you possibly can using a sharp knife.

Place the beets, fennel, and onion in a mixing bowl.

Pour the vinaigrette over it, and use your hands to toss.

Season to taste with salt.

Garnish with fennel fronds.
vinaigrette
Place the ingredients into a jar.

Tighten the lid and shake until emulsified.