Finally, vegan shoes that are fashionable, eco-friendly, and affordable. I remember how difficult it was to find stylish vegan shoes when I first became vegan. On my weak salary I couldn't afford the Stella McCartney's I so longed to buy (still can't, for that matter), and I hated the fact that my cheap Forever 21 shoes would only last one season (how wasteful!). So instead of caving and purchasing leather shoes, I stopped caring about what was on my feet. Too quickly my love of shoes, accessories, and fashion became a relic of the past. Though not entirely. I have a Pinterest board where I save all of the shoes that I think should be veganized, but I haven't had to add to the board much lately. There are so many fabulous, fashionable, eco-friendly, and fair-trade vegan shoe brands now!
In this video I'll show you a few brands that I love, and currently have in my closet. Below the video you'll find a long list of other amazing vegan shoe brands that use all sorts of fabulous materials from polyurethane, to organic cotton, to cork. The vegan scene is changing, and my love of fashion is back!!
PRESS PLAY!!!!
BEYOND SKIN
I'm obsessed with these simple and comfy Bianca sandals from Beyond Skin. This UK based company sells a wide variety of shoe styles and ships worldwide. Beyond Skin shoes are made in Spain, and the company claims to maintain a close relationship with their factories to insure working conditions are safe, fair, and eco-friendly. I am wearing the Bianca Sandals in Gold. 
•••
I got these comfy sneaker boots from Will's Vegan Shoes, another UK-based company. I'm especially looking forward to wearing these shoes during the colder months when my normal sneakers don't keep me warm. Will's makes a ton of women's and men's shoes and even bags. I'm wearing the sneaker boot in black. 
•••
These are the lightest shoes I've ever worn. They're from a brand called People that my boyfriend discovered. Their shoes are made using a mix of 3D printing and some fancy trademarked techniques. All of there shoes are unisex, and I especially love these Phillips high tops that Maxx is modeling. I'm wearing the Stanleys. 
•••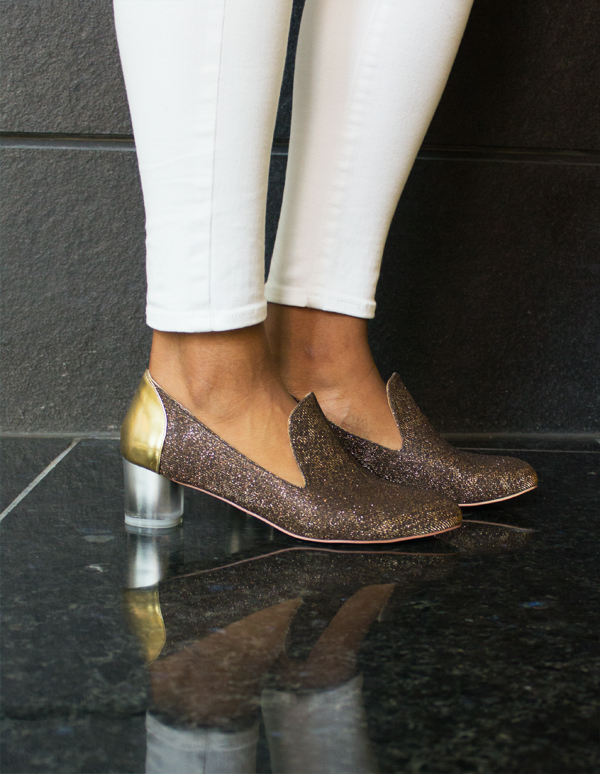 •••
For an edgier style I turn to Cri de Coeur. This New York city brand makes the coolest shoes using the coolest eco-friendly materials: recycled plastics, eco-polyurethane, organic cotton, hemp and reclaimed wood. Cri de Coeur isn't afraid to use fun patterns, unique materials, or bold colors. They definitely have a lot of NYC sensibility. I am wearing the Carrington Loafer in Bronze and the Emerson Studded Platforms 
•••
These shoes are from an Austrian company called Bahatika, which means happiness in Swahili. Because I'm lazy, my favorite everyday shoes have become slip on sneakers. These by Bahatika are super comfy and can be dressed up or down. When wearing vegan sneakers it's important that they be breathable, and all of the shoes in this video are. These are even anti-bacterial, so––as long as you wear them with socks––your feet won't get stinky. I'm wearing the Malkia in Black.  
•••
MORE VEGAN SHOE COMPANIES YOU SHOULD KNOW ABOUT
••WOMEN'S SHOES
Susi Studio https://susistudio.com/
Sydney Brown LA-Based http://sydney-brown.com/shop/shoes
Marais http://www.maraisusa.com/collections/vegan Not all vegan, but their vegan shoes are gorgeous. All French-inspired women's shoes.
By Blanch http://www.byblanch.com/en/
Melissa's Brazil http://shopmelissa.com/
Gunas http://www.gunasthebrand.com/collections/flats
OlsenHaus http://www.olsenhaus.com/
MATT & NAT http://mattandnat.com/shop/shoes/oxford
Bhava Studio https://bhavastudio.com
Stella McCartney obviously!! http://www.stellamccartney.com/us 
••MEN & WOMEN
Insecta Shoes http://www.insectashoes.com/?language=en
Good Guys Don't Wear Leather http://www.goodguys.bigcartel.com/
Nicora LA-Based http://nicorashoes.com/
Bourgeois Boheme http://us.bboheme.com/
Novacas http://novacas.com/
Ahimsa Shoes Brazilian company that ships worldwide for free. Shoes are made in their own Brazilian Ahimsa factory. http://en.useahimsa.com/
••SNEAKERS
Native Shoes http://nativeshoes.com/ Nothing but the best!!
Industry of All Nations Not all vegan, but they're a great ethical fair-trade company that sources their products from small factories around the world. Their Kenyattas, made in Kenya, are great vegan sneakers. Their sport Espadrilles from Argentina are super cool, and almost 100% biodegradable. http://www.industryofallnations.com/Shoes-at-Industry-of-All-CID273.aspx
MooShoes American online vegan shoe retailer that sells a wide variety of shoes for men and women. http://www.mooshoes.com/