I'm excited to announce the pre-order of my cookbook, SWEET POTATO SOUL. Purchase your copy today at Amazon, Barnes & Noble, Books-A-Million, Indie Bound, or iBooks.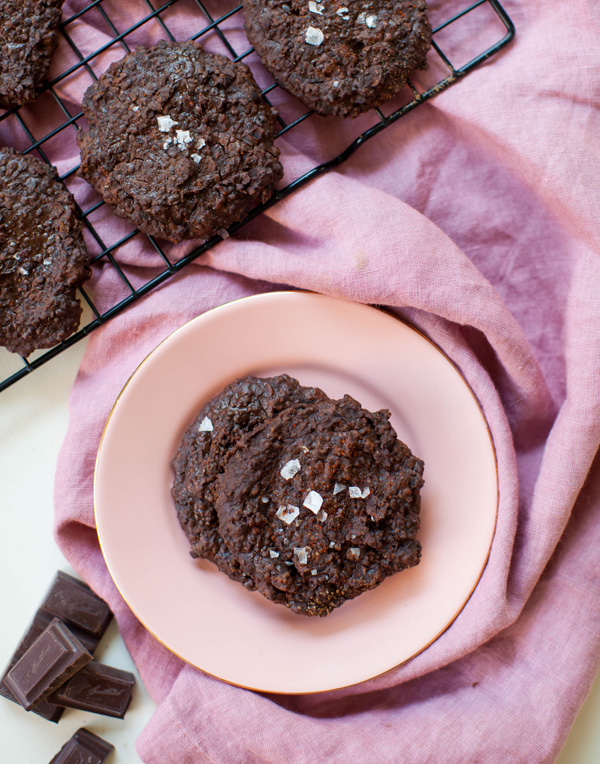 Full disclosure, I didn't create this black bean cookie recipe. It's actually from my favorite blog, My New Roots by Sarah Britton. However, I've been making these rich and chocolatey cookies for many many years, so I wanted to share the goodness with you.
On November 3rd I'll be releasing a healthy vegan desserts video, and these bad boys will be one of the 3 recipes. Yes, these black bean cookies are actually made with black beans. It may sound weird, but you can't taste them and they're one of the ingredients that makes these cookies healthy. They're also flour-free and gluten-free, and made with coconut oil, maple syrup, and chia seeds. And despite all of those healthy ingredients, these black bean cookies are still delicious! So delicious that even the biggest health-food hater will love them. Oh, and they get extra extra points for being vegan!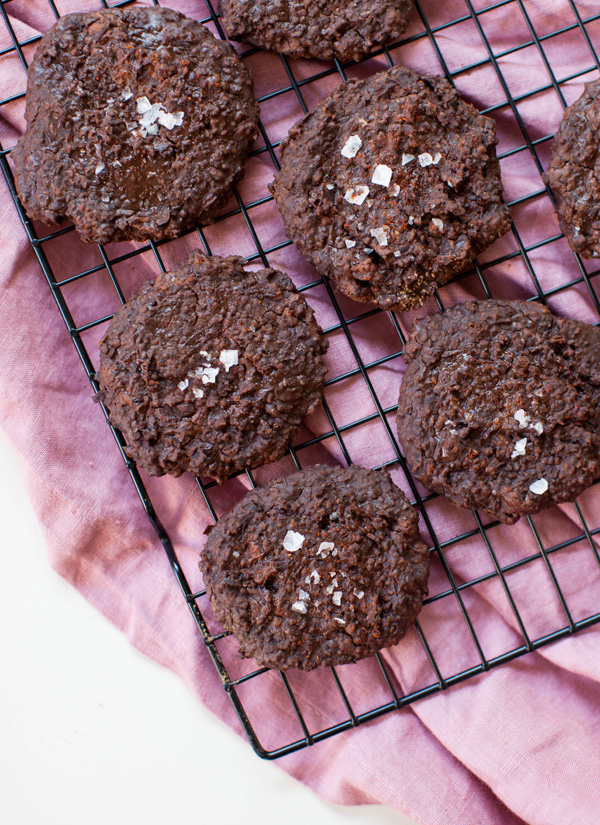 Another thing I like about these black bean cookies is that they're topped with flaky Maldon salt and cayenne pepper. Those savory touches balance the sweetness of the cookie and richness of the dark chocolate.
Don't be afraid to double the recipe and keep extras around in your fridge 😉
Dark Chocolate Black Bean Cookies
Ingredients
1 ½

cups

black beans

or one 15 oz. can, drained and rinsed

2

tbsp

melted coconut oil

1/3

cup

cocoa powder

1/4

tsp

coarse sea salt or Maldon

plus more for sprinkling

1/4

tsp

cayenne pepper

1/3

cup

maple syrup

or agave

2

tbsp

chia seeds

or 2 tbsp ground flax seeds

1

tsp

vanilla extract

1/3

cup

chopped vegan dark chocolate

70% or higher
Instructions
Preheat oven to 375°F and line a baking sheet with parchment paper.

Mix the chia seeds, maple syrup, and vanilla in a small bowl and set aside to allow the chia to thicken.

Place the black beans, coconut oil, cocoa, salt and cayenne in a food processor and blend until well combined. Then add the maple syrup and chia mixture and pulse to incorporate.

Remove the food processor's blade and stir in the chopped chocolate.

Spoon the batter onto the baking sheet, then flatten the tops of the cookies because they won't spread while they're baking. You should have 8 cookies.

Sprinkle on more coarse salt or Maldon, and a pinch of cayenne pepper.

Bake for 15 minutes, then let them cool completely before enjoying.

Store them in the fridge. They're firm up a bit in there, but remain moist and delicious.