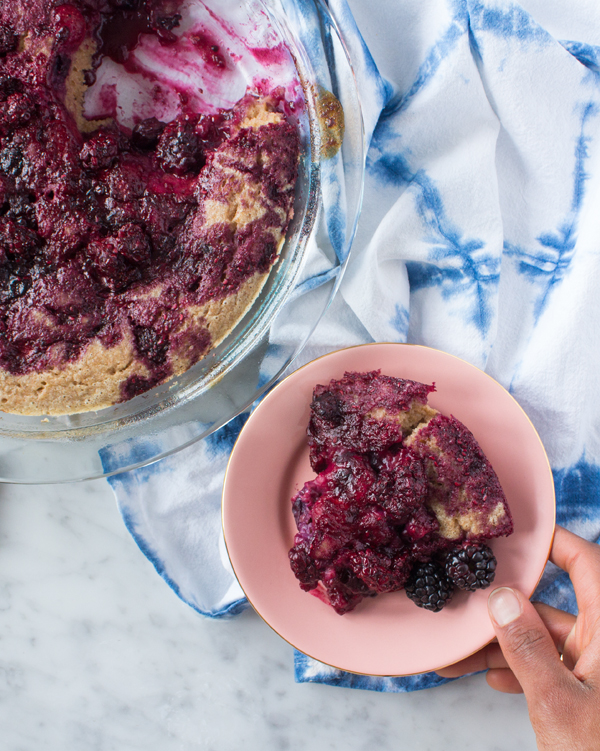 Down south where I'm from we love our fresh fruit, especially peaches, watermelon, and blackberries. We make jams, pies, cobblers, and sauces with peaches and blackberries, and save watermelon rinds for pickling (a recipe I intend to share this summer). Try as people might to say that Southern cuisine is all white sugar, meat, and butter, the absolute truth is that produce is traditionally at the heart of the region's food.
As American food became industrialized, so did Southern food. Meat became cheaper thanks to factory farms, small family farms were gobbled up by big agro, and people even stopped gardening in their own yards. In the case of black folks, the Great Migration—the more than half century long exodus out of the Jim Crow south, and to the north and western United States by black people—meant that people were moving to big cities where space was extremely limited, and even small gardens rare. In the 1950s Black people, who traditionally maintained a plant-based diet rich in whole grains, dark leafy greens, and legumes began to rely on industrialized packaged foods and meat products.
Soul Food
Even some soul food home cooks went from making all their food from scratch to using store-bought mixes for everything from filling to cornbread (hello, Jiffy). The price of convenience meant less fresh food, worsened health, and weakened connection to traditional and local food. It has also meant that we've foolishly given up almost our entire food system to corporations who obviously only care about profit. Along the way we seem to have forgotten the importance of eating wholesome foods like fruits and vegetables.
Finally, it seems like the tide may be turning, at least for more privileged folks like myself who can hopefully speak loudly enough so that the masses will hear the good news: you can eat delicious and comforting food without sacrificing your health or tradition.
Now lets talk about this recipe: blackberry cobbler.
I usually make a traditional peach cobbler, only using coconut milk instead of animal milk, but I've got a recipe for that in my upcoming cookbook (Feb 2018). This recipe is a twist on that Southern classic. Instead of white flour this recipe calls for wholesome spelt flour which is in the wheat family. Whole spelt has more protein and fiber than all-purpose flour. I've definitely lost my taste for extremely sweet desserts, so I really cut back on the sugar. Still, this dessert is absolutely delicious and full of flavor. The sweet and slightly tart blackberries are a great replacement for peaches. If you can get your hands on some fresh local blackberries, use those. Otherwise frozen blackberries or a berry blend will work too. Top with a dollop of coconut whip cream for vegan ice cream, for the ultimate soulful treat.
Blackberry Cobbler | Vegan Soul Food
This blackberry cobbler is super easy to make but it does need to bake for about 40 minutes. I assure you this fruity dessert is worth the wait.
Ingredients
3

cups

fresh blackberries

sliced (or 24 ounces frozen blackberries or a berry mix)

1/2

cup

cane sugar

divided

2

tablespoons

water

1

cups

soy milk

1

teaspoon

apple cider vinegar

2

tablespoons

grapeseed oil + 1 tablespoon grapeseed oil or cooking oil spray for greasing

1

cups

all-purpose flour

1 1/2

teaspoons

baking powder

¼

teaspoon

salt
Instructions
Preheat oven to 350°, and grease an 8x8 baking dish or 9" pie dish.

In a saucepan combine the blackberries, 1/4 cup of the sugar, and water. Bring it to a simmer, and cook on low until the berries begin to soften, about 5-7 minutes.

Mix together the soy milk, vinegar, and 2 tablespoons of oil.

In another mixing bowl combine the flour, remaining sugar, baking powder, and salt. Pour the soy milk mixture into the flour mixture, and whisk gently to combine.

Pour the batter into the baking dish. Don't stir it. Scoop the syrupy berries evenly over the batter. Don't stir this either. Bake for 35-40 minutes, until the cobbler has browned along the edges, and baked though the fruit.

Allow to cool for at least 15 minutes, then serve warm.