This cheap vegan meal plan will help you save money while eating good! The recipes are full of nutrition, flavor, and fiber to nourish you to the core. Don't miss the 6 tasty recipes and video at the end of the post.
Happy New Year! I'm back again with another cheap vegan meal plan, and this one will only cost $30. There's a myth that a vegan lifestyle is expensive. But it's just that, a myth! Until very recently, the most expensive food was meat. Our ancestors in most parts of the world had a very plant-based diet consisting mostly of nutritious beans, vegetables, nuts, and seeds. Nowadays meat and dairy are subsidized in the United States, which is why you can buy a hamburger for $2 at McDonalds. Still, whole grains, beans, lentils, and veggies are cheap. I spent just $30 on a whole week of nutritious vegan groceries, and I'm eating like a Queen!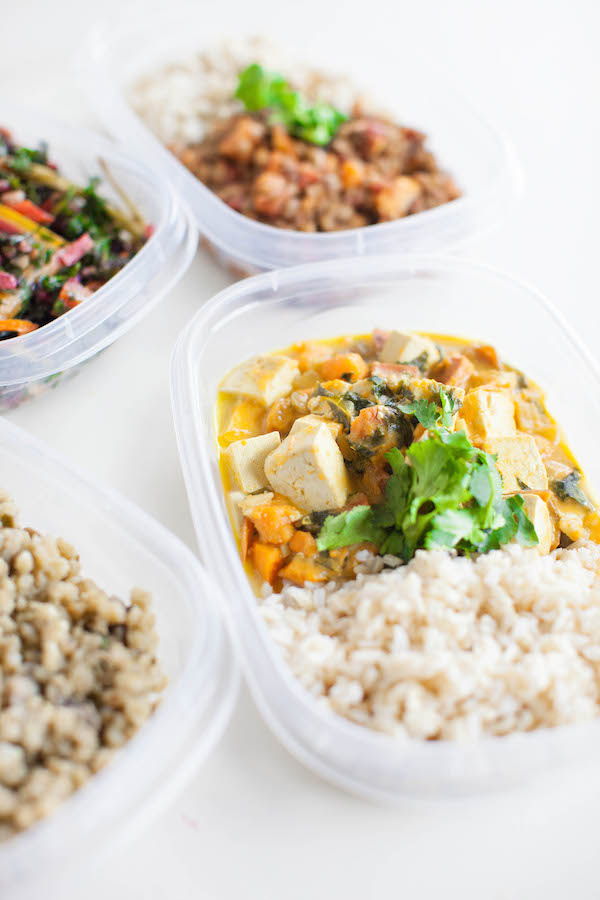 Like just about everything else, the cost of plant foods does vary depending on where you shop. Produce at Sprouts is less expensive than at Whole Foods. Even cheaper is produce from Costco (especially if you're shopping for a family). One of my favorite places to shop for inexpensive groceries is ethnic markets, especially Indian markets for spices, and Korean markets for mushrooms and produce. Don't sleep on ethnic markets!
If you're on a tight budget you may not be able to only buy organic produce and that's okay. As long as you are eating a whole food vegan diet you are doing right by your body. If you are particularly worried about pesticides follow the "dirty dozen" and the "clean 15" lists from the Environmental Working Group. That way you can spend a little extra just for organic produce that would have higher levels of pesticides if conventionally grown. Shop at a farmer's market as often as possible for the freshest produce, and great deals. Small farms often cannot afford to purchase the USDA Organic Certification, even when their produce is technically organic. But unlike at a grocery store, at a farmer's market you can often speak directly to the person who grew the food you're buying, and ask questions about pesticide use.
Produce that is in season is always the least expensive. Supply and demand! Ever try to buy a watermelon in January? It's way more expensive than in July because it had to be shipped thousands of miles to make it to your grocery store. Even worse, it's not as tasty and may not be as nutritious because of a longer transit time. So eating with the seasons is another good money saving technique.
You can also find great deals on food on Amazon and Thrive Market (get 25% off + free shipping when you use my link). Of course, shopping online makes life easier because you don't have to leave the house and re-ordering is easy. Just make sure to recycle your boxes and packaging 🙂
Ultimately, the most important part of shopping on a budget is having a plan. Have a vegan meal plan for the week, and have a thorough shopping list. By planning ahead you'll avoid impulse buys, and having to eat at restaurants. It may take a little work at first, but budget shopping will quickly become an easy task. You'll spend less money on food, and still be able to eat nutritious and delicious vegan meals. You got this!!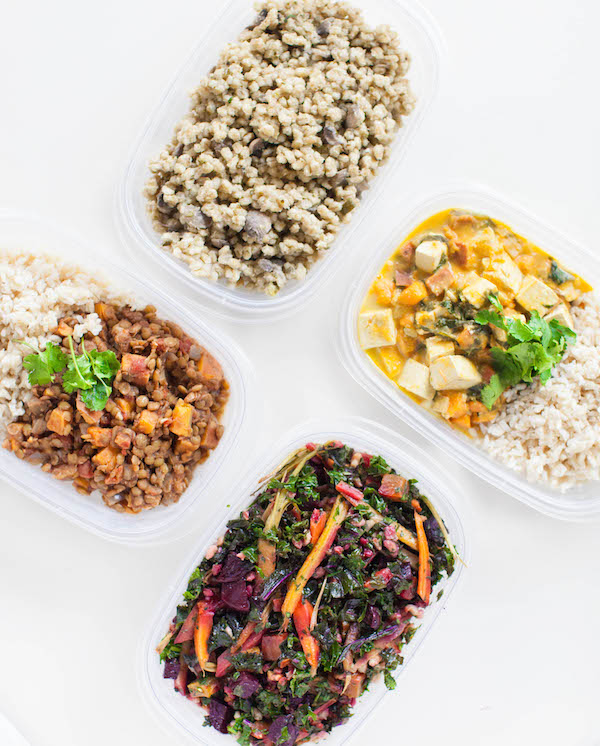 CHEAP VEGAN MEAL PLAN (for 1 person)
MON
lunch: mushroom & barley risotto
dinner: roast beet & kale salad
TUES
lunch: sweet potato & tofu curry
dinner: mushroom & barley risotto
WED
lunch: lentil sweet potato chili
dinner: roast beet & kale salad
THUR
lunch: roast beet & kale salad
dinner: sweet potato & tofu curry
FRI
lunch: lentil sweet potato chili
dinner: mushroom & barley risotto
NEED MORE VEGAN BUDGETING INSPIRATION? Check out my Cheap Meals Under $1.50 post, and my Shopping for a Week on $35 Videos ⭐️⭐️⭐️⭐️⭐️