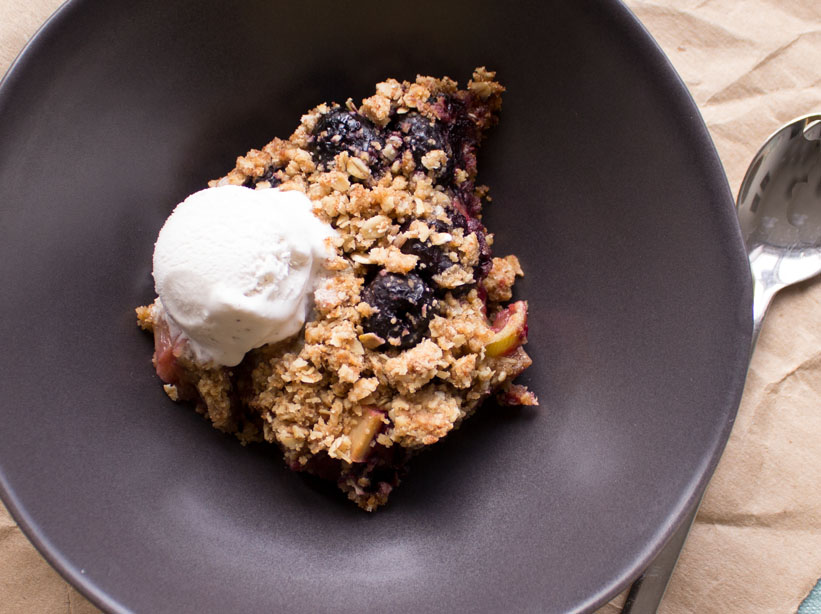 Since Memorial Day I have been in summer mode. I'm eating copious amounts of watermelon, sleeping with both the fan and AC blowing on me, and having crazy salad cravings. Oh, and I've barely had any sweet potatoes! Cherry rhubarb crumble is getting me through the summer, though.
In summer my eating habits change dramatically. I turn my nose up to the idea of eating non-seasonal foods, something I attribute to my Nana, a woman who—though she probably doesn't realize it—has always embraced seasonal ingredients.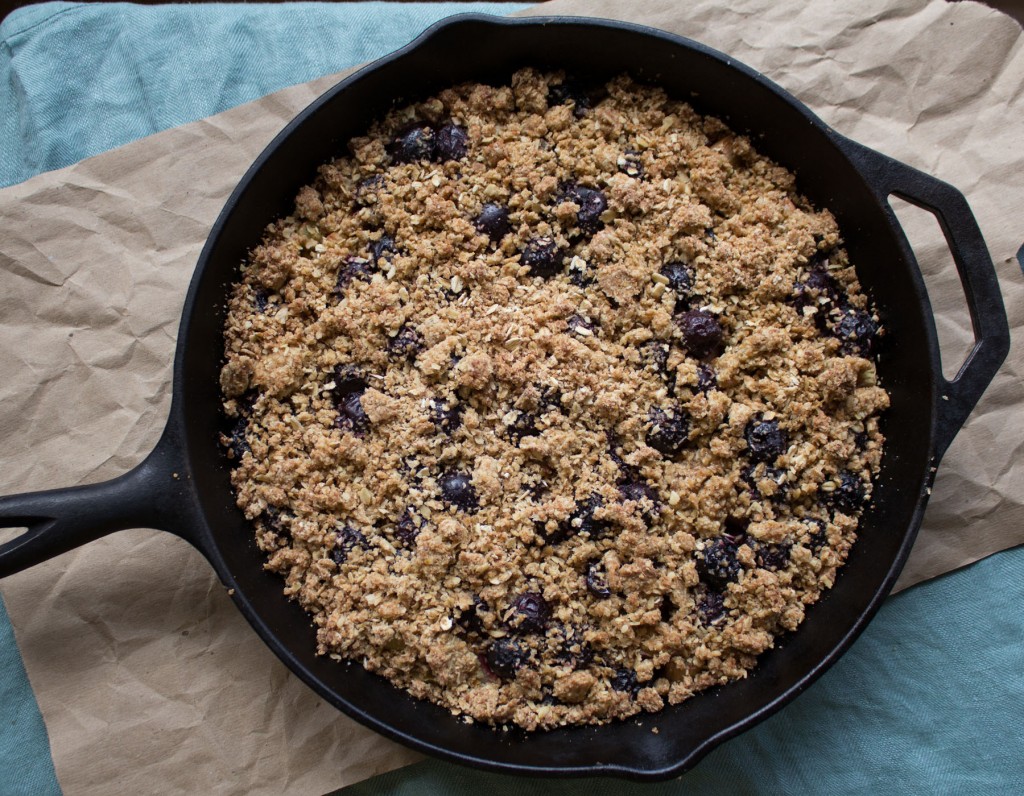 I also eat a lot healthier in summer. I'm having a green juice EVERY day, lots of raw vegetables, juicy fruit, plenty of water, and fewer nuts. Still, this healthy girl always saves room in her diet for some unhealthy sweet treats. I'm like one of those 80/20 dieters. 80% of the time I eat whole foods and greens, while the other 20% I get down with cake, cookies, ice cream, sorbet, and…vegan cherry-rhubarb crumble.
I'm sorry, but this crumble is not healthy. It's got fresh fruit, and oats, but it's also got the kind of satisfaction-inducing decadence that only vegan butter and sugar can deliver. When I eat it with vanilla Coconut Bliss ice cream I smile and do my food dance. That alone is all the healthy I need!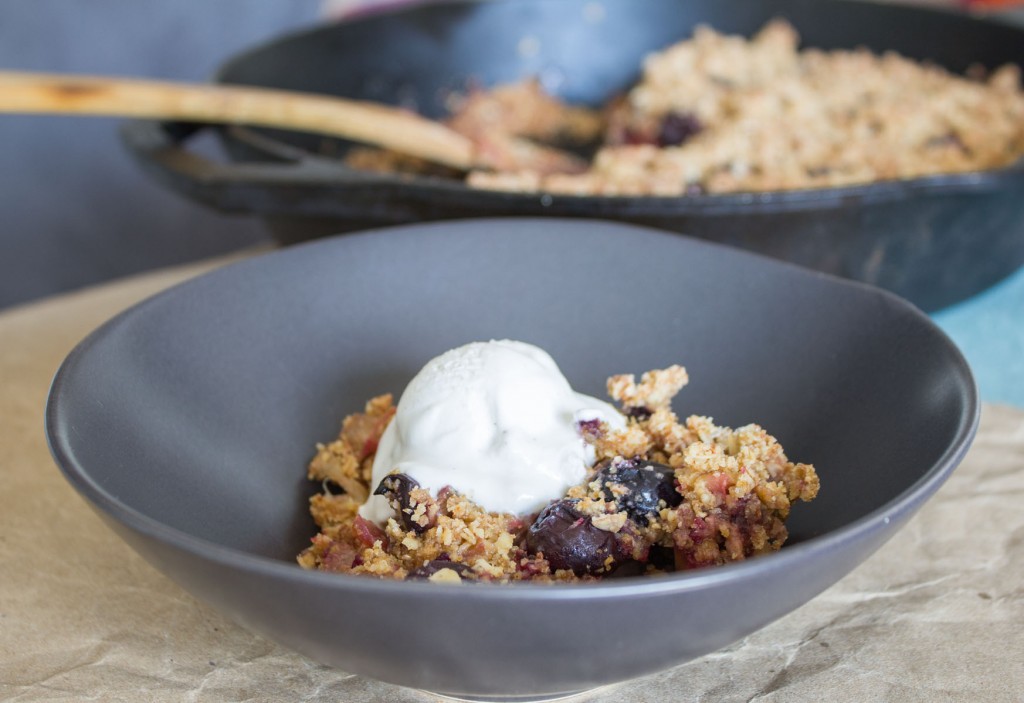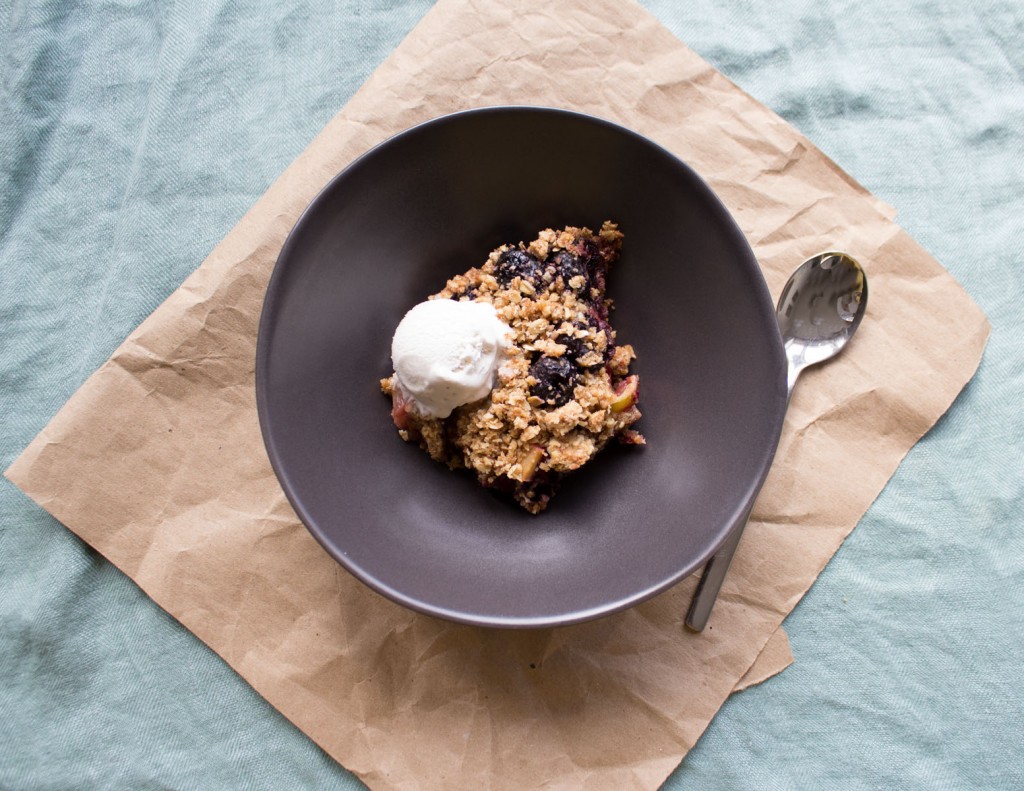 Since this dessert requires me to turn the oven on, I won't be making it often this summer. It's already hot in here! It was amazing while it lasted though. In the fall I'll make it with the first harvest of pears, apples, or concord grapes. Persimmon in the winter, of course. And next spring it's back to rhubarb, berries, and whatever other bounty Mother Earth blesses us with.
Cherry-Rhubarb Crumble
Recipe adapted from One Bowl Baking by Yvonne Ruperti. When making this, feel free to use a cast iron skillet (which I recommend because it's extra rustic and sexy) or a baking dish (about 9x13). If you do use the baking dish either grease the bottom before pressing down the crust, or line it with parchment paper.
Ingredients
2

cups

old-fashioned oats

1

cup

whole wheat pastry flour or gluten-free flour

1

cup

+ 2 tbsp coconut sugar

or raw cane sugar

2

teaspoons

cinnamon

1

tsp

sea salt

½

teaspoon

baking soda

6

oz

Earth Balance

cubed

6

stalks of rhubarb

chopped into ½ inch pieces

3

cups

frozen or fresh pitted cherries

pint

of vanilla Coconut Bliss Ice cream for serving
Instructions
Preheat oven to 375°.

Add the dry ingredients (but reserve 2 tablespoons of the sugar) and Earth Balance to a food processor and pulse to blend until combined.

Pour about ⅔ of the oat/flour blend onto the bottom of the baking dish, reserving the rest for the topping, and flatten.

Cover the crust with the fruit.

Sprinkle the remaining sugar over the fruit.

Spread the remaining crumble on top, then cover with foil and bake for 30 minutes.

Remove foil, and bake for another 15 minutes.

Cool for 10 minutes before serving with ice cream.