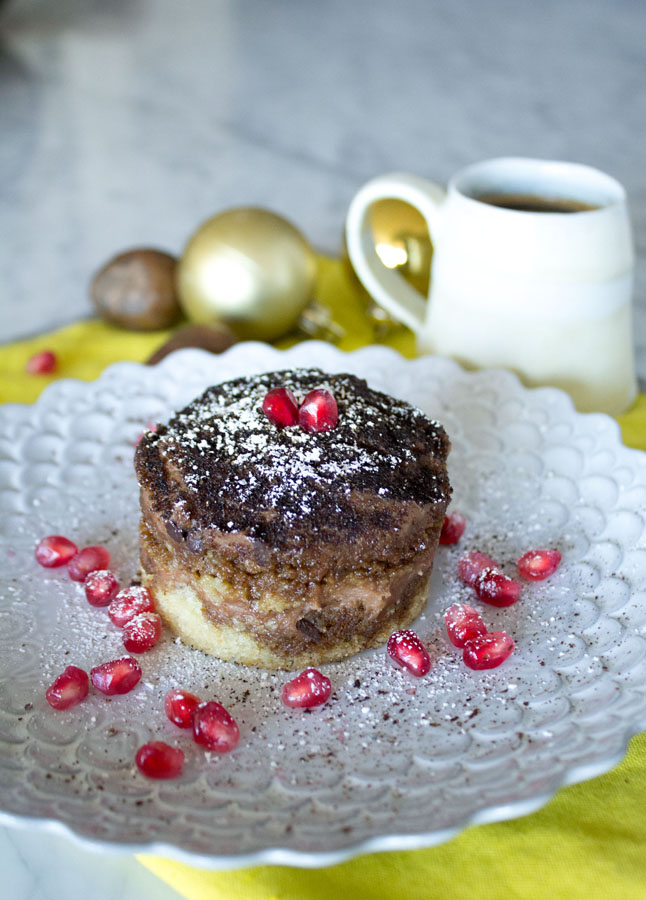 Happy New Year! The holidays may be over, and you may want to go on a cleanse, but before you do I urge you to give this vegan chestnut tiramisu a try! Filled with all the traditional flavors and ingredients of a tiramisu, this vegan version is sure to be a crowd-pleaser for all your holiday parties. 
I've always been a big fan of tiramisu as a vegan and before giving up animal products. When Rika from Vegan Miam asked me to do a guest post for her blog I took it as my opportunity to start experimenting with different flavors of this fabulous Italian dessert. First I tried pumpkin, then came sweet potato, and next on my list was chestnut. While I adored all three flavors, the chestnut stood out to me for it's nuttiness, inherent richness, and comfort quality. I've shared this dessert with quite a few friends, and even took it with me to the family Thanksgiving dinner. It's been a hit every time! I'm looking forward to making it throughout 2015 as well! Let me know if you also enjoyed this vegan chestnut tiramisu.
Chestnut Tiramisu
Allow for overnight setting for some of the ingredients in this vegan tiramisu. The dessert actually tastes better as the days go by, so if you have time make it up to 2 days before serving. Recipe adapted from Chloe Coscarelli's Pumpkin Tiramisu recipe.
Ingredients
Chestnut Creme
⅓

cup

arrowroot or organic cornstarch

¼

cup

water

1

cup

canned coconut milk

full fat

1

cup

chestnut puree

¾

cup

maple syrup 1 tsp cinnamon

½

tsp

nutmeg
Cake
1½

cup

all-purpose flour

1

cup

sugar

1

tsp

baking soda

½

tsp

salt

¾

cup

+ 2 tbsp soy milk

½

cup

canola oil

2

tbsp

apple cider vinegar or white vinegar

½

tbsp

almond or vanilla extract
Espresso
½

cup

amaretto

¼

cup

water

4

tablespoons

instant espresso

12

ounces

semisweet chocolate chips

dairy-free, ground in a food processor or finely 2 tbsp powdered sugar (optional)
Instructions
Chestnut Creme
In a small mixing bowl, stir together the arrowroot and water. Set aside while you work on the other ingredients.

In a small sauce pot bring the coconut milk to a simmer, then add the chestnut puree (which you'll have to mash with a fork to soften), maple syrup, cinnamon and nutmeg.

Whisk to combine the ingredients.

Slowly whisk in the arrowroot liquid, and continue to whisk for a few minutes as it begins to thicken. Once thick, remove the cream from the heat, and pour it into a mixing bowl and allow to cool for 15 minutes.

Once cool place plastic wrap over the cream––allowing the wrap to press directly to the cream––and set in the refrigerator for at least one hour.
Cake
Preheat oven to 350°F and grease a 9-inch round cake pan.

Whisk together your dry ingredients in a mixing bowl, then set them aside to whisk together your wet ingredients.

Slowly pour the wet into the dry, and stir to combine. Be careful not to overmix the ingredients.

Pour the batter into your greased cake pan, and bake for 25 minutes.

Test the doneness of the cake with a toothpick.

Allow to cool for at least a half an hour.
Espresso Soak
Place the Amaretto, water, and espresso in a jar and cover tightly with a lid.

Shake to combine the ingredients and help the espresso melt. If you don't have a jar with a lid, simply stir the ingredients in a bowl until the espresso has melted.

To assemble the tiramisu

Remove the cake from the cake pan, and cut in half into semi-circles.

Then turn each semi-circle into two layers by halving them horizontally.

Place the bottom semi-circles back into the cake pan, then drizzle about 1/4 cup of the espresso soak over the cake.

Spread the chestnut cream over the cake, covering it completely, then sprinkle the chocolate chips over that.

Repeat this with the second layer of cake, espresso soak, and chestnut cream.

Finish the tiramisu off with ground espresso beans or ground instant espresso.

Serve immediately with a sprinkle of powdered sugar, or allow it to set overnight.
I'm wishing you a 2015 filled with fabulous food, abundant joy, and so much love. xo