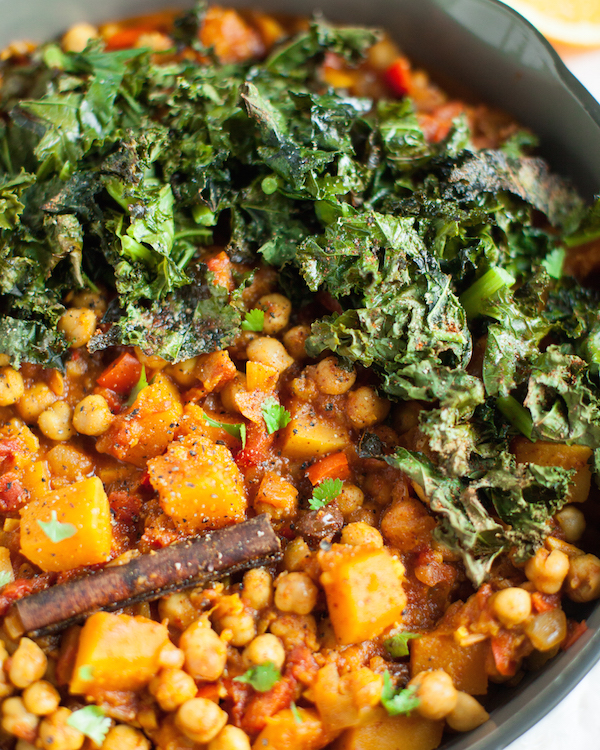 This Moroccan inspired chickpea & butternut squash tagine is everything: delicious, easy-to-make, nutritious, and so perfect for chilly winter days. If you aren't familiar with tagine, it is a Moroccan slow-cooked stew named after the clay domed cooking vessel that it's cooked in. This dish isn't exactly a tagine since I didn't cook it in a tagine––though you totally can if you have one.
There are certainly dishes that make me miss being a personal chef. I can make a dish a million times for myself, but I really miss making clients happy with my cooking. I did have a spinach tagine recipe that I would make when I was a personal chef, and it was a huge hit. The other day I got a craving for it, and was inspired to make this updated version.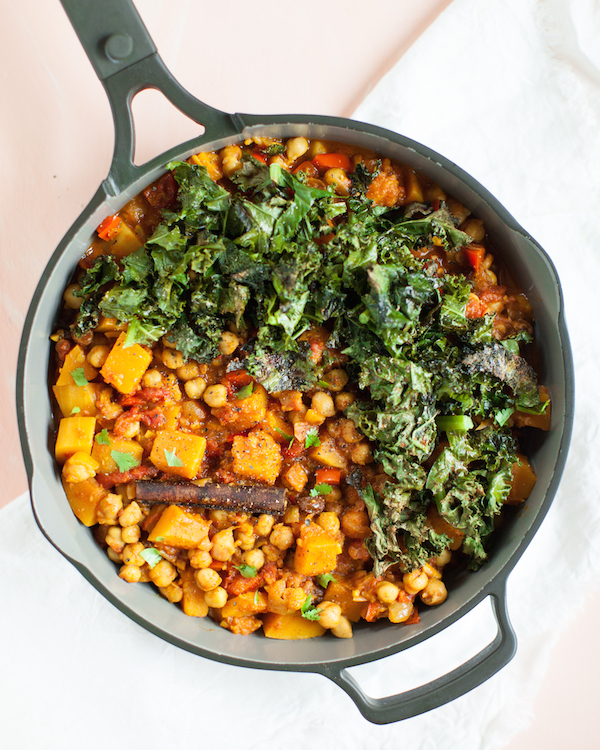 This butternut squash tagine is a delightful combination of savory and sweet. Like traditional tagine, this one is spiced with cumin, turmeric, cinnamon, and ginger. There's also plenty of dried fruit and citrus notes to make it feel even more authentic and delicious. Serve it over rice, couscous, freekeh, quinoa, or with pita for a complete meal.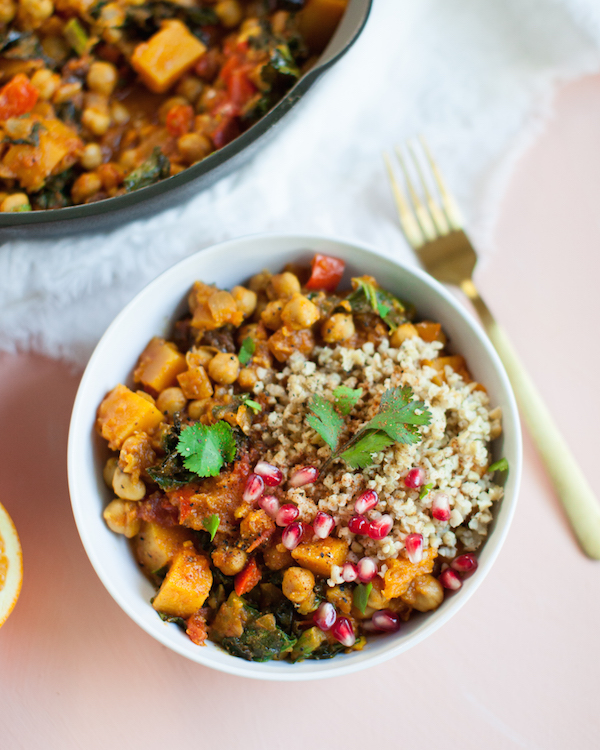 It's amazing how easily you can elevate a dish by roasting the veggies that go into it.  While I didn't bother with roasting the butternut squash, I did roast the kale. And that 15-20 minutes in the oven takes this simple recipe to new heights. If I had a restaurant this would definitely be worthy of being on the menu. If I ever get back to doing personal chef work, or teaching cooking classes, this will be in the rotation.
This butternut squash tagine is a must for meal prep. I shared it last week in my meal prep guide (sign up for it here–it comes every week in my newsletter). Hope you enjoy!!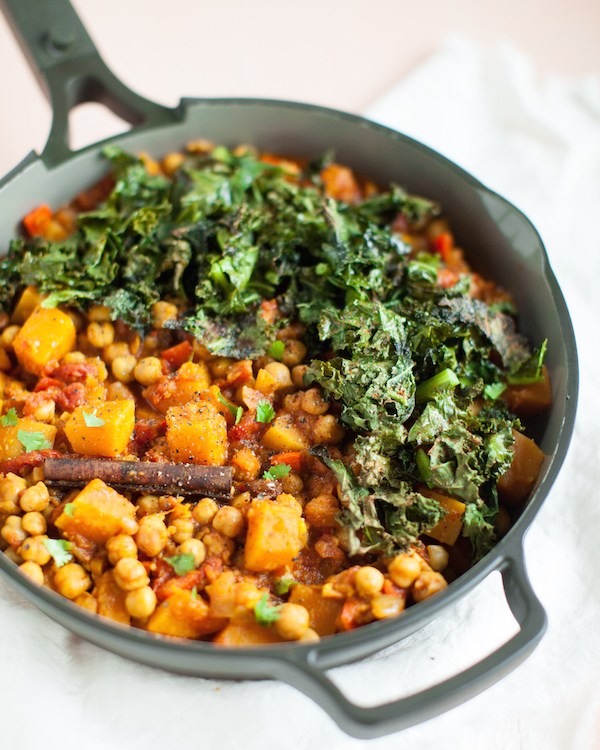 Chickpea & Butternut Squash Tagine
Ingredients
2 ½

tbsp

extra virgin olive oil

½

yellow onion

diced

1

red bell pepper

diced

4

cloves

garlic

minced

1

tbsp

minced ginger

minced

2 ½

tsp

smoked paprika

1 ½

tsp

cumin powder

1 ½

tsp

coriander powder

1

tsp

freshly ground black pepper

1

tsp

cumin seeds

optional

1

tsp

turmeric powder

½

tsp

ground cinnamon

1 14.5

oz

can diced tomatoes

3-4

cups

butternut squash

cubed

3

cups

cooked chickpeas

or 2 cans drained & rinsed

2

tbsp

raisins

2

tbsp

dried apricots or dates

chopped

2 ½

cups

vegetable broth OR 2 tsp vegetable bouillon paste + 2 ½ cups water

¼

cup

fresh orange juice

about 1 small orange worth

1

cinnamon stick

1 ½

tsp

salt + more to taste

1

bunch kale

chopped

½

tsp

garlic powder

Cilantro or parsley for garnish

Fresh lemon for garnish
Instructions
Warm 2 tbsp of olive oil in a large skillet or pot over medium-high heat. Once warm, add the onions, pepper, garlic, and ginger, and sauté until onions are translucent.

Add the smoked paprika, cumin powder, coriander, black pepper, cumin seeds, turmeric, and ground cinnamon. Stir well, and give the spices 30 seconds to toast.

Add the diced tomatoes, butternut squash, chickpeas, raisins, vegetable broth, orange juice, cinnamon stick, and salt. Stir well.

Bring the tagine to a simmer on medium heat, and cook for 15-20 minutes, or until the squash is tender.

While the tagine is cooking, preheat the oven to 375°.

Toss the kale with ½ tablespoon of oil, and spread it evenly over a baking sheet.

Sprinkle the garlic powder, and a bit of sea salt over the kale, then roast for 15-20 minutes, or until tender and crispy.

Stir the cooked kale into the tagine.

Serve and garnish with fresh chopped cilantro or parsley.