Vegan breakfast is easy! You can make a delicious meal in 5 minutes, and an energizing breakfast smoothie in even less time. Keep reading, and don't miss the video sharing even more 5 minute vegan breakfast recipes.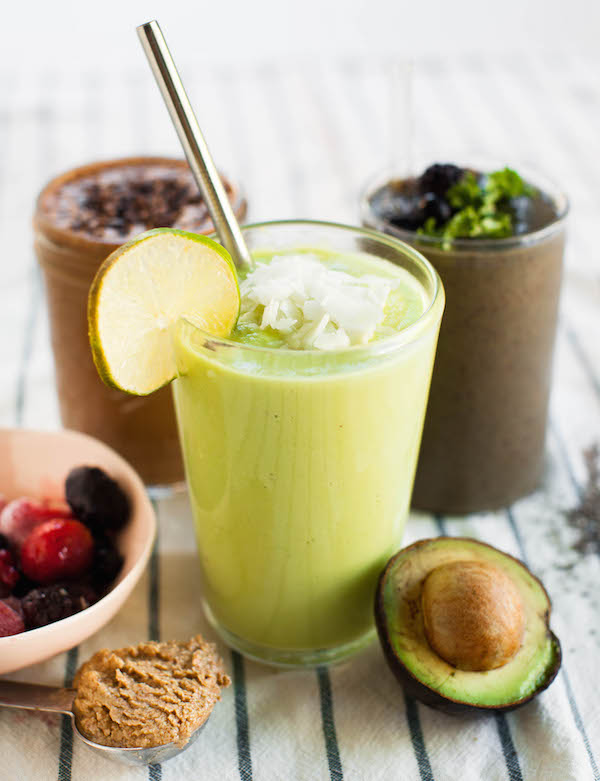 Since breakfast is the most important meal of the day it better be something that checks off all the boxes: tasty, full of fiber, good source of protein, high in antioxidants and phytonutrients, and practical. I wake up very hungry every morning, so there really isn't time for me to make a big elaborate Sunday-style breakfast. I like my first meal to take less than 5 minutes to prepare!
What's easier to make in the morning than a breakfast smoothie?  I love that I can pack so many easily digestible nutrients into cup. Green smoothies are great––I drink them almost every morning––but there's also room for other breakfast smoothies. If I wake up with a mega sweet tooth, or need an extra boost of energy I'll make a breakfast smoothie with raw cacao powder. Sometimes I want something slightly tart and tangy so I'll go for a smoothie with fresh ripe pineapple.
For the other recipes featured in the video click here & don't forget to subscribe to my YouTube channel 😽
A few tips for making the most of your breakfast smoothie, and you mornings:
Prep your smoothie ingredients the night before if you expect to be in a big hurry in the morning. You can keep the ingredients in a glass jar in the fridge, then pop them into the blender with liquid when you wake up.
Not all blenders are created equal, which I'm sure you know if you've ever noticed wide price range for this appliance. If you are on a budget I recommend the Magic Bullet. Look for a used or refurbished model to save even more money. If you have a larger budget consider the professional Vitamix or KitchenAid pro-line. They will each turn your fruits and veggies into creamy bliss. I've owned them both, and they're both very loud, so keep that in mind if you're the first one awake in the morning. You can also save money on these very expensive blenders by looking for one used or refurbished online.
My non-dairy milk of choice is plain unsweetened organic soy milk. I buy the Trader Joe's brand. The ingredients are just soy beans and water. Simple and pure. Soy milk is a great choice for your breakfast smoothie because it contains the highest amount of protein, and because it's easy to find without additives like carrageenan and gums. Homemade nut milk is also a good choice.
Take a smoothie for the road. I often take a smoothie with me as an afternoon snack or pick-me-up. I usually keep it in a small cooler in my car until hunger strikes.
Wash and dry your greens and keep them stored in an airtight container with a sheet of paper towel to absorb excess moisture. This will help you avoid washing greens for your breakfast smoothie in the morning. You should only have to do this twice a week. I usually do it at night so I can grab-and-blend in the morning.
Replace banana in a smoothie recipe with ripe avocado.
Instead of using fruit juice in a breakfast smoothie, use whole fruit. It's just as juicy. For example, you'll see in the recipe below I use fresh pineapple and a dash of water instead of pineapple juice. Use a whole peeled orange instead of orange juice in recipes. That way you can have the liquid, and also retain all that good healthy fiber.

Now for the breakfast smoothie recipes!! 
Avocado Pineapple Smoothie | Energizing Breakfast Smoothie
Make sure to use fresh ripe avocado and pineapple for this smoothie. If you don't have a powerful blender, you may want to skip the shredded coconut and use coconut water instead. Otherwise the coconut may not blend seamlessly. Up to you though 🙂
Ingredients
1-1 1/2

cups

ripe pineapple

use more or less depending on how sweet you want it

1

ripe avocado

juice of 1 lime

1/4

cup

unsweetened shredded coconut

1/2-1

cup

water or coconut water

+ more to thin if you'd like

1

tsp

vanilla extract
Cacao Joy Smoothie | Energizing Breakfast Smoothie
This is my favorite cacao banana smoothie, and it's so easy to make. For even more of an energy boost add a shot of espresso or cold brew coffee to the blend. Wow!
Ingredients
1

ripe frozen banana

1

tbsp

almond butter

2

tbsp

raw cacao powder

1

cup

non-dairy milk

1

date

pitted
Instructions
Blend until creamy chocolatey perfection is reached~
Berry Green Smoothie | Energizing Breakfast Smoothies
This is the smoothie I drink on a daily basis, however I usually use fresh pineapple and a little water instead of non-dairy milk. Either works fine, but lately I've been craving the tang from pineapple, and it helps to cut any bitterness from the dark leafy greens well. If you don't want too much sugar first thing in the morning stick to non-dairy milk. BTW, the cinnamon helps keep your blood sugar levels in balance.
Ingredients
1

cup

non-dairy milk

or 1 cup pineapple + 1/2 cup water

2

cups

fresh kale or spinach

1

cup

frozen mixed berries

1

ripe banana

fresh or frozen

1

tbsp

chia seeds

1/2

tsp

cinnamon
Instructions
Blend until creamy. I like to blend this one a little longer to make sure the chia seeds and berry seeds are all incorporated.