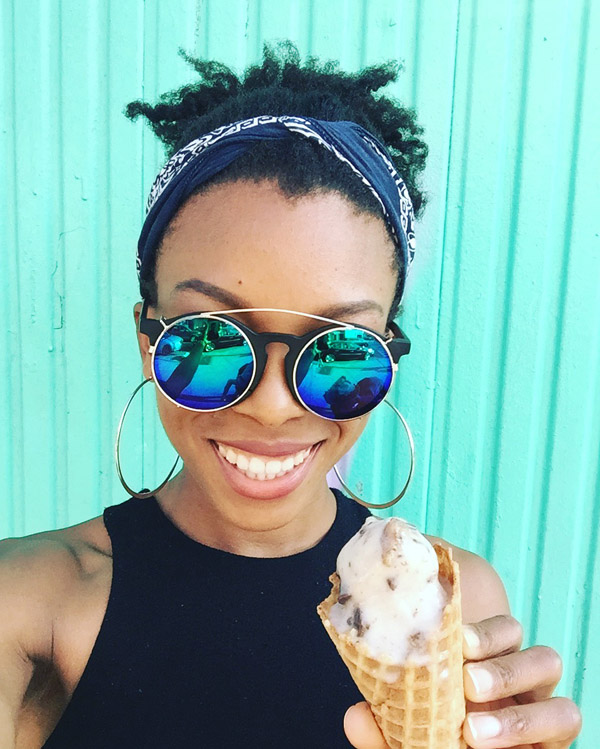 Summa summa summatime! Summertime 🙂 I like to think that late-Spring and fall are my favorite seasons, but, let's be real, I have a very special place in my heart for Summer. The season reminds me of my childhood, and takes me back to magical days at Camp All American, road trips to Destin, cookouts, and craving nothing but cold watermelon. As an adult in NYC, I love being able to spend time outside picnicking at Central Park and riding my bike along the Hudson. The long days, amazing produce, and summer concerts make the heat bearable. Another thing that makes the heat bearable is vegan ice cream!
Then, there's ice cream! Oooowee! Talk about a treat to make the heat bearable. For this recipe I partnered with Milkadamia, a new macadamia milk from Australia. Macadamia nuts are creamy and rich, so I knew Milkadamia would make the perfect base for vegan ice cream. This grilled banana and chocolate ice cream is silky smooth and so tasty. I also like that the grilled banana makes it kinda fancy, eh?
Milkadamia uses macadamia nuts grown in Australia's "fertile cresent" where rainfall is abundant, making them far more sustainable than almonds grown in drought plagued California. I also like that macadamia nut's are naturally creamy and full of fat, eliminating the need for extra emulsifiers. Like all non-dairy milks, Milkadamia can be used in everything from vegan baking to savory recipes (I'm excited to try it out in my vegan corn chowder recipe). Oh, and did you know, macadamia nuts are native to Australia?! Keep an eye out for it at your local purveyor of awesome groceries!
Grilled Banana Macadamia Milk Vegan Ice Cream
This creamy vegan ice cream is perfect when made with Milkadamia macadamia milk, but if you can't find it you can substitute full-fat coconut milk or cream. If using coconut there is no need to use the arrowroot powder. If you don't have a grill for the banana, cook in a skillet with 1 tsp of coconut oil.
Ingredients
2

cups

unsweetened Milkadamia macadamia milk

or coconut milk

1

tbsp

arrowroot powder

1 ¼

cup

sugar

2

tsp

vanilla extract

tiny pinch of salt

1

ripe banana

but not overripe

¼

cup

chocolate chips

chopped
Instructions
Mix about 3 tablespoons of macadamia nut milk with the arrowroot powder to create a slurry.

In a sauce pan set the macadamia milk, sugar, and salt to warm over medium heat until the liquid temperature reaches 160° (or just until it starts to simmer). Stir well to make sure the sugar dissolves.

Remove from heat, and stir in the arrowroot mixture and vanilla extract. Stir until it begins to thicken slightly, about 30 seconds.

Set in a container to chill for at least 6 hours.

Cut the banana in half, and grill on each side until soft––about 5 minutes each side. Set it in the fridge to cool along with the cream.
Making the ice cream
When all of your contents are chilled follow the ice cream makers instructions, but be sure to wait until the end to add the grilled banana and chopped chocolate chips.

Place the churned ice cream into a freezer safe container, and allow the ice cream to freeze and solidify for at least 2 hours.

Enjoy!