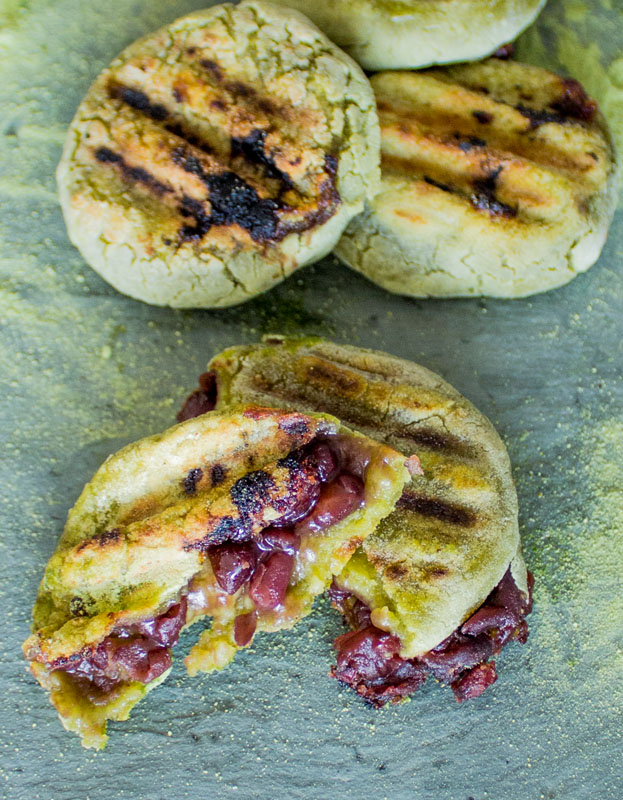 When I return from traveling, my favorite thing to do is recreate the tastiest dishes I discovered on my trip. I remember when I returned from my exchange program in Costa Rica when I was a teenager. I convinced my mom to buy me a rice cooker, and I stocked up on pounds of black beans. My suitcase was full of Salsa Lizano (the famous Costa Rican condiment), and I insisted on eating Gallo Pinto (rice and beans) nearly everyday. And this was after spending a whole summer in Costa Rica!! Typical me. I discover a food, that food has some emotional connection to my travels, and I become obsessed with it.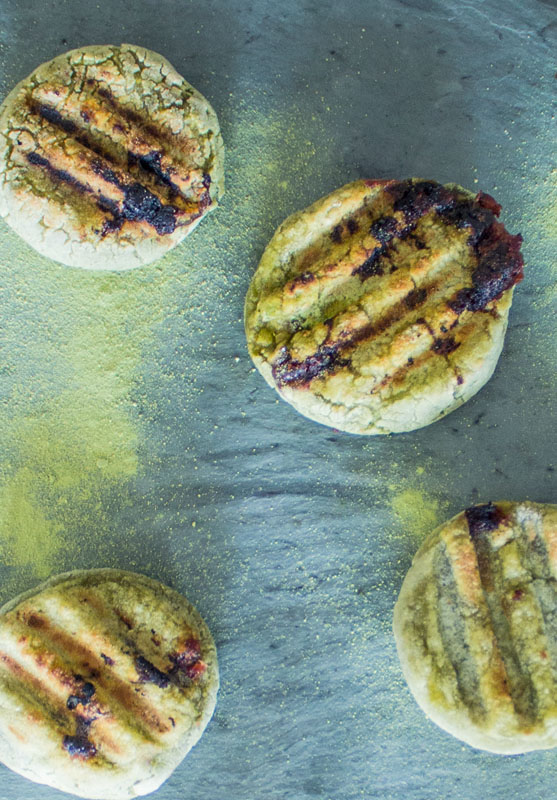 Grilled matcha mochi
Most recently I've become obsessed with Japanese mochi. When I was in Japan earlier this year I ate mochi multiple times a day. In Kyoto I found the most delicious grilled mochis. Some filled with bean paste, others dipped in sweet soy sauce. It was heaven in my mouth!
The best mochi is made the traditional way, by pounding sticky rice. Still, pretty good mochi can be made at home using sweet rice flour. That's what I'm going to show you how to do today.
I chose to use matcha green tea powder to color the mochi green and give it an earthier flavor. Green mochi in Japan is often made using the nutritious mugwort herb–yomogi mochi. There are tons of different varieties of this treat, but my favorite of all is grilled daifuku mochi, or yakimochi. It's crispy on the outside, chewy on the inside, and starchy sweet red bean paste seeps out as you bite into it. It's really a delicious treat! Also, it's healthy. So fire up that grill and break out the mochi!

Grilled Matcha Mochi // Daifuku Yakimochi
I buy sweet rice flour and red bean paste at a local Japanese grocery store in NYC called Dianobu. If you don't have a grill or grill pan, you can make this using a skillet.
Ingredients
1

cup

sweet rice flour

Mochiko brand

1

tsp

matcha powder

3/4 to 1

cup

water

1

cup

red bean paste

sweetened
Instructions
Add the rice flour and matcha powder to a large bowl.

Stir or whisk well to combine.

Pour in a little water, about 1/4 cup, and continue to stir.

Add more water little by little until the flour is doughy. If you add too much water and it becomes runny, simply add more flour.

Sprinkle some rice flour onto your counter then transfer the dough onto it.

Knead the dough a bit then form it into a long thin shape.

Divide the dough into 8-12 parts, and form each into a ball. Set aside.

To fill your mochi place a ball of dough into your floured palm.

Flatten the dough, and place about 1 tbsp of red bean paste into the center.

Gently manipulate the dough around the red bean paste, and make sure it is entirely encased within the dough.

Flatten it out a bit (should be about 1/2 inch thick), and set aside.

Fill the remaining mochi dough.

Heat and grease a grill, grill pan, or skillet over medium heat.

Place the mochi onto the grill and cook each side for 4-5 minutes.

Place the cooked mochi on a plate, and continue with the remaining.

Serve hot!
Notes
Left overs can be reheated in a skillet or on the grill.
Love this grilled matcha mochi? Leave a review for others below! Also tell me what your favorite Japanese dish is!