http://www.casablancafoods.com/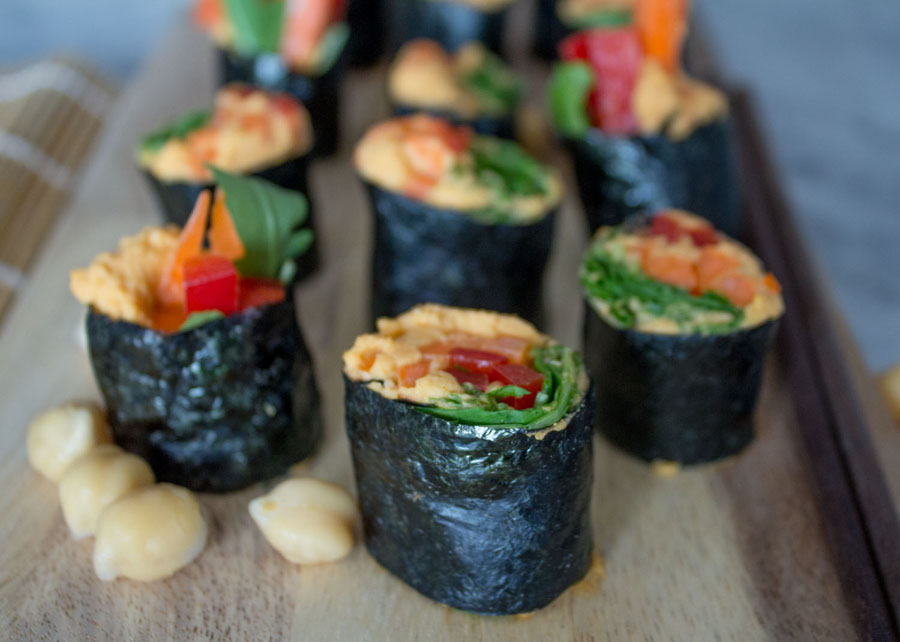 This simple dish is so fresh, and so clean clean!
I've never met a soul who didn't like hummus, and though many people claim to dislike seaweed they usually make an exception for sushi nori. Oh, and since everyone is always asking me about quick and easy recipes, I'm pretty sure this one is going to please the masses.
On Saturday I'm leaving NYC for a 6-8 week long adventure around the world. First I'm flying to Los Angeles to spend some quality time in the sun with my friends and family (little bro moved there recently). I am beyond excited to get out of NYC in the dead of winter. All the hype around super blizzard Juno was enough to make this winter hater want to leave the city for good. Though of course I'll be back in the spring.
After LA my plan is to fly to Japan for a 2 week sol0-cation. I will definitely be visiting Tokyo and Kyoto, so if you have advice for me please please leave a comment below 🙂 After Japan I'll fly back to the US to spend a little time down south in New Orleans. My mom and I have been planning one more leg of travels together. We haven't decided where we're going, but a beach in the Caribbean will be involved. Yes it's true, my life is awesome!
This excitement about traveling and sharing this recipe really has me channeling Outkast's 2000 hit "So Fresh, So Clean". Hit play on the video, and make sure you've got the necessary ingredients to make this recipe.
What's harissa?
If you aren't familiar with harissa, I urge you to become acquainted. This delicious hot pepper paste can be used in many dishes to add a North African flare. I love using it in really simple recipes like this one because it instantly makes the recipe seem more complex than it is. The brand I always recommend is called Mina. You can find it at Whole Foods and many other stores in the Northeast, or online.  I've created a couple other harissa recipes in the past. Harissa almonds (which are incredibly addictive––so keep that in mind), and super hearty harissa tahini wraps. Don't miss the video for that one!!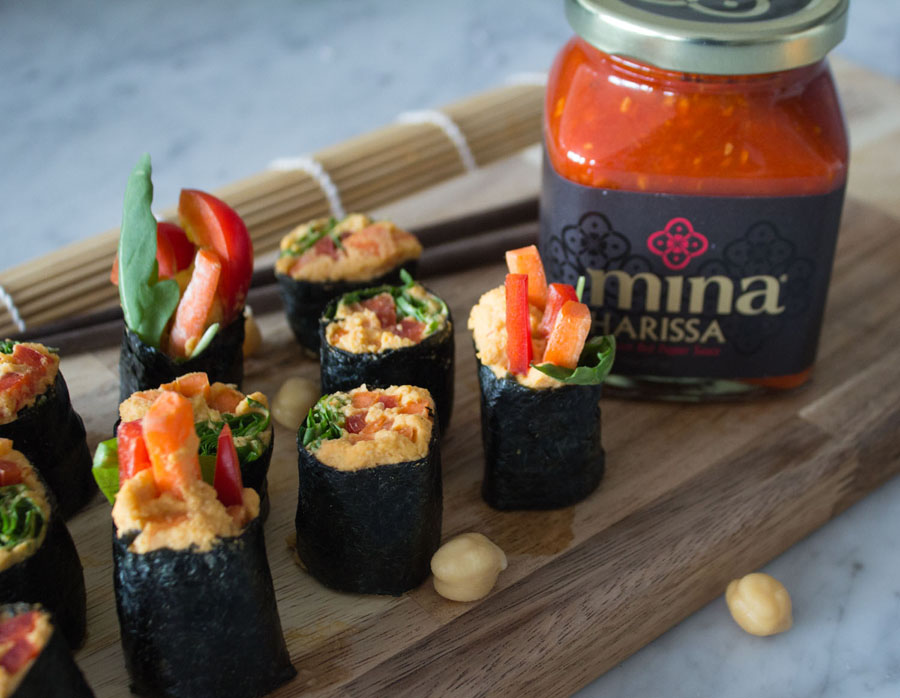 Harissa Hummus Nori Rolls
For this recipe you'll need a sushi mat which can be purchased online, and in the "Asian" aisle of many grocery stores for around $2. It's a very handy kitchen tool that takes up almost no space when storing.
Ingredients
Hummus
one 14-oz can chickpeas

drained and rinsed

1

small clove of garlic

minced

3

tsp

harissa

any variety––spicy, mild, or green––will do

1

tsp

sea salt

1/2

tsp

cumin

1

tsp

lemon juice

2-3

tbsp

water or olive oil
Sushi Filling
2

carrots

julienned or thinly sliced

1

red bell pepper

thinly sliced

3

cups

fresh arugula

spinach, or baby kale

4

rolls of sushi nori
Instructions
Hummus
Place the hummus ingredients in a food processor and blend until smooth.

Season to taste with sea salt, and add more liquid if necessary.
Roll Sushi
Place a sheet of nori onto your sushi mat.

Smooth about 1/4 cup of the hummus onto the nori (photo of unrolled sushi below), placing it at the bottom 3 inches of the nori.

Cover the hummus with the carrot, red pepper, and arugula.

Roll the sushi by turning bottom corners up and tucking the contents into the nori. Roll until only 1 centimeter is left. Moisten the last centimeter of nori with a bit of water, then roll to close tightly.

Place roll onto a cutting board and cut into about 6 equal pieces.

Repeat with remaining ingredients.