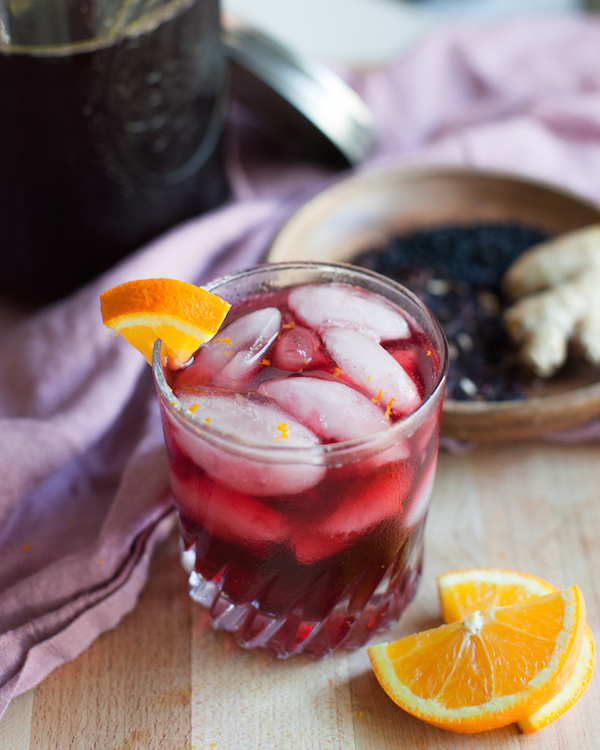 Well before Covid hit, I had it in my mind that I was going to make elderberry syrup. Elderberries are a tasty and natural immune boosting herb, and they're safe for children and babies. So I headed to my local co-op and bought a bunch of dry elderberries in bulk. Months went by and still. no. elderberry. syrup. I have a way of putting all of my DIY projects on the backburner. Well, fast forward to spring in the time of Covid, and I finally found a use for my elderberries: hibiscus elderberry ginger tea!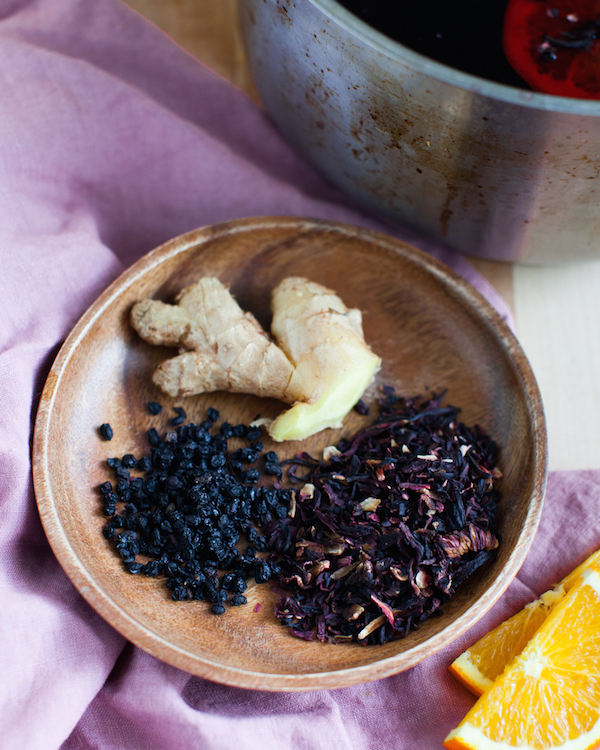 I grew up drinking iced Red Zinger tea with my dad. He makes a pitcher every couple of days throughout the summer months––a must in Atlanta. Because of that, I've always had a special place in my heart for anything hibiscus. There's nothing like drinking a tall glass of sweet iced hibiscus tea on a hot and humid day. I admit I like it even better than iced black tea! And so, in the many years that I've lived away from my family, I've continued the tradition of making this bright red tea.
These days I've fallen in love with this particular blend of hibiscus flowers, elderberries, fresh ginger, and orange peel. Like elderberry, hibiscus is rich in antioxidants and vitamin C. Married with fresh ginger and orange, you've got an iced tea that is as good for you as it tastes. I make a large pitcher of the tea unsweetened, and then add agave to my glass because my husband Maxx isn't from the south, and prefers his tea unsweetened. However, another way you could make this tea (I just let all of the ingredients steep in boiled water) is by first making a very potent sweet and tart elderberry syrup, then adding it directly to the tea concentrate before diluting. Elderberry syrup is usually made in raw honey, but agave will do. That way you can have your elderberry syrup and your iced hibiscus tea too! If you cannot find dried elderberries, use elderberry liquid concentrate. Add to taste.
It's iced tea season, so I'm having fun experimenting with all sorts of combinations; like hibiscus, peppermint, and orange. But of all the combos I've tried, this Hibiscus Elderberry Ginger Tea is still my favorite! Check out my cookbook for more southern inspired drink recipes (cocktails too) for summer!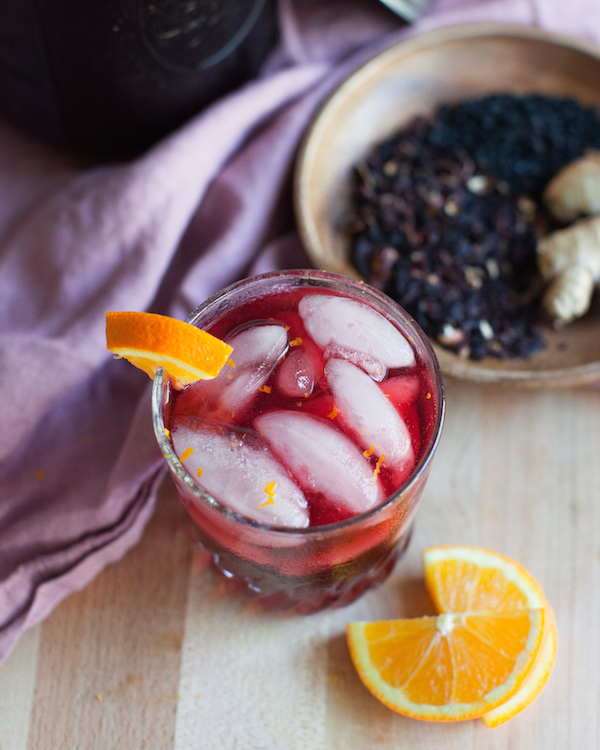 Hibiscus Elderberry Ginger Tea
Ingredients
8

cups

water

1/4

cup

dried hibiscus flowers

1/4

cup

elderberries

2

tbsp

fresh ginger

minced or grated

2

cinnamon sticks

optional

1/4

cup

fresh orange peels

about 1/2 orange, or 1 tbsp dried orange peel

agave or other sweetener to taste
Instructions
Bring the water to a boil.

Remove from the heat then add in the hibiscus flowers, elderberries, ginger, orange peel, and cinnamon sticks.

Stir well, then cover with a lid.

Let it sit for about 30 minutes.

Sweeten to taste, and dilute with cold water if it is too strong.

Strain into a large pitcher, and chill.