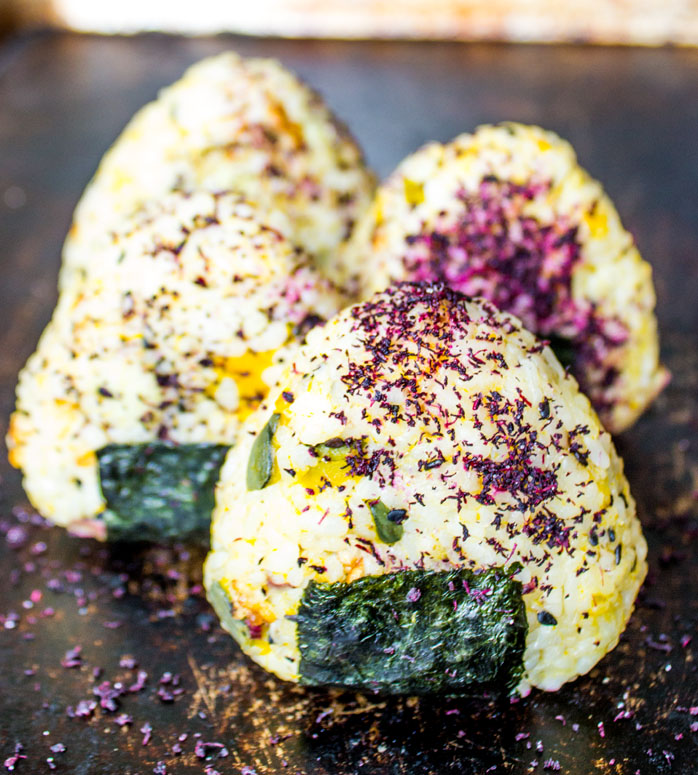 Have you ever used the onigiri emoji? You know, this one 🍙
Being that emojis "picture letters" are a Japanese creation, using them is slightly culturally immersive. You've got the onigiri 🍙, the ramen 🍜 , the mochi/dango 🍡 , sushi 🍣 , shrimp tempura 🍤, oden 🍢, matcha 🍵 (I think that's what that is), sake 🍶, senbei/rice cracker 🍘, bento box 🍱, donuts 🍩 (which are popular in Japan these days), and Japanese sweet potato 🍠!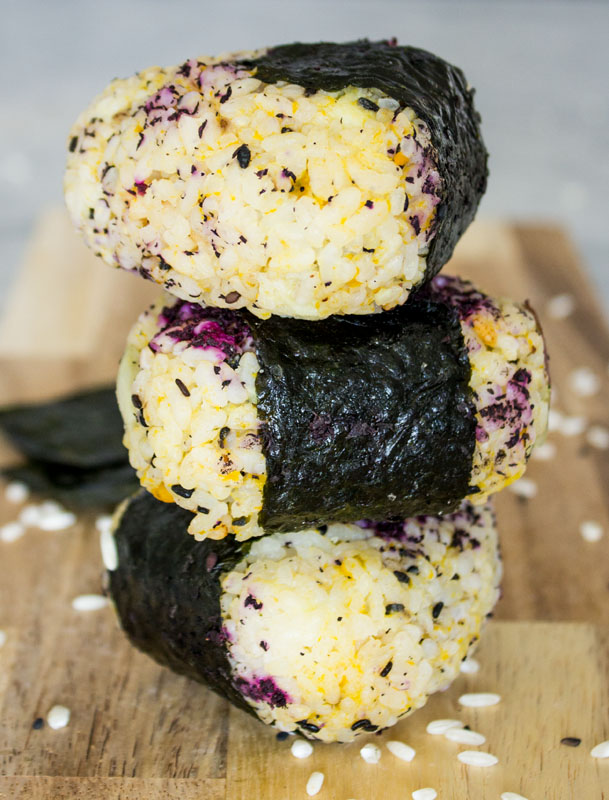 Last week I shared a grilled matcha mochi recipe with you, and this week it's all about the onigiri. Perhaps each week I'll do a different Japanese emoji meal, hehe 🙊
Onigiri is one of those clever, versatile and delicious answers to take-your-lunch-to-work/school. It's the equivalent to the American peanut butter & jelly sandwich. These rice balls (or triangles) are often filled with pickled plum, yam, or fish, and wrapped in toasted nori seaweed. In Japan you can buy a variety of different onigiri at small vendors, the 7/11, and even at the train station!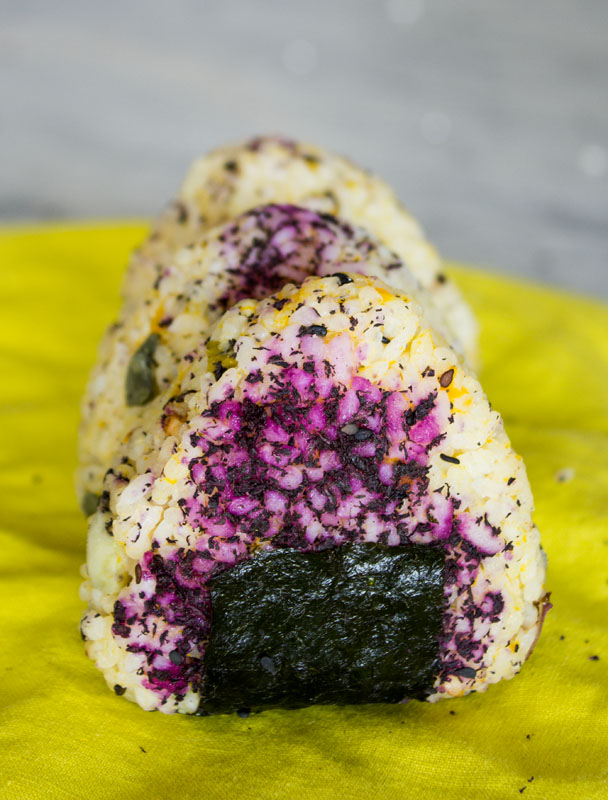 On my last day in Japan my host, Kae, packed me the most delightful onigiri made with Japanese yam and kombu broth for my long plane ride back to the U.S. I think that's when I fell for this perfect portable meal.
I love onigiri because the possibilities for fillings and added spices are endless. In the future I'm going to play around with seasoning my onigiri with other ethic spices. Perhaps a Mexican inspired onigiri filled with spicy refried beans and cilantro, or an Indian onigiri stuffed with curried potatoes and peas, or even a Southern onigiri with red beans. Why not?!
Onigiri filled with Japanese Yam and Kabocha Squash
For onigiri you'll want to purchase sticky sushi rice. Traditionally white rice is used, but brown rice can be used as well. I have fallen in love with the Mishima Yukari shiso rice seasoning which I purchased in Japan. It does contain MSG, so if you avoid that seasoning try this dried shiso leaf from Eden foods. Or you can skip it all together and add a tad more salt to your rice as it cooks. Buy these products online or find them at a local Japanese grocery store. If you live in NYC check out Dainobu.
Ingredients
2

cups

[url href="http://amzn.to/1Fkh2gu"]sticky rice[/url]

rinsed well

1/2

cup

Japanese yam

diced

1/2

cup

kabocha squash

diced (you can eat the skin)

1

tsp

sea salt

2 1/2

cups

water

2

tbsp

[url href="http://amzn.to/1ebyScP"]black sesame seeds[/url]

8

strips of [url href="http://amzn.to/1AgAn3k"]toasted nori[/url]

2

tbsp

[url href="http://amzn.to/1GjNFgl"]Mishima Yukari shiso leaf seasoning[/url]
Instructions
Bring your rice, yam, and squash, salt, and water to a simmer.

Place a lid on the pot, keeping it slightly ajar, and cook for 15 minutes.

Remove the rice from the heat, and cover completely with the lid. Allow to steam for 10 minutes.

Stir the black sesame seeds into the rice, and allow it to cool for 5-10 minutes longer.

Dampen your hands, scoop out 1 cup of rice, and shape it into your desired onigiri shape. You'll have to work quickly because the rice is hot.

Alternatively you can put the rice in a sheet of plastic wrap, tighten the wrap, and shape the rice.

After shaping each rice ball wrap it in a sheet of nori, and sprinkle some shiso leaf seasoning over it.

Complete with the remaining rice.

Onigiri will stay fresh for 2-3 days in the refrigerator. Allow to sit out at room temperature before eating left overs, because the rice is hard when it comes right out of the refrigerator.