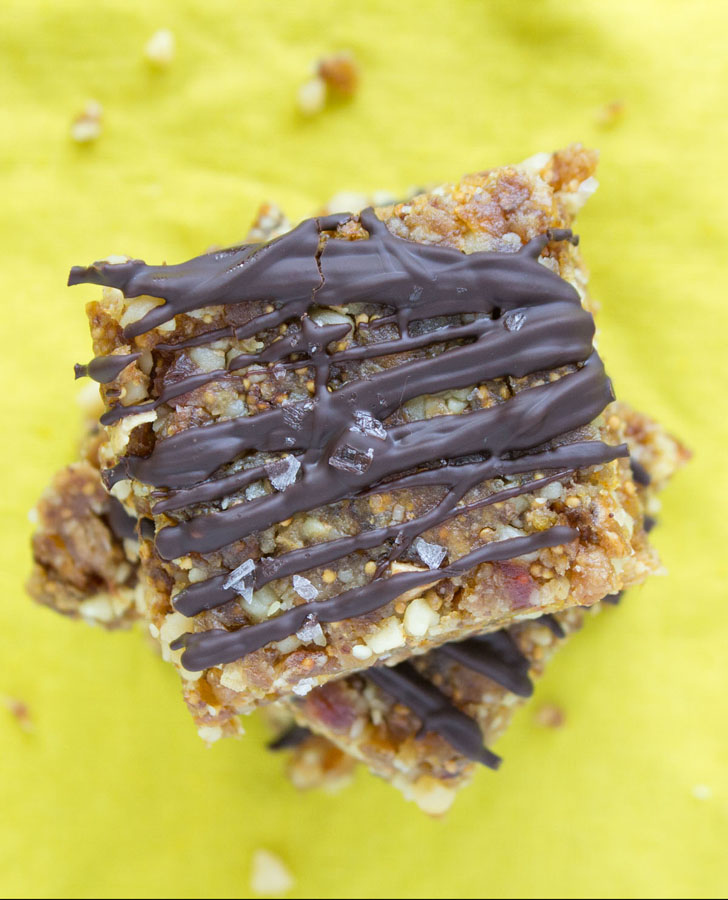 Fig, walnuts, and Maldon sea salt. I've been eating this combination as a snack for weeks!
I have no idea where the sea salt came in. I guess I was aware of the fact that salty and sweet make a heavenly combination. To take it to the next level of heaven, add chocolate. To really turn this into a crave-it-everyday snack, turn them into bars, drizzle chocolate on top, and finish with fat flakes of salt.
These no-bake bars do require you use a food processor. Don't have one yet? Go and pick one up! Even the little Cuisinart chopper will do. I think my food processor is my most loved kitchen appliance. It makes my life so much easier, and allows me to make things like these bars, truffles, burgers, and sauces in minutes!
These no-bake bars are great because of the simplicity of making them and the deliciousness of the flavor. These are great on-the-go snacks, or perfect for the kids after school or practice. The sweetness from the dates, figs, and chocolate is offset by the nuts in the bars, and then it's topped with flaky Maldon sea salt (which is amazing on any chocolatey dessert!).
Vegan No-Bake Fig Walnut Bars
Ingredients
2

cup

raw walnuts

2

cup

dried figs

chopped

1/2

cup

dates

1/2

cup

vegan chocolate chips

1

tsp

Maldon sea salt

any large flakes will do
Instructions
Line a small baking dish (mine is 6-cup) with parchment paper.

Place walnuts, figs, and dates in the food processor and blend until combined. Be careful not to over blend the mixture. You want to maintain some texture, and crunch.

Press the mixture firmly into the baking dish.

Melt the chocolate chips in a glass or metal bowl over boiling water, or in a glass bowl in the microwave.

While the chocolate is melting, remove the bars from the baking dish, and cut into 12 squares.

Drizzle the melted chocolate over the squares.

Sprinkle sea salt over the bars.

Allow to cool in the refrigerator for at least 45 minutes.

Break off, and enjoy!
Love these no-bake bars? Leave a comment below!